Recipes
Shrimp Po'Boy Sliders & Remoulade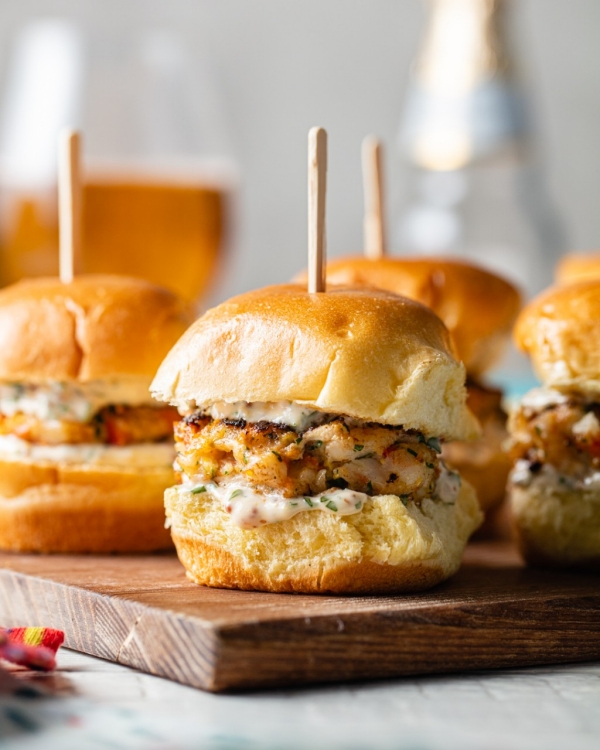 In the test kitchen, we're all head over heels for these little shrimp sliders. First of all, they're the most adorable three-bite sandwich we've ever seen. Second, they taste splendid: The shrimp patties are light, tender and chunky all at once. They're peppery and full of herbs, so they don't get lost under a double dollop — one for each side of the bun, of course — of tangy remoulade. The sauce is creamy, the bun is as soft as a cloud, the shrimp is crispy and chewy, and every bite is somehow reminiscent, in the very best way, of a McDonald's Filet-O-Fish.
Shrimp sliders are a no-brainer for game day. We'd also serve them up for a small Friday happy hour or a breezy Saturday luncheon with the folks. You can make the patties and remoulade the day before, so the sliders come together quick. Serve them with a bag of ruffled potato chips and beer — think about something light, refreshing, and not too hoppy, like a Kona Big Wave golden ale.
Our tip: Hang on to your leftover remoulade. It'll keep in the fridge for up to a week, and you'll find all kinds of things to do with it. You can dip anything fried in it, from pickles to french fries. It's terrific on roast beef, and it makes hot dogs taste positively haute.
Servings: 4 to 6
Ingredients
For the remoulade:
¾ cup mayonnaise
2 Tbsp whole grain mustard
2 Tbsp finely chopped shallots
2 Tbsp chopped flat-leaf parsley
Kosher salt, to taste
Freshly ground black pepper, to taste
1 Tbsp lemon juice
Tabasco sauce, to taste
For the sliders:
1 lb Gelson's shrimp, peeled, deveined, and diced
¼ cup finely chopped yellow onion
¼ cup finely chopped red bell pepper
3 Tbsp finely ground yellow cornmeal
2 Tbsp chopped flat-leaf parsley
1 large Gelson's egg, lightly beaten
½ tsp garlic powder
½ tsp onion powder
¼ tsp dried oregano
¼ tsp kosher salt
⅛ tsp cayenne pepper
⅛ tsp freshly ground black pepper
2 tsp olive oil
12 slider buns, split
Directions
To make the remoulade: In a bowl, stir together the mayonnaise, mustard, shallots, and parsley. Season with salt and pepper. Stir in the lemon juice and season with Tabasco.

To make the sliders: In a bowl, combine the shrimp, onion, bell pepper, cornmeal, parsley, egg, garlic powder, onion powder, oregano, salt, cayenne, and black pepper.

Form the shrimp mixture into 12 patties, and set them on a baking sheet. Wrap the tray tightly in plastic wrap, and chill the patties in the refrigerator for at least 30 minutes and up to overnight.

In a nonstick skillet, warm the olive oil over medium-high heat. Working in batches, add the chilled patties and cook, turning once, until cooked through, 3 to 4 minutes per side.

Spread the inside of the bun, tops and bottoms, with a dollop of remoulade. Add the patties and serve immediately.
Recipe source: Williams Sonoma