Dinner Recipes
Shrimp Taco Sliders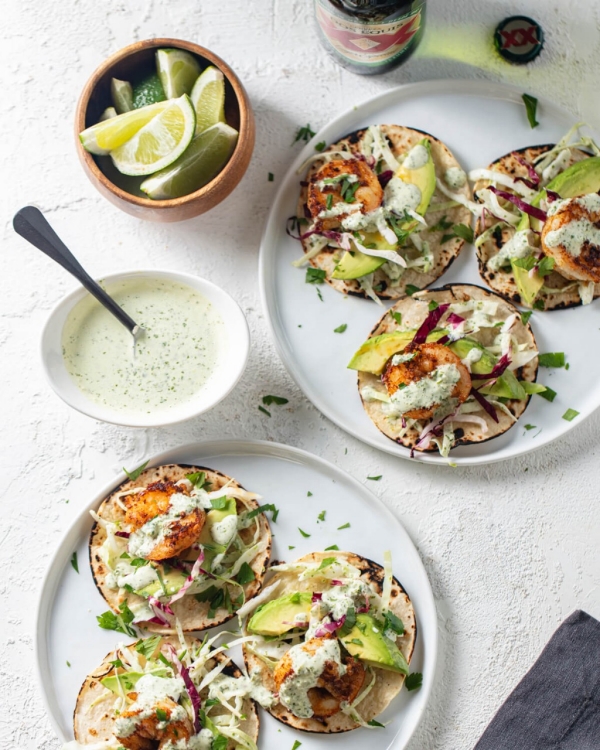 These mini taco sliders are our noshy dinner ideal. They're a snap to make, bursting with color, and full of creamy indulgence — yet so wee, one can hardly feel guilty for eating three or so. It's easy to do because they taste sublime.
We make the cabbage slaw with a tangy-fresh sauce of cilantro, lime, jalapeño, mayonnaise, and sour cream. It's got plenty of kick and crunch, and we like how it suffuses the slider with cream, pulling all the textures together. Like all good sliders, this one is all about ratio: A tiny, charred tortilla, a dollop of slaw, a couple slices of rich avocado, a great big, spicy shrimp, and a squeeze of lime. It's the perfect bite.
It's also just the beginning. You can scale any taco down to slider size (check out our collection of taco recipes for inspiration). If it's a special occasion and you're feeling energetic, a platter with fixings for two or three tacos would make an awesome feast. Everyone loves a taco, and your family will have fun mixing and matching their own masterpieces.

Servings: 6-8

Ingredients


For the tacos:
1 lb Gelson's jumbo raw shrimp, peeled and deveined
2 small cloves garlic, minced
½ tsp kosher salt
1 tsp ground cumin
1 tsp chili powder
½ tsp onion powder
3 Tbsp olive oil, divided
1 Tbsp unsalted butter
1 to 2 fresh limes, wedged
2 cups green cabbage, shredded
½ cup red cabbage, shredded
Mini corn tortillas
1 large avocado, sliced


For the cilantro-lime sauce:
3 Tbsp lime juice
½ tsp lime zest
1 to 2 cloves garlic, minced
½ bunch Gelson's organic cilantro, rough chopped
1 jalapeño, seeded and rough chopped
½ cup mayonnaise
Kosher salt, to taste
Black pepper, to taste
½ cup sour cream
Optional: olive oil cooking spray


Directions


To make the shrimp: Using a paper towel, pat the shrimp dry. In a large bowl, combine the shrimp with the garlic, salt, cumin, chili powder, onion powder, and 2 tablespoons of the olive oil and toss gently.

Cover the bowl and refrigerate for about 1 hour.

To make the cilantro-lime sauce: In a food processor, combine the lime juice and zest, garlic, cilantro, jalapeño, and mayonnaise. Season with salt and pepper and blend or pulse until smooth.

Add in the sour cream and pulse briefly to combine. Set the mixture aside.

In a large skillet, melt the butter and remaining 1 tablespoon of olive oil over medium heat.

Add the shrimp in a single layer, and sauté until just pink, about 2 minutes. Flip the shrimp and cook the second sides for another 2 minutes, or until pink.

Transfer the shrimp to a cutting board, cut off the tails, and season with a squeeze of lime.

To assemble the slaw: In a large bowl, toss the shredded cabbages with ½ cup of the cilantro-lime sauce. Set aside.

Spray both sides of the tortillas with olive oil cooking spray and "grill" them on the stovetop over the open flame until slightly charred.

Fill the tortillas with shrimp, slaw, and fresh avocado. Drizzle additional sauce over the top and serve with a squeeze of fresh lime juice.
Recipe source: Chelsea's Messy Apron