Dessert Recipes
Skillet Brownie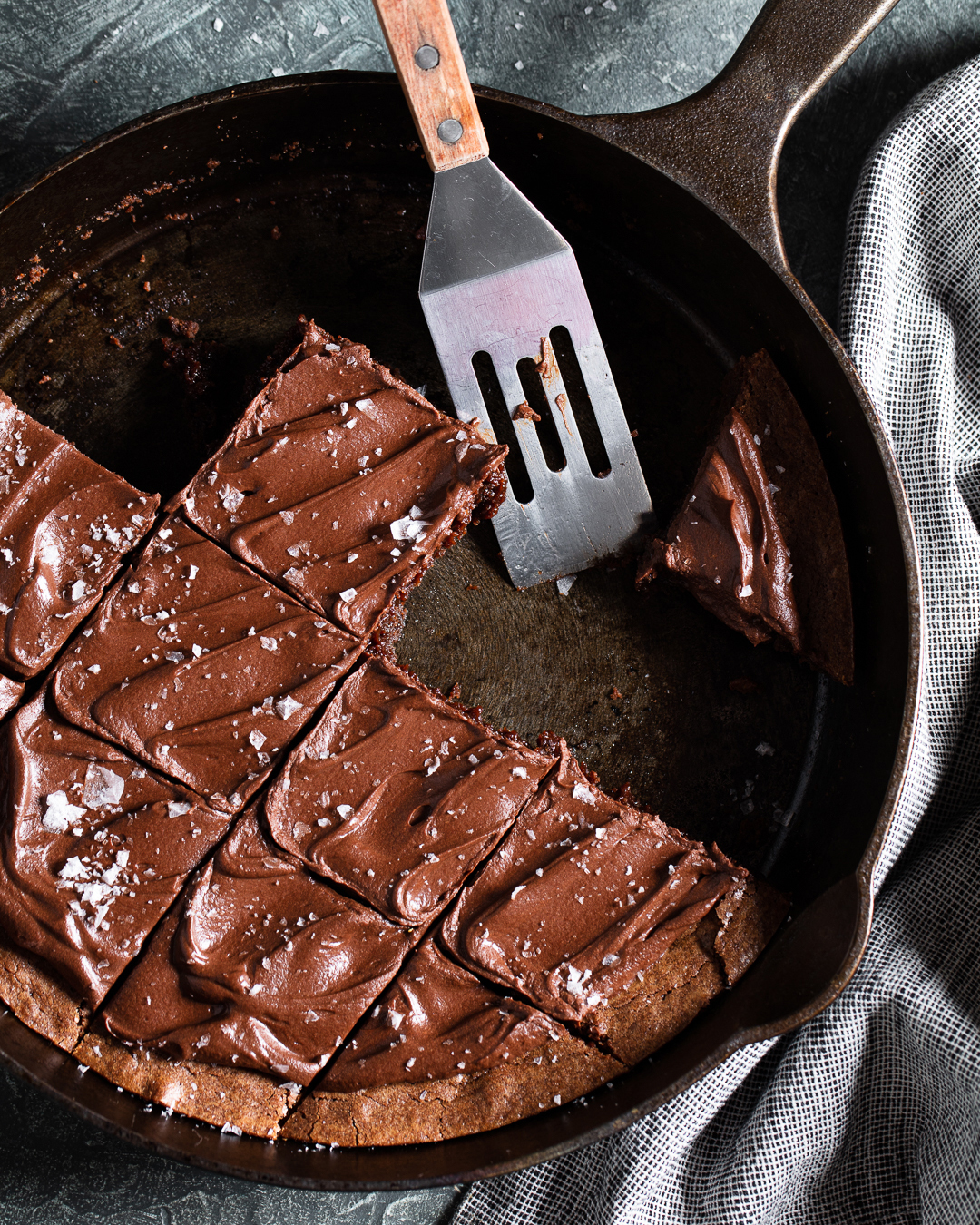 This one goes out to the chocolate lovers who live for a brownie that's rich and dense, but definitely more cake than fudge. It comes with a perfect layer of chocolate ganache frosting and a sprinkle of bright, white flake salt. The salt looks very pretty against the shiny ganache, and it tastes amazing — a light, ever so slightly crunchy pause in the sweetness.

Our tip: This brownie looks great with a bunch of candles in it, so it'll make a fun birthday cake. Serve it with a pitcher of cold milk. It's also fairly travel worthy, so you could take one to your good sister or your best friend — the one who likes it sweet.

Servings: 10 to 12

Ingredients

For the brownie:
6 oz finely chopped bittersweet chocolate
4 Tbsp unsalted butter, cut into pieces, plus more for the pan
½ cup neutral oil, such as vegetable or coconut
1 cup light brown sugar
½ cup granulated sugar
1 ⅓ cup all-purpose flour
½ tsp baking powder
½ tsp fine sea salt
3 large eggs
1 ½ tsp vanilla extract

For the ganache:
6 oz finely chopped bittersweet chocolate
¾ cup heavy cream
Flake salt, to taste


Directions

Heat the oven to 350º and lightly butter a 10-inch oven-safe skillet.
Fill a medium pot with about 1 ½ inches of water, and bring it to a simmer. Place a medium bowl over the pot and add the chocolate, butter, and oil. Heat, stirring frequently, until the chocolate and butter are melted.
Remove the bowl from the heat and whisk in the light brown sugar and granulated sugar.
The mixture will be grainy. Set it aside to cool a bit more.
In a medium bowl, whisk together flour, baking powder, and salt and set aside.
To the chocolate mixture, add the eggs one at a time, mixing well after each addition, and then whisk in the vanilla extract.
Add the flour mixture and mix until just incorporated.
Pour the batter into the prepared skillet and spread into an even layer using a spatula.
Bake the brownie until the surface appears set and a toothpick inserted into the center comes out with a few moist crumbs attached, 30 to 33 minutes. Let cool completely.
While the brownie cools, make the ganache: Place the chocolate in a medium, heat-safe bowl.
In a small pot, bring the cream to a simmer over medium heat. Pour the hot cream over the chocolate and let it stand undisturbed for 15 seconds. Stir the ganache until the chocolate is melted and the mixture is smooth. Let cool slightly.
Once the brownie is cool, spread the ganache onto the brownie in an even layer. Note: It will have thickened slightly. If it's not thick enough, you can refrigerate it for 10 minutes or so; if it thickens too much, you can microwave it in 10-second bursts in a microwave-safe bowl until it's spreadable again.
Sprinkle with flaky sea salt and serve.

Recipe source: New York Times Cooking