Dinner Recipes
Skillet Chicken, Black Beans & Rice
There's no such thing as too many chicken dinners — especially ones that are as easy and flavorful as this skillet number. We sauté onion and bell pepper with fiery red jalapeño, warm cinnamon, punchy garlic, and earthy cumin. It creates a layered, aromatic base for the main players in this dish: black beans, rice, cherry tomatoes, and some seriously crispy chicken thighs.
Topped with avocado, fresh cilantro, sour cream, lime wedges, and more red jalapeño, this dinner feels akin to the ever-reliable burrito bowl. But it's even better than a burrito bowl in one particular way: you only dirty a single skillet instead of a hodgepodge of pots and pans for the various ingredients.
Another great thing about this skillet chicken with beans and rice? It makes a ton of food — and filling food at that. You're bound to have plenty of leftovers for work lunches and those busy weeknights that leave little time to stop and drink a glass of water, let alone cook dinner.

Servings: 4 to 6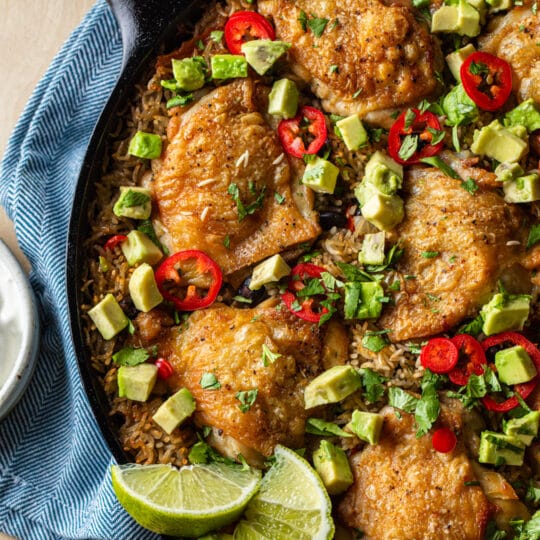 Dinner
Skillet Chicken, Black Beans & Rice
Ingredients
8 bone-in, skin-on Gelson's fresh, all-natural chicken thighs
Freshly ground Gelson's black pepper, to taste
1 large yellow onion, diced small
2 green or red bell peppers, thinly sliced
2 red jalapeños, halved, seeded, and chopped
1 Gelson's cinnamon stick
3 garlic cloves, finely grated
1 tsp Gelson's ground cumin
15 oz can black beans, drained and rinsed
½ pint cherry tomatoes, halved
1 cup basmati rice, rinsed
Chopped Gelson's organic fresh cilantro, for garnish
Diced avocado, for serving
Sliced red jalapeños, for serving
Directions
Preheat the oven to 375°. In a small saucepan over medium-low heat, bring the chicken stock to a simmer. Cover and continue to simmer while you cook the chicken and vegetables.

Season the chicken with salt and pepper on both sides. Heat the oil in a 12" ovenproof skillet over medium-high heat. Place the chicken in the skillet, skin-side down, and cook until brown, 5 to 7 minutes. Flip and cook for 1 minute more. Transfer the chicken to a plate.

Drain all but 1 Tbsp of fat from the skillet and reduce the heat to medium. Add the onion and bell peppers, and sauté until starting to soften, 5 to 7 minutes. Season with salt and black pepper.

Add the jalapeños, cinnamon, garlic, and cumin to the skillet and cook until fragrant, 1 minute.

Stir in the black beans and cherry tomatoes. Season generously with salt and black pepper.

Sprinkle the rice on top of the veggies and black beans in an even layer. Note: it's important that the rice is on top to prevent it from burning.

Gently pour the stock over the rice, then return the chicken to the skillet, skin-side up.

Bake, uncovered, for 40 to 45 minutes, until the stock is absorbed, the rice is tender, and the chicken is 165º on an instant-read thermometer.

Garnish the chicken and rice with chopped cilantro. Serve hot with diced avocado, sliced jalapeño, sour cream, and lime wedges.
Recipe source: New York Times Cooking