Dinner Recipes
Slow Cooker Barbecue Chicken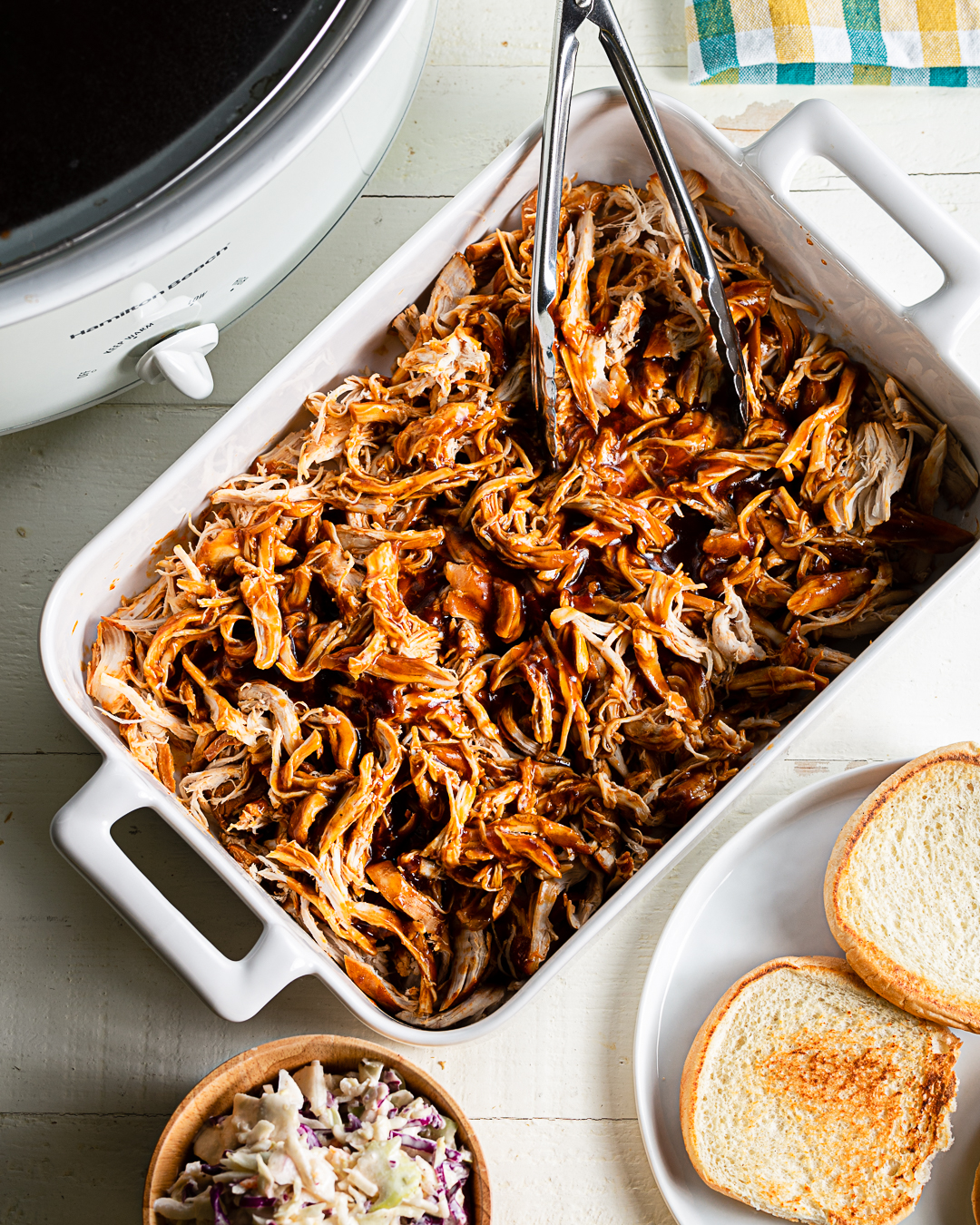 Here's a New Year's resolution that you'll actually be able to keep: Use your slow cooker more often. If it's been sitting in the back of a cabinet, waiting for your annual chili cook-off enthusiasm, then it's high time to make strategic use of one of your kitchen's most time-saving and effective appliances.
Case in point: this easy-peasy barbeque chicken recipe. It's just chicken breasts and a bunch of staples you probably have on hand — plus a simple but rather genius sauce. It begins with bottled barbeque sauce, then we pep it up with high-flavor additions, like Worcestershire sauce, Italian dressing, and brown sugar. (Read: nothing you have to make from scratch.) But there's still room for creativity. Like things sweeter? Try a heavier hand with the brown sugar. Looking for a little spice tonight? Go ahead and layer on some red pepper flakes for an extra kick. Once the chicken is cooked and cooling, we add a cornstarch slurry to the simmering sauce, which makes it thick and glossy and just about irresistible.
We like to pull this together on Sunday morning, after the brunch dishes have been cleared but before the rest of the day gets away from us. By dinnertime, it's all ready to go — and piled on a bun, it makes a meaty, saucy, tangy dinner. If you're looking to round it out, we'd serve it with creamy coleslaw, for coolness and crunch.
Servings: 8
Ingredients
¾ cup barbecue sauce, plus more for serving
¼ cup Italian dressing
2 Tbsp packed brown sugar
1 Tbsp Worcestershire sauce
½ cup chicken broth
1 ½ lb Gelson's boneless, skinless chicken breasts
2 Tbsp cornstarch
2 Tbsp water
Rolls, sliced in half, for serving
Coleslaw, for serving
Directions
In a medium bowl, combine the barbecue sauce, Italian dressing, brown sugar, Worcestershire sauce, and chicken broth.

Place the chicken in the slow cooker. Pour the sauce over it, cover the slow cooker, and cook on low heat for 5 hours, stirring about halfway through.

Transfer the chicken to a cutting board, leaving the sauce in the slow cooker. Using 2 forks, shred the chicken and set it aside.

In a small bowl, combine the cornstarch and water. Add the cornstarch mixture to the barbecue sauce, stir to combine, cover, and cook until the sauce is thick and heated through, 5 to 10 minutes.

Return the chicken to the slow cooker, stir to combine, cover, and continue to cook for 45 minutes.

Serve the chicken on a roll, drizzled with additional barbecue sauce and topped with coleslaw.
Recipe adapted from: My Recipes
Calculate nutrition information for this recipe.