Recipes
Slow Cooker Cannellini Soup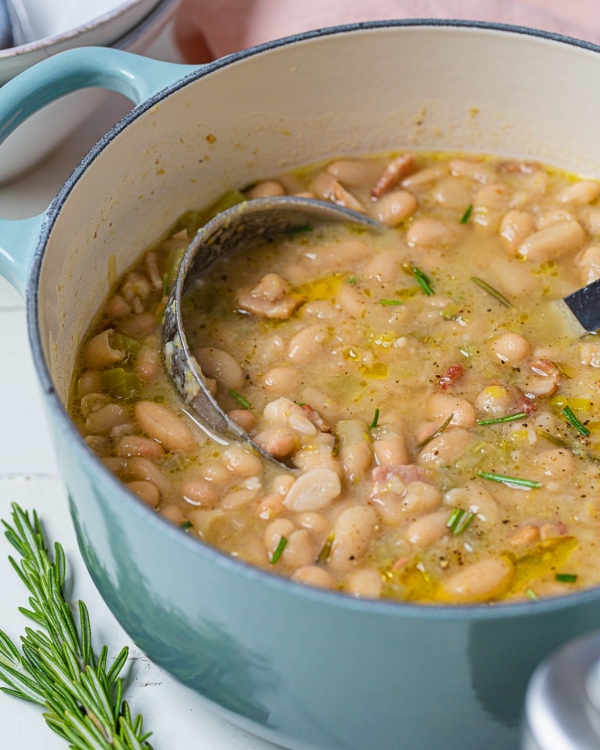 In our humble, unabashedly meat-loving opinion, the best way to make a white bean soup is with a couple rashers of bacon and a handful of aromatics — in this case, leeks, celery, bay leaf, and rosemary. It's really no wonder pork and beans are such a classic combo: just that little bit of smoky fat brings the creamy cannellini beans to life. And we love how the rich, salty bacon complements the mild leeks too. The soup is as light and herbaceous as it is hearty — truly a dish for spring.
It's also a dish for busy people: there's just a little bit of chopping and sautéing, and then everything goes in the slow cooker to simmer into soup. If you get it going in the morning, by dinnertime it'll be ready to go. We like to serve it with slices of seedy wheat bread toasted and slathered in sweet cream butter — a crispy sop for all that brothy goodness.
Our tips: If need be, you can substitute onions and thyme for the leeks and rosemary. And if you've been bolstering your pandemic pantry with gallons of homemade stock, this would be the perfect application for it.
Servings: 4 to 6
Ingredients
2 strips Gelson's bacon, finely diced
2 large leeks, thinly sliced, soaked, and drained (light green and white parts only)
2 large celery stalks, diced
1 Gelson's organic bay leaf
1 sprig Gelson's organic fresh rosemary, plus more for garnish
1 lb dried cannellini beans, rinsed and picked over
6 cups low-sodium chicken broth
Kosher salt, to taste
Freshly ground black pepper, to taste
Extra-virgin olive oil, for drizzling
Directions
Heat a stovetop-safe slow cooker insert or a skillet over medium heat. Add the diced bacon and cook, stirring frequently, until the bacon is crispy and most of the fat has rendered. Using a slotted spoon, transfer the bacon to a small bowl, reserving the rendered fat.

Add the sliced leeks to the pot and reduce the heat to medium-low. Sauté the leeks, stirring occasionally, until they are just beginning to soften, about 3 to 4 minutes.

Add the diced celery, bay leaf, and fresh rosemary sprig, and sauté for an additional 5 to 6 minutes, stirring occasionally.

Transfer the insert to the slow cooker. Add the cooked bacon, cannellini beans, and chicken broth. Stir to combine. Cook on low heat for 8 hours, or until the cannellini beans are cooked, tender, and very fragrant. Remove the bay leaf and rosemary stalk.

Transfer one cup of soup to a small food processor or blender and puree until mostly smooth. Return the puréed soup to the slow cooker and stir to combine.

Serve hot with a drizzle of extra-virgin olive oil and a sprinkle of freshly chopped rosemary.
Recipe source: A Beautiful Plate