Recipes
Slow Cooker Country-Style Pork Ribs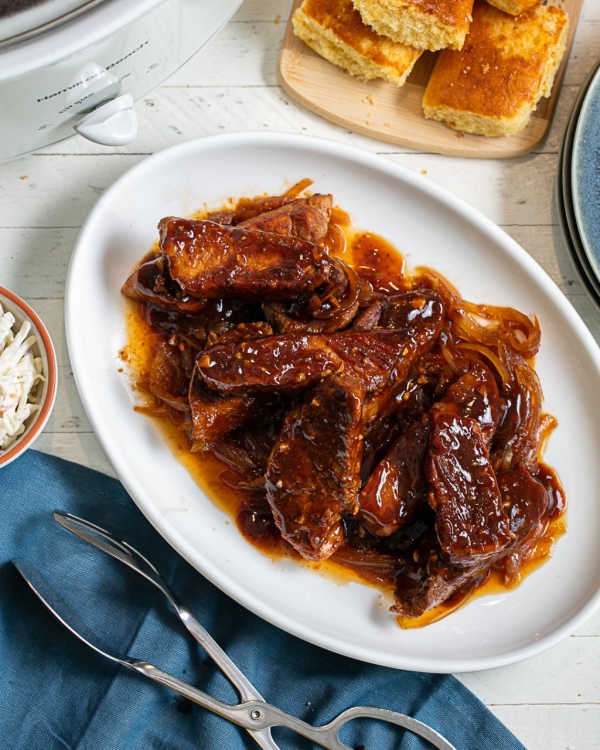 If you've never cooked with country-style pork ribs before, this recipe is the perfect way to build your confidence (and offer your taste buds a treat, too). And even if you're already a fan of this cut, it's always nice to find such a no-fuss way to make a dish that tastes like you've been tending to a barbecue pit all day.
First, some definitions: Country-style ribs are cut from the blade end of the loin, close to the pork shoulder, and they're meatier than other rib cuts. Our butchers are always happy to cut some bone-in country style ribs for you — that's the cut our test kitchen chefs recommend for this recipe, not only because of the added tastiness those bones bring to the sauce, but because gnawing on them is half the fun of serving ribs. But if you don't want to bother with bones, you'll find the boneless country-style ribs at our meat counter.
The style of this recipe echoes the 'cue made in the Carolinas, which are famous for blending vinegar, sweetness, and heat. This recipe could not be easier: sear the meat, stir up the sauce, and pop it all into your favorite slow cooker. In four or five hours, you'll be tucking your napkin around your neck and digging into some authentically delicious ribs.

Our tip: There are tons of choices for next-day leftovers. Use the meat in warm sandwiches, tacos, or grain bowls for another taste of the Carolinas' most famous food.

Servings: 6
Ingredients
For the pork ribs:
2 ½ to 3 lb country-style pork ribs (boneless or bone-in)
1 Tbsp grapeseed oil
1 large onion, peeled and sliced ¼" to ½" thick
For the barbecue sauce:
1 cup ketchup
½ cup low-sodium soy sauce
2 ¼ Tbsp packed brown sugar
¼ cup apple cider vinegar
2 Tbsp mustard
2 Tbsp Louisiana-style hot sauce
4 garlic cloves, minced
2 tsp celery seed
½ tsp freshly ground black pepper
Directions
Trim the excess fat from the pork ribs.

In a large skillet over high heat, heat the oil until shimmering. Add the pork ribs and sear until browned, 1 to 2 minutes on each side.

Place the onion slices in the bottom of the slow cooker and arrange the seared ribs on top of the onions.

To make the barbecue sauce: In a small bowl, combine the ketchup, soy sauce, brown sugar, vinegar, mustard, hot sauce, garlic, celery seed, and black pepper.

Pour ¾ of the sauce over the ribs and onions in the slow cooker. Reserve the rest for serving.

Cover and cook on high for 4 to 5 hours, or on low for 7 to 9 hours.

Serve hot with the remaining barbecue sauce and your favorite sides.
Recipe adapted from: The Spruce Eats