Dinner Recipes
Slow Cooker Pot Roast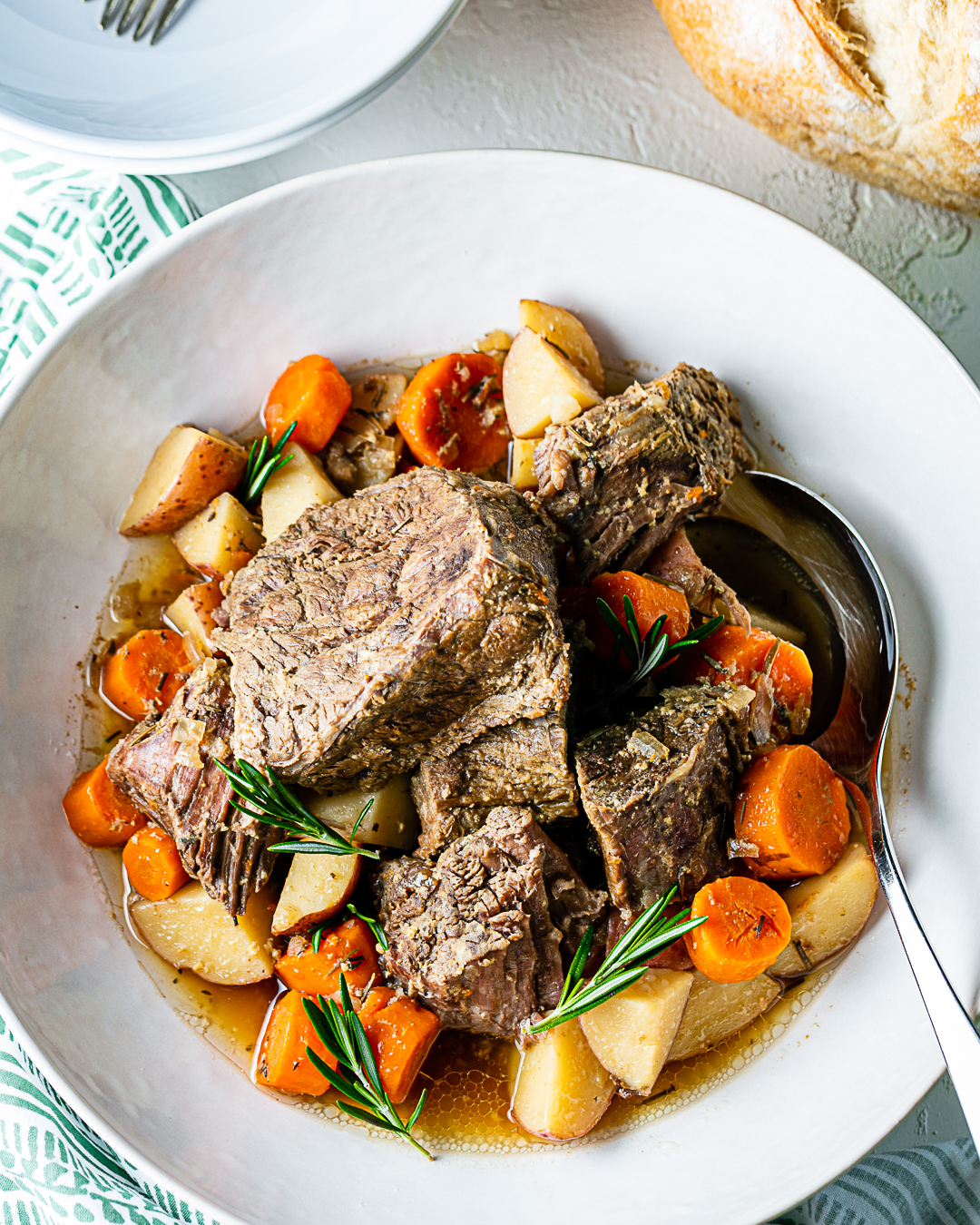 When you realize it's time to pull out the slow cooker for the season ahead, start with this recipe. Don't let the homespun humility of pot roast fool you. While it's true that this dish is the original "fix it and forget it" meal, there's a reason it's stayed on family recipe rotations for so long — because it tastes so dang good, even the next day (and the day after, if there's anything left).
When's the best time to make pot roast? Let us count the times: After a hard day. On a lazy, chilly afternoon. When you want to cook one dish to repurpose the rest of the week. And what's the best recipe to use? In all modesty (*ahem*), we'd have to say it's this one. We've taken the basic concept — a less-expensive cut of meat, cooked low and slow, voilà — and found some smart ways to develop even more flavor during that extended cooking time.
The pregame prep is super important here, so be sure to rub every bit of the meat with that heavenly rub. The Dijon mustard, rosemary, and thyme will infuse themselves into the meat as it cooks, so be prepared to swoon when you pull off the lid and get your first whiff. Yes, you made this incredible thing, and now you get to add a few fresh herbs and dish it up. Applause all around.
Our tips: Pot roast leftovers are a thing of endlessly versatile beauty. Try next-day patty melts, tacos, hash, or any meaty pasta dish. Start a pot of vegetable soup and toss in the cooked meat at the end of your simmering time. Or slice up some sturdy, crusty bread, set aside a warmed dish of cooking liquid for dipping, and treat yourself to an "au jus" sandwich.
Servings: 4
Ingredients

1 lb medium red potatoes, quartered
1 cup chopped carrots (about 2" in length)
3 ½ lb boneless beef chuck roast
¼ cup Dijon mustard
2 tsp dried rosemary
1 tsp garlic salt
½ tsp dried thyme
½ tsp freshly ground black pepper
⅓ cup chopped onion
1 ½ cups beef broth
1 tsp minced fresh thyme
Optional: fresh rosemary, for garnish


Directions

Place the potatoes and carrots in a 5-qt slow cooker.

Cut the roast in half. Combine the mustard, rosemary, garlic salt, dried thyme, and pepper, and rub it over both halves of the roast.

Place both halves of the roast in the slow cooker and top with the onions and broth. Cover and cook on low for 6 to 8 hours, or until the meat and vegetables are fork-tender.

Sprinkle with fresh thyme, garnish with rosemary, and serve hot.
Recipe adapted from: Taste of Home