Recipes
Smoked Salmon Dip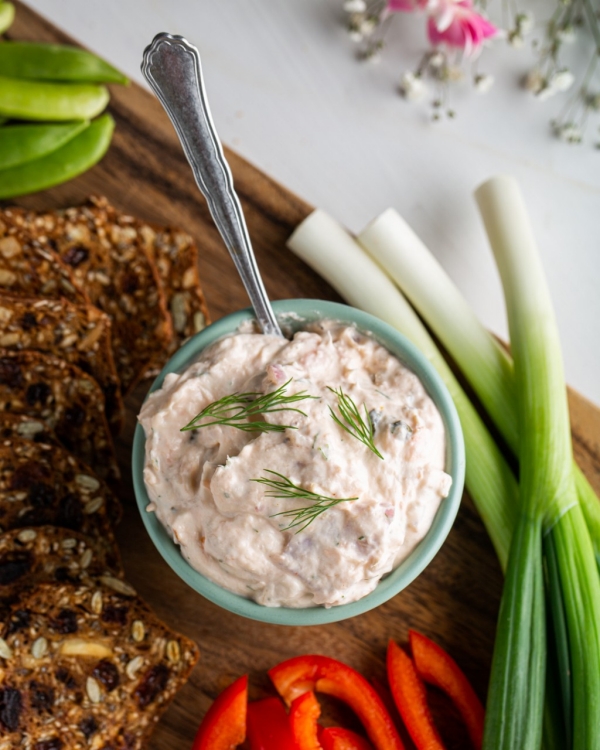 Here we have cream cheese, chunks of smoked salmon, and briny capers whirled up with just a titch of hot sauce and plenty of fresh dill. We call it lox in dip form, and it's smoky, creamy, salty, herby, and well, a little bit of heaven. It made us all quite gushy.

It's a no brainer for brunch because it comes together in about 5 minutes — and it tastes amazing on a sesame seed bagel. If we're feeling ambitious, we'll add a few layers, like scrambled eggs, spinach, and tomato. It also makes a terrific appetizer, of course, and we like it with an assortment of bright, crunchy crudités and crackers.

Our tip: The dip pairs very nicely with a vibrant Sauvignon Blanc from Hanna. Its creaminess balances out all the wine's zesty citrus. And why not go ahead and make a double batch of the dip? You will not be sad to have it with your work-from-home lunches this week.
Ingredients for the Smoked Salmon Dip
8 oz cream cheese
½ cup sour cream
6 oz smoked salmon, chopped, divided
2 Tbsp mayonnaise
1 Tbsp lemon juice
1 tsp capers
1 tsp Louisiana style hot sauce
1 shallot, chopped
2 Tbsp fresh dill, chopped
Crackers, bagels, or crudités, for serving

How to Make the Smoked Salmon Dip
In the bowl of a food processor, combine the cream cheese, sour cream, mayonnaise, lemon juice, capers, and half the smoked salmon. Pulse until incorporated.

Transfer the mixture to a large mixing bowl and fold in the remaining smoked salmon, shallot, and fresh dill. Enjoy!