Dinner Recipes
Smoky Sauerkraut Soup with Sausage
This comforting soup has everything going for it: the electrically good combo of rich cream and tangy sauerkraut, a chorus of complementary textures — meaty sausage, crisp sauerkraut, weighty broth — and streamlined prep that has it on the table in half an hour. It's rich and flavorful enough to serve for guests and easy enough to make on a busy weeknight for your family.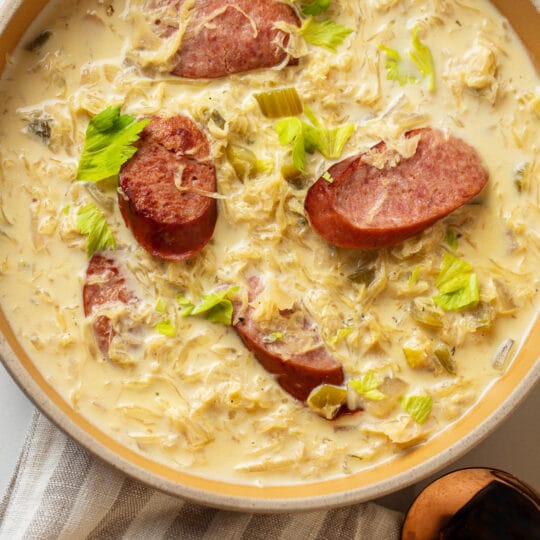 Dinner
Smoky Sauerkraut Soup with Sausage
Serves: 6
Ingredients
12 oz polish or kielbasa sausage, sliced ¼" thick
1 celery stalk, medium diced
½ green bell pepper, medium diced
½ yellow onion, medium diced
16-oz jar sauerkraut with brine
1 cup heavy whipping cream
½ tsp Gelson's dried dill
½ tsp freshly ground Gelson's black pepper
¼ cup chopped celery leaves, for garnish
Directions
In a large Dutch oven, melt the butter over medium-high heat. Add the sausage pieces and cook, stirring occasionally, until browned on both sides, about 5 minutes.

Add the celery, bell pepper, onion, and garlic, and sauté, stirring occasionally, until the onion is translucent, 5 to 7 minutes.

Add the chicken broth and, using a wooden spoon, scrape up all the crispy bits from the bottom of the pot and stir until incorporated.

Stir in the sauerkraut, heavy cream, dill, black pepper, and caraway seeds.

Bring the soup to a boil, reduce the heat to low, and simmer for 10 minutes, allowing the flavors to marry. Season with salt if needed.

Let rest for 10 minutes, then serve hot. Garnish with the celery leaves.
Recipe adapted from: ketokarma