Lunch Recipes
Spaghetti Bolognese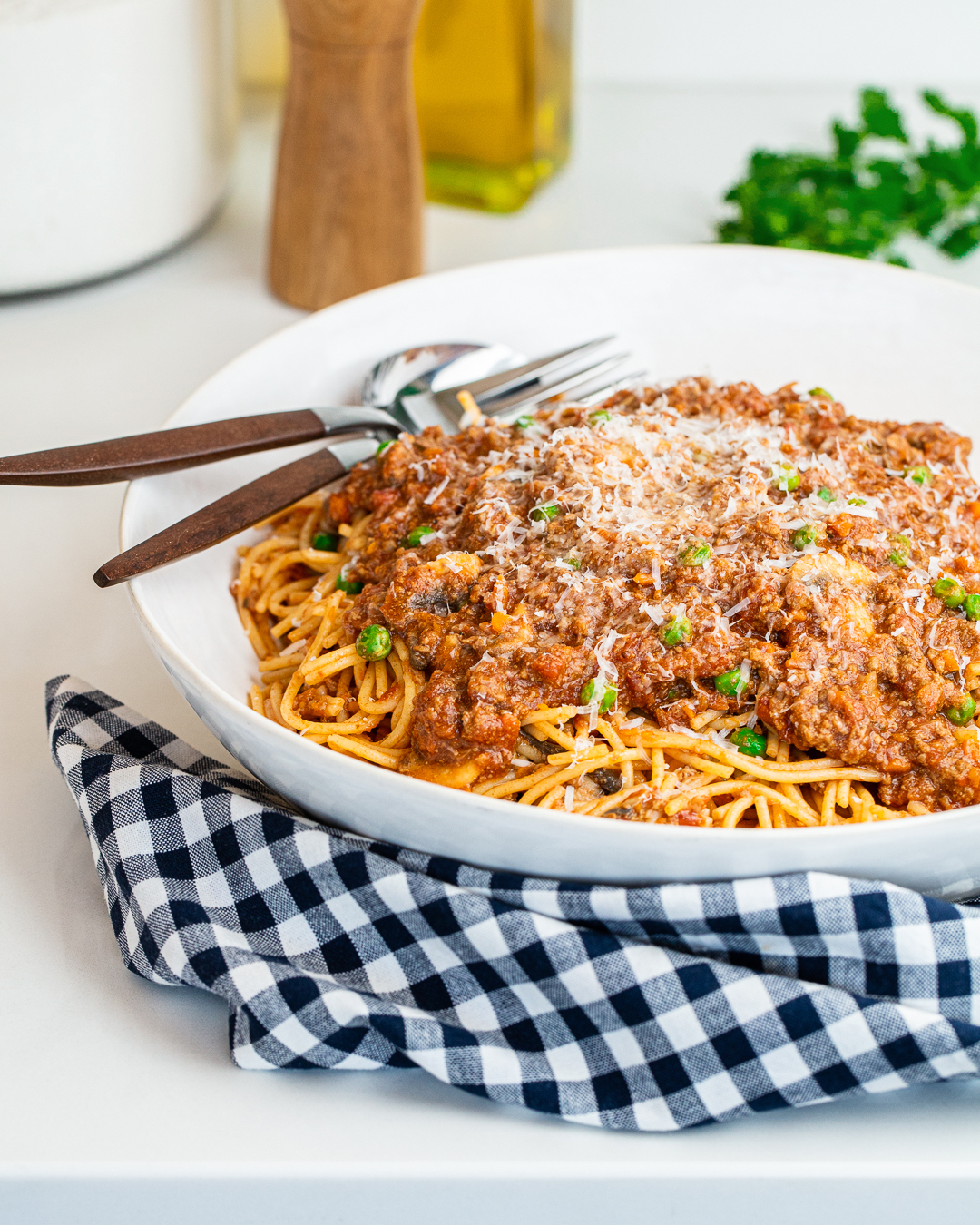 Traditionally, a bolognese sauce takes three or four hours to cook, simmering away on the back burner of the stove all afternoon. We've created a bolognese for the busy. It comes together in an hour or so, yet it's still hearty and rich and deeply satisfying on a cold day — just perfect for a cozy Sunday supper (and the workaday lunches that follow it).

On a health note, you'll notice that we've swapped out the traditional mixture of ground beef, pork, and veal for organic, extra-lean sirloin, which cuts down on the recipe's fat content. You won't miss the pork and veal because we've added a handful of dried porcini mushrooms, and they bring a lot of earthy intensity and depth.

Our tip: Serve your bolognese with a green salad tossed in a nice, bright vinaigrette — it will help balance the heavy sauce and square up your meal.

Servings: 8

Ingredients


1 1/4 cups white zinfandel or other sweet white wine
1 ½-oz package Melissa's dried porcini mushrooms
½ cup very hot water
½ cup organic baby carrots, coarsely chopped
1 medium organic white onion, coarsely chopped
2 14-oz cans Carmelina e San Marzano Italian peeled tomatoes with juice
1 ½ Tbsp Napa Valley Naturals organic extra virgin olive oil
4 Melissa's organic garlic cloves, pressed with a garlic press
1 ¼ lbs Gelson's grass-fed ground sirloin
1 1/2 cups Organic Valley whole Grassmilk
2 Tbsp Amore tomato paste
4 white mushrooms, thinly sliced
¾ tsp salt
1 tsp black pepper
2 tsp dried Italian oregano
1 tsp C&H organic sugar
¾ cup Earthbound Farm organic frozen peas
8 oz Barilla Protein Plus spaghetti
8 Tbsp Parmigiano-Reggiano, grated


Directions


Heat the wine in a small saucepan over medium heat. When it begins to bubble, reduce the heat to low and simmer until it is reduced to about 2 tablespoons, about 30 minutes. Set aside.
Meanwhile, cover the dried mushrooms with hot water and soak until soft, about 10 to 15 minutes. Strain the mushrooms out of the soaking liquid using a mesh strainer lined with a paper towel — reserve the soaking liquid.
Place the carrots in a food processor and pulse 10 times. Scrape down the sides, add the onion, and pulse 10 more times until both the veggies are finely minced. Set them aside in a bowl.
Use the food processor to pulse the mushrooms until they are finely minced, scraping down the sides as necessary. Transfer them to the bowl.
Use the food processor to chop the canned tomatoes together with their juice, pulsing 7 to 10 times.
Heat the olive oil over medium-high in your largest skillet. Add the veggies and cook for 5 minutes, or until they are soft, but not brown.
Add the garlic and cook 30 seconds.
Add the ground meat and use a spatula to quickly break it into large chunks. Pour the milk over the meat and break the meat into ½-inch chunks.
When the milk begins to bubble, reduce the heat to medium and continue breaking the meat into smaller pieces. Cook for about 20 minutes, or until most of the liquid is evaporated.
Stir the tomato paste into the meat.
Clear a little space in the center of the pan for the sliced mushrooms and cook them for about 1 minute.
Add the tomatoes, leftover liquid from the mushrooms, salt, pepper, oregano, and sugar. Simmer for about 15 minutes, or until sauce is reduced and slightly thick.
Add the reduced wine and the peas, and then simmer for about 5 minutes.
Cook the spaghetti according to package directions. Reserve a ½ cup of cooking water before draining the pasta.
Put the drained pasta and the reserved cooking water back in the stock pot. Stir in a few spoonfuls of pasta sauce.
Divide pasta between 8 bowls. Top with ¾ cup of sauce. Garnish with 1 tablespoon grated parmesan.
Each 1 ½-cup serving contains:
Calories 350
Fat 13 g
Saturated Fat 5 g
Cholesterol 60 mg
Sodium 280 mg
Total Carbohydrate 35 g
Dietary Fiber 6 g
Sugars 9 g
Protein 25 g
Vitamin A 46% DV
Vitamin C 23% DV
Calcium 17% DV
Iron 25% DV