Breakfast Recipes
SPAM & Pepper Hash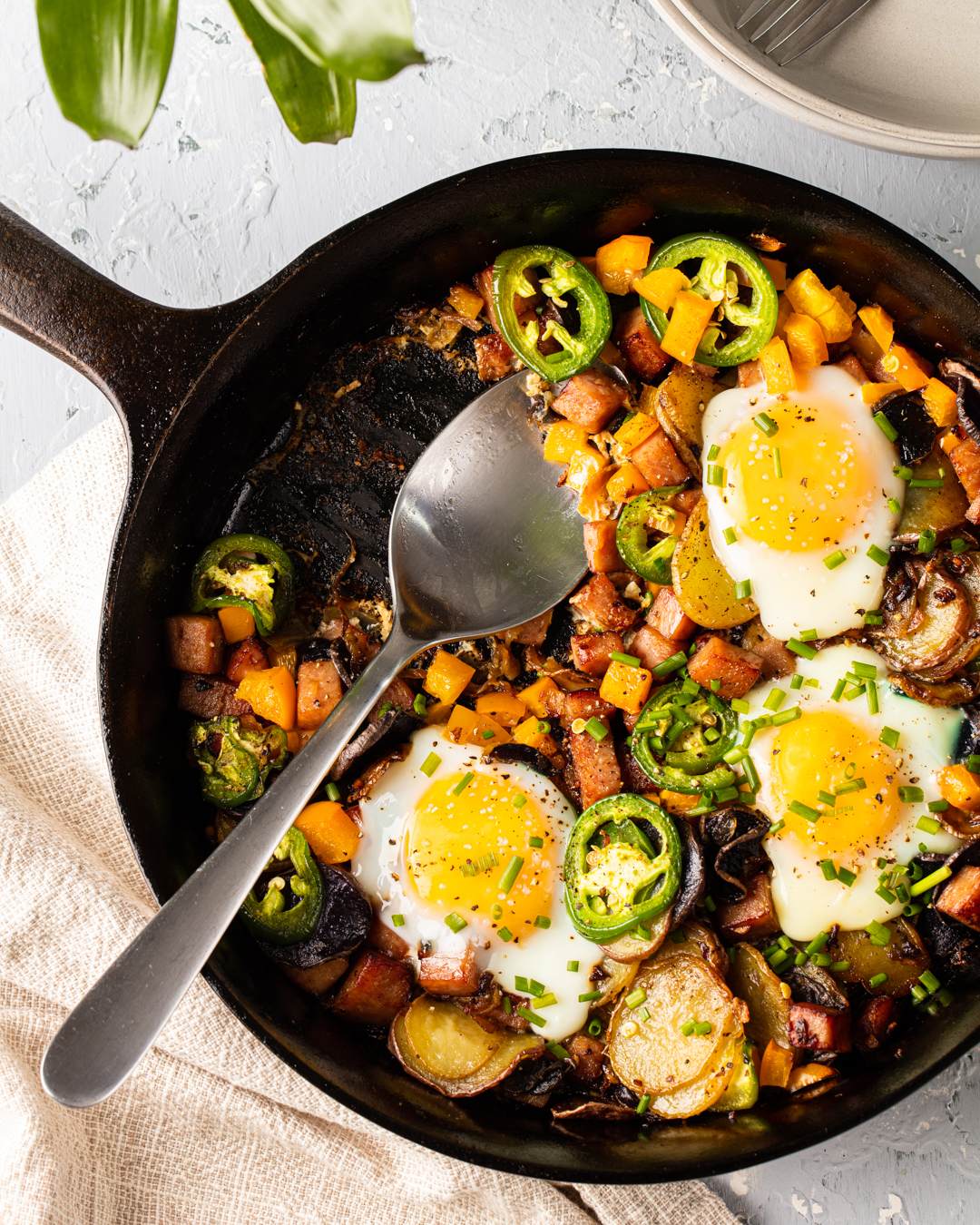 A really good hash recipe is a home cook's ace up the sleeve. Of course, this savory SPAM hash is a no-brainer in all the classic brunchy scenarios — bloodies on the patio with the BFF or a long weekend in the mountains with the S.O. But it's also exactly the one-skillet wonder you want for the less planful, spontaneous midweek moments, like when your neighbor (the good one) drops by for a happy hour beer and ends up staying for dinner.
On the cooking side of things, the number one thing it's got going for it is its basic ingredients — chances are, you've got everything you need in your fridge and pantry. (If there isn't a can of SPAM in there, get thee to the store. Hello, SPAM Musubi!) It's also really easy to throw together: a little veggie chopping, one pan, 10 minutes on the stove, six minutes in the oven, and boom, done!
All that ease belies a delicious, satisfying dish. It's got sweet, crunchy bell peppers, the salty umami-rific SPAM, and tender fingerling potatoes. We love how the skins slide off the potatoes and caramelize to a crisp in the hot, hot pan. The whole dish is redolent with onion and garlic, and has a nice, light kick, thanks to wheels of mild jalapeño pepper. And let us not forget the eggs, which add a lot of sunshine to the dish — that jammy egg yolk is the perfect, creamy complement to all those tasty aromatics.
Our tip: When shopping for SPAM, make sure to get the low-sodium variety; otherwise, the salt will overwhelm your hash. And, trust us, even with the low-sodium SPAM, you do not need to add any salt to the dish.
Servings: 4
Ingredients
3 Tbsp unsalted butter
12 oz fingerling potatoes, thinly sliced
¼ medium white onion, small diced
4 garlic cloves, minced
½ can low-sodium SPAM, cut into ½" cubes
½ orange bell pepper, chopped
1 jalapeño pepper, thinly sliced
Freshly ground Gelson's black pepper, to taste
4 large Gelson's eggs
2 Tbsp chopped Gelson's organic fresh chives
Directions
Preheat the oven to 400°.

In a cast-iron skillet over medium-high heat, melt the unsalted butter.

Add the fingerling potatoes and sauté until starting to brown, 4 to 5 minutes.

Add the onions and garlic, stir to combine, and cook until fragrant, about 30 seconds.

Add the SPAM and cook until starting to brown, 3 to 5 minutes.

Add the orange bell peppers and jalapeño peppers, stirring to combine. Season with black pepper. Cook for 1 minute.

Create 4 shallow wells in the skillet mixture, and crack 1 egg into each well. Season the tops of the eggs with black pepper.

Place the skillet in the oven and cook for 4 to 6 minutes, or until the egg whites are set.

Garnish with the chives and serve immediately.
Calculate nutrition information for this recipe.