Beverage Recipes
Sparkling Blueberry-Lavender Lemonade
Isn't this drink's bright magenta hue simply breathtaking? In the glass, it looks almost iridescent — like something out of a fairy world. How'd we do it? First, we layer simple syrup, chilled blueberry-lavender tea, and club soda over ice. Then, the magic happens: we slowly stir in fresh lemon juice, which changes the drink from deep blue to a purple-tinted pink.
No surprise, kids love watching the colors change! But we adults also love sparkling blueberry-lavender lemonade for its flavor. It's so refreshing — tart and citrusy with a uniquely floral sweetness. And the little bit of effervescence from the club soda makes it so easy to down the entire glass in one dramatic slurp. The perfect pick-me-up on a hot summer's day? Definitely.

Servings: 1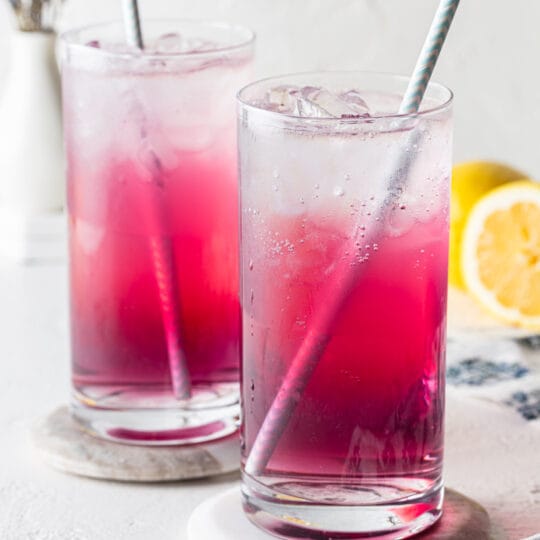 Beverage
Sparkling Blueberry-Lavender Lemonade
Ingredients
1 bag The Republic of Tea Blueberry Lavender tea
2 oz freshly squeezed lemon juice
Directions
Pour the boiling water into a mug, add the bag of tea, and let steep for 5 minutes.

Remove and discard the tea bag. Place the tea in the refrigerator to cool, about 20 minutes.

Fill a highball glass with ice. Layer the liquids by slowly pouring the simple syrup in first, then the cooled tea, club soda, and lemon juice.

Pause to enjoy the layered beauty of your cocktail, and then stir and take a sip!