Recipes
Spicy Pineapple Margarita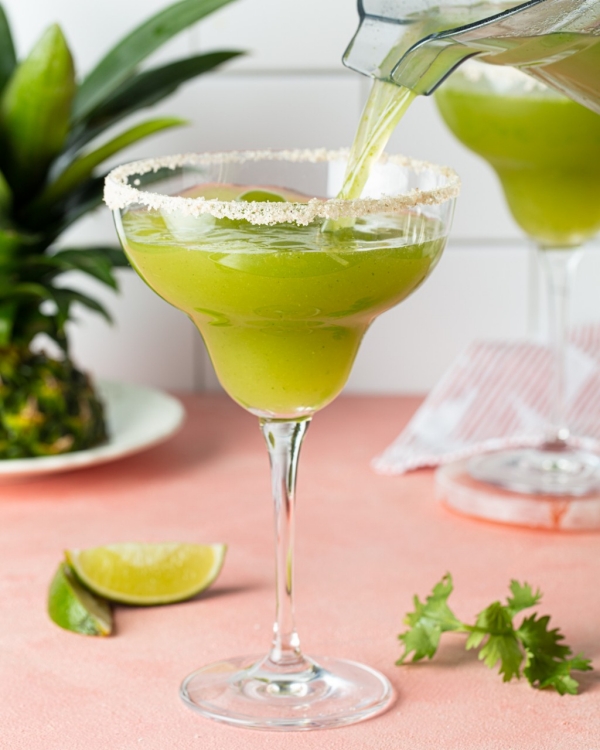 In theory, we love the convenience of premade margarita mixes: they're like giant bottles of party. But in practice, they can be a bit of a Johnny One Note — they sing sweet in the key of sweet. The appeal of this from-scratch margarita is its grown-up complexity. It's more cocktail than it is sugar bomb, and yet it's still totally party-worthy.
We use Simply Limeade as the base. Its sugar is mellow, and its lime is refreshing but not too puckery, so it lets the other flavors shine. To add some depth, we grill up limes and rings of ripe, juicy pineapple. Grilling gives the fruit a nice complexity — the sweets are sweeter, the acids are less bitter yet somehow brighter, and then there's all that wonderful smoke. All of this goes in the mixer with ice, tequila, triple sec, slivers of jalapeño pepper, and a handful of cilantro.

The result is a cocktail with all kinds of layers. It's got the lime's bright puckery swagger, the pineapple's deep fruity sweetness — and it finishes with some earthy heat and smoke. Where's the cilantro? It's the light, herby, delightfully green note that runs through it all.

This is the kind of cocktail you want to sip over the course of an evening. It'll be perfect for a barbecue on the patio. You can make up a small pitcher of margaritas and let the S.O. keep you in drinks while you keep an eye on the grill.
Servings: 4
Ingredients
Smoked sea salt for glass rims
1 lime, zested, cut into wedges
Vegetable oil
8 pineapple rings, divided
2 limes, halved
2 cups ice
2 cups Simply Limeade
1 ½ cups silver tequila
½ cup triple sec
½ jalapeño pepper, sliced thin, divided
¼ cup cilantro, chopped
Special equipment: margarita glasses (optional)
Directions
Pour a little smoked sea salt onto a small plate.

Rub a lime wedge around the rim of each margarita glass. Dip the rims in the sea salt. Set the glasses aside.

Bring a grill or grill pan to high heat. Lightly oil the grates or the pan.

Grill 4 of the pineapple rings for 3 to 5 minutes per side, or until they have grill marks. Set the pineapple rings aside.

Grill the limes, cut side down, for 4 to 5 minutes, or until grills marks appear. Allow them to cool, and then juice them into a small bowl.

In a blender, combine the ice, Simply Limeade, tequila, triple sec, remaining 4 pineapple rings, 3 jalapeño slices, cilantro, lime juice, and zest. Blend until smooth.

Pour the margaritas into the prepared glasses and garnish with cilantro, grilled pineapple, and the remaining jalapeño slices.
Recipe adapted from: Simply Beverages