Jessica Recipes
Spinach and Mushroom Strata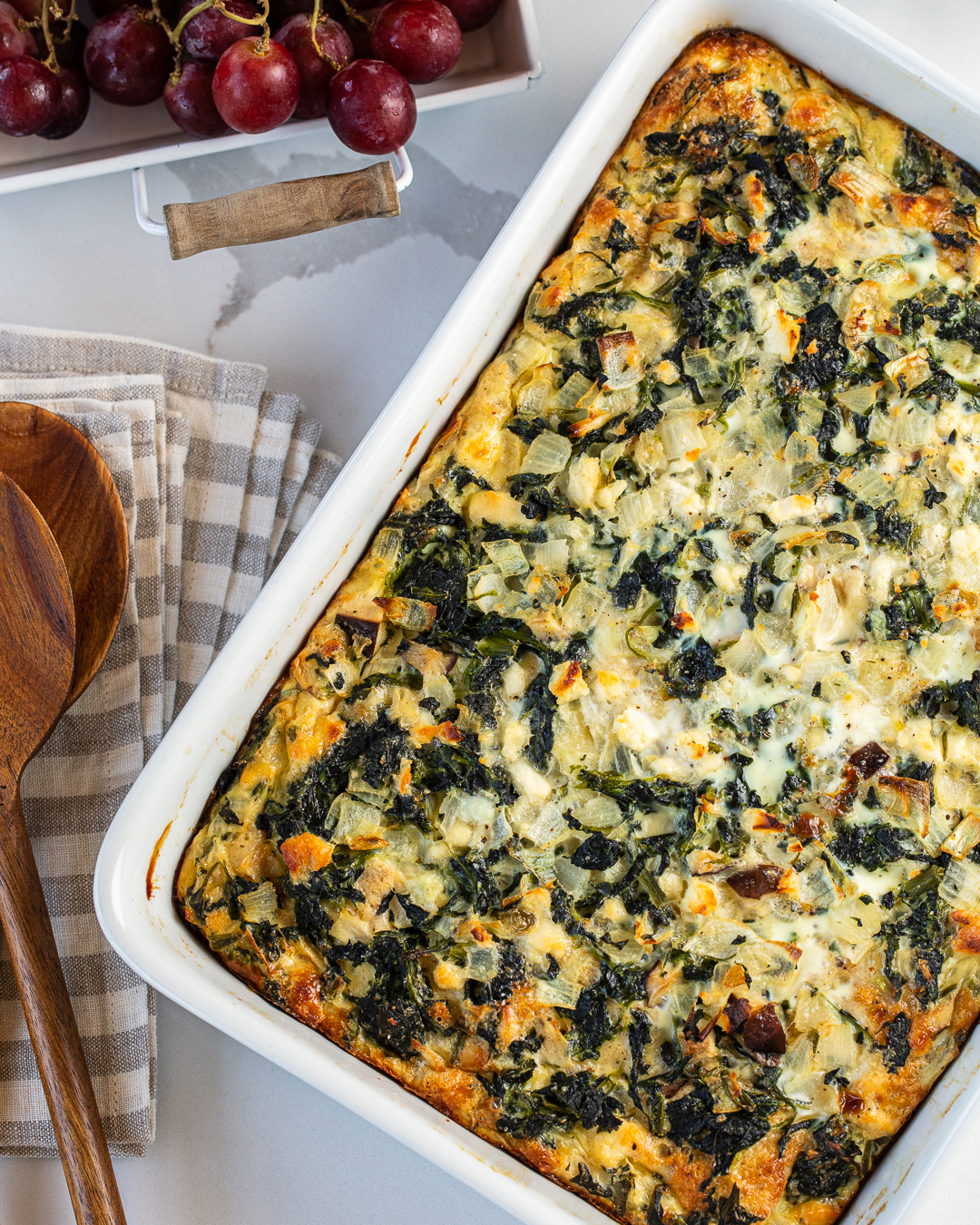 We like to call strata "breakfast stuffing" because it has all the wonderful savory bread pudding qualities of a Thanksgiving stuffing, but it's filled with brunchy ingredients like eggs, milk, and nutmeg spice. We've also given this one earthy shiitake, soft spinach, a delicately tangy feta, and Parmigiano-Reggiano — so it's cheesy, bready, and healthy.

If you're not a morning person, but you are a brunch person, this recipe is for you! It's not only possible to make it the night before, it's necessary. Strata needs a good night's rest, so the bread can absorb all the liquids, the layers can meld, and it can bake up nice and custardy.

Our tip: If you'd rather use fresh spinach, go for it. Just sub in one pound of organic baby spinach, washed but not dried. When you get to step 3 in the recipe, add the fresh spinach to the pan in batches and stir to wilt.

Ingredients


1 Tbsp Napa Valley Naturals Organic Olive Oil
1 7-oz package Gill's Onions fresh diced yellow onions
5 medium shiitake mushrooms, diced
1 15-oz package Stahlbush Island Farms frozen spinach, defrosted
Olive oil cooking spray
12 slices Food for Life Ezekiel 4:9 Sprouted Whole Grain Bread, crusts removed, cut into 1-inch cubes
4 oz Valbreso Feta Cheese, crumbled
¼ cup Parmigiano-Reggiano cheese
6 Organic Valley Omega-3 Large Eggs
1 ¼ cups Organic Valley liquid egg whites
2 ½ cups Organic Valley whole Grassmilk
2 tsp Grey Poupon Dijon Mustard
½ tsp Le Saunier de Camargue fleur de sel (sea salt)
½ tsp black pepper
¼ tsp nutmeg

Directions


In a large pot, heat the olive oil over medium. Add the onion and cook 4 minutes.
Add the mushrooms and cook for 2 minutes.
Add the spinach and cook for 2 to 3 minutes.
Remove the veggies from the heat. Once they are cool enough to touch, wrap them in paper towels and squeeze out most of the water.
Spray the bottom and sides of a glass baking dish measuring 7 x 11 inches. Arrange half of the bread in a single layer in the bottom of the dish. Spread half the vegetables on top. Sprinkle with half of the feta cheese. Repeat, ending with a layer of Parmigiano-Reggiano.
Whisk together the eggs, egg whites, milk, mustard, salt, pepper, and nutmeg. Pour the mixture evenly over the other ingredients.
Cover the strata with plastic wrap or foil and refrigerate overnight, up to 24 hours.
Preheat oven to 350º. Remove the strata from the refrigerator, remove the cover, and let the strata stand at room temperature for 15 to 30 minutes before baking.
Bake the strata for 45 to 60 minutes, until the eggs are set and the top is golden brown and bubbly.
Let the strata cool for 5 minutes before cutting it into 8 pieces. Serve hot.


At 8 servings, each piece contains:
Calories 320
Fat 11 g
Saturated Fat 6 g
Trans Fat 0 g
Cholesterol 175 mg
Sodium 580 g
Total Carbohydrate 32 g
Dietary Fiber 7 g
Sugars 6 g
Protein 22 g
Vitamin A 82% DV
Vitamin C 20% DV
Calcium 24% DV
Iron 21% DV