Recipes
Spring Scalloped Potatoes with Leeks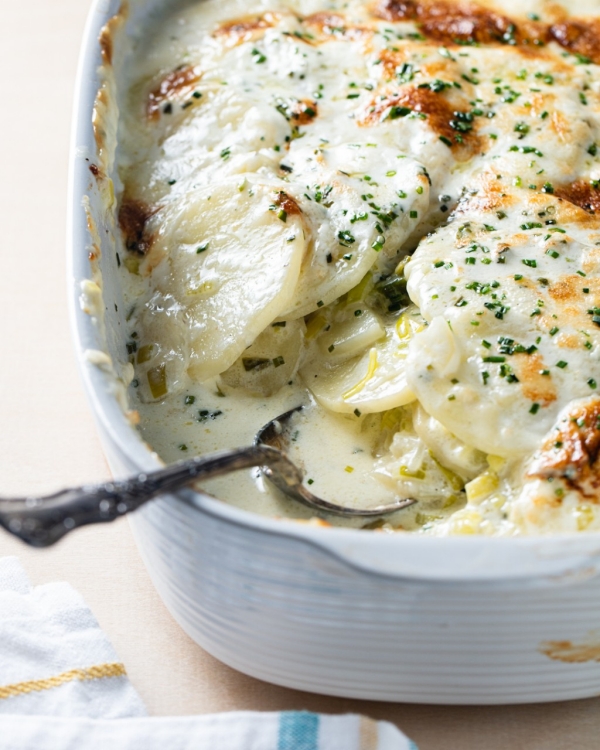 In traditional recipes, scalloped potatoes are made with cheddar cheese, milk, and a sprinkle of flour. They bake up super cheesy and comforting, and we love them, but spring calls for something lighter. So here we've layered thin slices of potato with nutty-sweet Gruyère cheese, warm cream, and mild leeks that have been softened in butter.
The potatoes bake up golden brown, and they have a wonderful texture: crispy and creamy at once, with a perfectly al dente bite. (Read: not the least bit soggy.) The leeks are so unbelievably tender, they seem to melt into the potato. We scatter some bright green chives over the top of the casserole as it comes out of the oven, and we love how their delicate onion flavor balances the dish — it's rich, savory, cheesy, light, and herby in all the right proportions. In short, it tastes just like early spring.
We had glazed ham in mind when we tested this recipe, and indeed, its fresh cream and mild onions are the ideal foil for a slab of salty-sweet meat. We could also see it as a side dish at brunch, or tucked in next to a salad and grilled fish for a nice lunch.
Servings: 8
Ingredients
2 Tbsp unsalted butter, plus more for greasing pan
3 cups chopped leeks (white and pale green parts only), soaked and rinsed
2 tsp kosher salt
½ tsp freshly ground pepper
4 lb baking potatoes, peeled and thinly sliced
2 Tbsp chopped Gelson's organic fresh chives, plus more for garnish
2 cups shredded Gruyère cheese
3 cups heavy whipping cream
Directions
Preheat the oven to 350°. Generously butter a baking dish measuring 9 x 13 inches.

In a large frying pan, melt the butter over medium heat. Add the leeks and cook, stirring occasionally, until tender, about 7 minutes. Remove from the heat.

In a small bowl, combine the salt and pepper. Spread ⅓ of the potatoes evenly in the baking dish, and season them with about ¼ of the salt mixture and ¼ of the chopped chives.

Top the potatoes with ⅓ of the Gruyère and half of the leeks.

Repeat the layers in steps 3 and 4, and then finish with the remaining potatoes, Gruyère, salt mixture, and chives.

In a small saucepan, heat the heavy cream over medium-high heat until it simmers. Pour the hot cream evenly over the potatoes. Cover the baking dish tightly with aluminum foil, and place it on a rimmed baking sheet to catch any drips.

Bake the scalloped potatoes for 1 hour. Remove the foil and continue baking until the potatoes are tender, coated with a creamy sauce, and golden brown on top, about 30 minutes longer. Let stand for about 5 minutes, sprinkle with chives, and serve hot.
Recipe adapted from: Willams Sonoma