Dinner Recipes
Spring Vegetable Salad With Poached Egg
Doesn't this salad just look like spring? You almost can't tear your eyes away from those monochromatic vegetables. It's a gorgeously green amalgamation of broccolini, asparagus, edamame, and both English and snap peas.
We blanch all of that greenery simultaneously for a little over a minute, so it turns out really crisp with varying degrees of crunch. The broccolini and asparagus are on the snappier side; the edamame and peas have a touch more tenderness. Each bite is as texturally thrilling as it is bright and fresh.
We toss the veggies with toasted pine nuts as well as a light, zippy vinaigrette that complements the super fresh salad beautifully. The finishing touches? A few spoonfuls of herby, toasted bread crumbs, delicate shavings of pecorino, and a lush, jammy poached egg. We love breaking the egg and letting the sunny yolk flow through the salad; it adds richness and another pop of color to the plate.
Because this elegant spring salad is so light and refreshing, we're consistently surprised by its heartiness. We eat it as a main course more often than as a side (though it does make for a very lovely side) and typically with a crisp, subtly effervescent white wine. Think: vinho verde or a New Zealand sauvignon blanc. It's a perfect pairing for garden parties — or early spring dinners on the patio.
Our tip: One of our tasters likes to swap out the toasted pine nuts for blanched pistachios every now and then. Hooray for more green!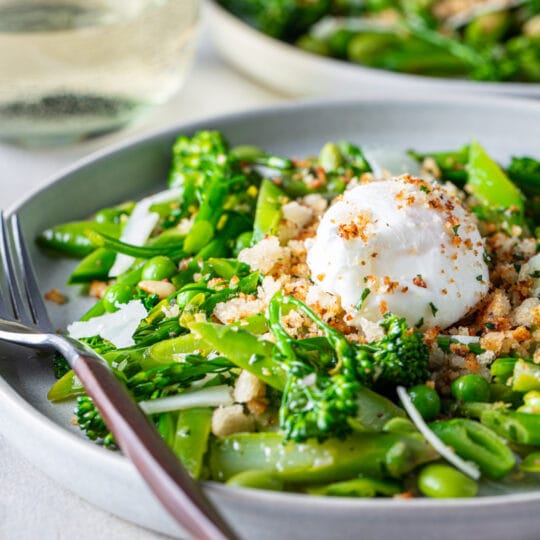 Dinner
Spring Vegetable Salad With Poached Egg
Serves: 4
Ingredients
1 tsp kosher salt, plus more to taste
8 oz asparagus, trimmed, cut on a diagonal into 1" pieces
6 oz sugar snap peas, cut on a diagonal into ½" pieces
8 oz broccolini, trimmed, cut on a diagonal into 1" pieces
4 oz shelled, frozen edamame
4 oz shelled, fresh English peas
6 oz stale hearty bread, crusts removed, torn into small pieces
2 Tbsp minced shallot (about 1 small), divided
2 Tbsp minced fresh parsley, divided
2 Tbsp minced Gelson's organic fresh chives, divided
Freshly ground Gelson's black pepper, to taste
1 Tbsp freshly squeezed lemon juice
3 Tbsp extra virgin olive oil
1 Tbsp white wine vinegar
Shaved pecorino, for garnish
Directions
Bring a large pot of salted water to a boil over high heat. Prepare an ice bath and line a rimmed baking sheet with paper towels.

Blanch the asparagus, snap peas, and broccolini in the boiling water for 1 minute. Add the edamame and English peas and continue to blanch until just tender, another 30 seconds to 1 minute. Immediately transfer the vegetables to the ice bath to cool.

Transfer the vegetables to the baking sheet and pat dry. Set aside.

In a small skillet over medium-low heat, toast the pine nuts, stirring frequently, until fragrant and lightly browned, 6 to 8 minutes. Set aside to cool.

Transfer the torn bread to the bowl of a food processor and pulse until it resembles fine bread crumbs, about 30 seconds.

In a medium skillet over medium heat, melt the unsalted butter. Add the bread crumbs and toast, stirring frequently, until golden brown and crisp, 5 to 7 minutes.

Add 1 tablespoon minced shallots and cook, stirring continuously, until fragrant, about 30 seconds. Remove the pan from the heat and stir in 1 tablespoon parsley and 1 tablespoon chives. Season with salt and black pepper. Set aside.

In a large bowl, whisk together the lemon juice, lemon zest, and remaining shallots, parsley, and chives. Slowly drizzle in the olive oil, whisking constantly to emulsify.

Add the blanched vegetables and pine nuts to the lemon vinaigrette, season with salt and black pepper, and toss to combine.

Fill a medium pot with water and bring it to a simmer over medium heat. Add the vinegar and 1 teaspoon salt, and stir until dissolved.

Crack each egg into its own ramekin, making sure not to break the yolk.

Stir the boiling water in one direction to create a whirlpool. Gently drop the eggs in, one at a time, swirling the water after each addition. Cover the pot, turn off the heat, and let sit for 5 minutes.

Divide the salad among four plates. Sprinkle a spoonful of the toasted bread crumbs on top, and make a small indentation in the vegetables to place the egg.

Using a slotted spoon, gently transfer the poached eggs to the skillet with the bread crumbs and carefully turn them to coat. Place one egg on top of each salad, garnish with pecorino, and serve immediately.
Adapted from: Serious Eats