Dinner Recipes
Spring Vegetable & White Bean Soup
Packed with snappy veggies, white beans, and fresh herbs, this vibrant soup is perfect for spring and a test kitchen favorite. With all that fresh green stuff, it's definitely a feast for the eyes, but its heart is a rich broth made with mushrooms, a full head of garlic, and parsley. The beans cook in the broth too, soaking up all that goodness — and imparting their own bean-y depth and a hint of starchy richness.
We don't toss in the chopped asparagus and peas until the broth and beans are ready, so the veggies stay bright green and crisp. And then, right before serving, we swirl a handful of radish slivers, lemon zest, chile flakes, mint, garlic, parsley, and Parm through the soup. The result is just delightful: as light and fresh as can be, but full of layered flavor and texture — and the kind of comforting warmth you can only get from a really good broth. All you need is a loaf of crusty bread, some butter, and a glass of good wine.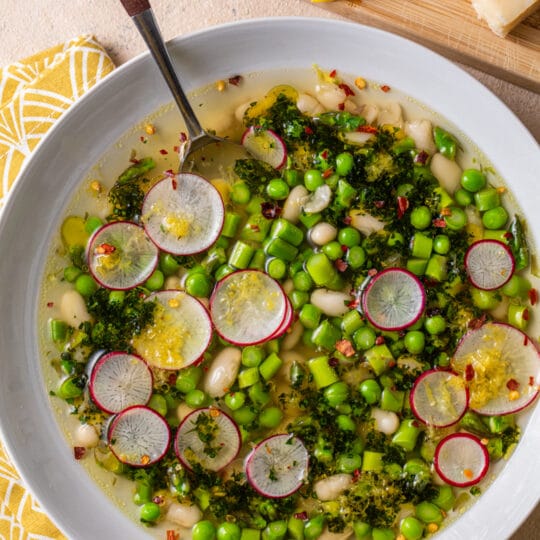 Dinner
Spring Vegetable & White Bean Soup
Serves: 8
Ingredients
1 lb dried Great Northern beans, soaked overnight, drained
1 yellow onion, trimmed, peeled, and halved
3 celery stalks, trimmed, halved
1 oz dried shiitake mushrooms
1 garlic head, halved, plus 1 garlic clove, finely grated, divided
1 Tbsp plus ½ tsp kosher salt, divided, plus more to taste
½ cup plus 3 Tbsp extra-virgin olive oil, divided
¾ cup loosely packed Gelson's organic fresh mint leaves
1 bunch radishes, trimmed, rinsed
1 lb asparagus, trimmed, sliced into ¼"-thick coins
10 oz fresh or frozen peas
Gelson's crushed red pepper flakes, for garnish
Grated Parmesan, for garnish (optional)
Lemon wedges, for serving
Directions
Preheat the oven to 300°.

In a large Dutch oven, combine the beans, onion, celery, mushrooms, 8 parsley sprigs, garlic head, 1 tablespoon salt, 3 tablespoons olive oil, and 12 cups of water. Bring to a simmer over high heat, cover, and transfer to the oven. Braise until the beans are tender, creamy throughout, and still intact, 45 minutes to 1 hour.

While the soup is cooking, finely chop the mint and remaining parsley leaves. Transfer the herbs to a small bowl, add the remaining ½ cup of olive oil, the grated garlic, ½ teaspoon salt, and stir to combine. Cover and refrigerate until ready to serve.

Thinly slice the radishes. Transfer them to a small bowl, cover with cold water, and chill in the refrigerator until ready to serve.

Once the beans are cooked through, use tongs to remove and discard the onions, celery, mushrooms, parsley, and garlic. Season with salt.

Return the beans to a gentle simmer over medium heat. Add the asparagus and peas and cook, stirring gently, until the asparagus coins are bright green and crunchy and the peas are heated through, about 2 minutes. Remove the pot from the heat.

Drain the radishes.

Divide the soup among 8 bowls and garnish each with the chopped herbs, sliced radishes, lemon zest, crushed red pepper flakes, and grated Parmesan. Serve with lemon wedges. Note: leftover soup can be stored in an airtight container in the refrigerator for up to 5 days.
Recipe adapted from: Bon Appétit