Dinner Recipes
Springtime Lamb Stew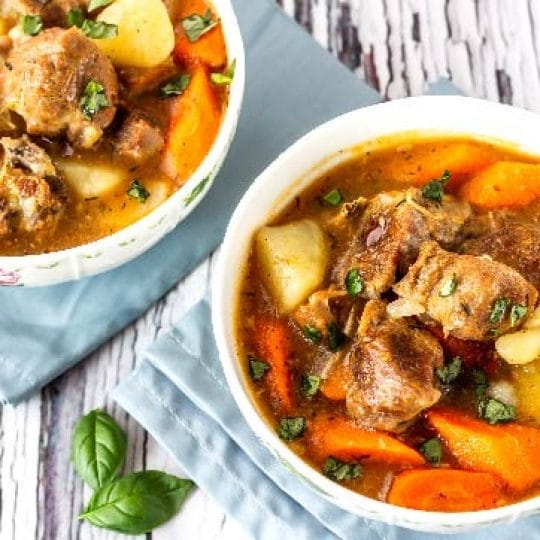 Dinner
Springtime Lamb Stew
Serves: 8
Ingredients
1 1/2 pounds Gelsons Finest lamb stew meat
2 tablespoons Napa Valley organic olive oil divided
1 medium Melissas organic onion chopped
2 cups Bunny Luv organic baby carrots divided 1 cup diced 1 cup halved
3 medium portobello mushrooms diced divided
1 tablespoon King Arthur unbleached all purpose flour
6 cloves Melissas organic garlic minced
3 1/2 cups Health Valley beef broth
2 tablespoons Valbon tomato paste
1/2 teaspoon Lea Perrins Worcestershire sauce
1 1/2 teaspoons Spice Hunter organic dried thyme
2 Morton Basset bay leaves
1 1 pound package Melissas baby pink potatoes quartered divided
1 small parsnip peeled and diced
1/4 cup Springfield pearl barley rinsed and drained
1 cup Cascadian Farms organic frozen peas
1/4 cup fresh parsley minced
Directions
Rinse lamb and pat dry. Arrange pieces close together on a flat surface and season one side with 1/4 teaspoon salt and 1/4 teaspoon of pepper. Heat 2 teaspoons olive oil in a large soup pot over medium heat. Add about half of the lamb, seasoned side down and sprinkle unseasoned side with 1/8 teaspoon salt and 1/4 teaspoon pepper. Brown all sides, forming a nice brown crust on the meat. Use a long fork or slotted spoon to transfer browned meat to a plate lined with paper towels. Pour most of the liquid out of the pot. Add two teaspoons olive oil, and repeat browning, seasoning, and draining process with the remaining meat.
Add remaining 2 teaspoons of oil to the pot. Add onions, 1 cup diced carrots, and 1 chopped mushroom. Sprinkle with flour and cook to soften onions, about 5 minutes. Add garlic and cook 30 seconds. Return lamb to the pot.
Pour in beef broth and scrape up brown bits on the bottom of the pot. Stir in tomato paste. Add Worcestershire, thyme, bay leaves, and half of the potatoes. Raise heat to high, bring to a boil, cover and simmer about 1 hour. Do not open the lid.
Stir in remaining potatoes, halved carrots, mushrooms, parsnip and barley. Cook on low for 30 minutes. Add the peas and cook 15 to 30 more minutes. Taste and adjust pepper and salt, if desired. Remove bay leaves. Garnish with fresh parsley before serving.