Recipes
Squash Curry Dinner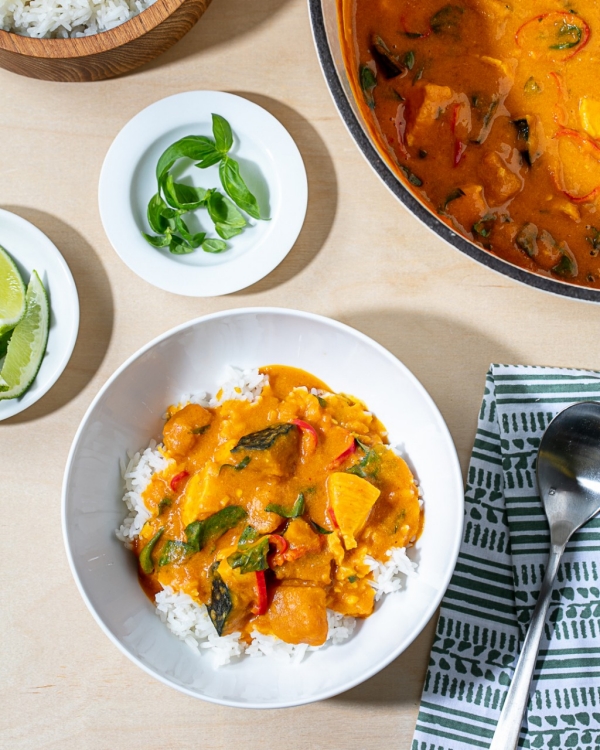 Curry dinners have always been a favorite, but lately they've become a staple of our pandemical weeknights because they come together in a snap and make amazing leftovers. (Let's hear it for fewer dishes!) This one is full of aromatics, sweet kabocha squash, and tender chicken, so it's super flavorful and hearty — and it'll fill your house with the wonderful smell of simmering spices. Talk about fall warmth.
Our curry sauce gets a lot of its flavor from a time-saving red curry paste. In the pan, we mix it up with coconut cream for richness, lime for bright, tart balance, brown sugar for sweetness — and a good amount of chicken broth, garlic, and fish sauce for savory depth and umami. It also gets some nice heat from a long red chile. Flavorsome? Yes, and adjustable, so you can make it just as sweet and spicy as you like it.
The chicken and kabocha squash cook in the curry, of course, so they take on all that wonderful flavor. We like to leave the skin on the squash because it adds some nice texture and color to the curry. (Let's hear it for less prep work!) We love how the squash half melts into the sauce, adding some nice body to the dish, soaking up all the goodness, and in the process, falling apart — what a soft, comforting bite.
Our tip: Think of this recipe as a base recipe for curry dinners. You can swap in your favorite veggies, proteins, and fresh herbs — and even a green or yellow curry if you prefer it!
Servings: 4 to 6
Ingredients
2 Tbsp grapeseed oil
3 garlic cloves, minced
2 small shallots, chopped
1 4-oz jar red curry paste
1 13.5-oz can coconut milk
1 lb chicken breast, cut into bite-size pieces
2 lb kabocha squash, cut into 2" pieces
1 cup coconut cream
1 ¼ cups chicken stock or water
3 Tbsp packed brown sugar
½ Tbsp fish sauce
1 long red chile, thinly sliced
1 tsp lime zest
1 Tbsp lime juice
Kosher salt, to taste
1 cup torn basil, plus more for garnish
Cooked jasmine rice, for serving
Lime wedges, for garnish
Directions
Heat a Dutch oven over medium-high. Once hot, add the grapeseed oil and heat until shimmering. Add the garlic and shallots and cook, stirring continuously, until fragrant and just starting to brown, about 30 seconds.

Add the curry paste and coconut milk, and stir until fully incorporated. Bring to a boil.

Add the chicken, squash, coconut cream, and chicken stock. Stir to combine and bring to a boil. Lower the heat to medium and continue to boil for 10 to 12 minutes, or until the squash is tender but not too soft. Stirring occasionally will keep the squash from sticking to the pot.

Lower the heat to medium-low, and add the brown sugar, fish sauce, red chile, lime zest, and lime juice. Stir and simmer for 5 minutes. Season with salt.

Turn off the heat and stir in the basil.

Serve over jasmine rice and garnish with additional basil and lime wedges.
Recipe adapted from: Simply Suwanee