Dinner Recipes
Steak Burrito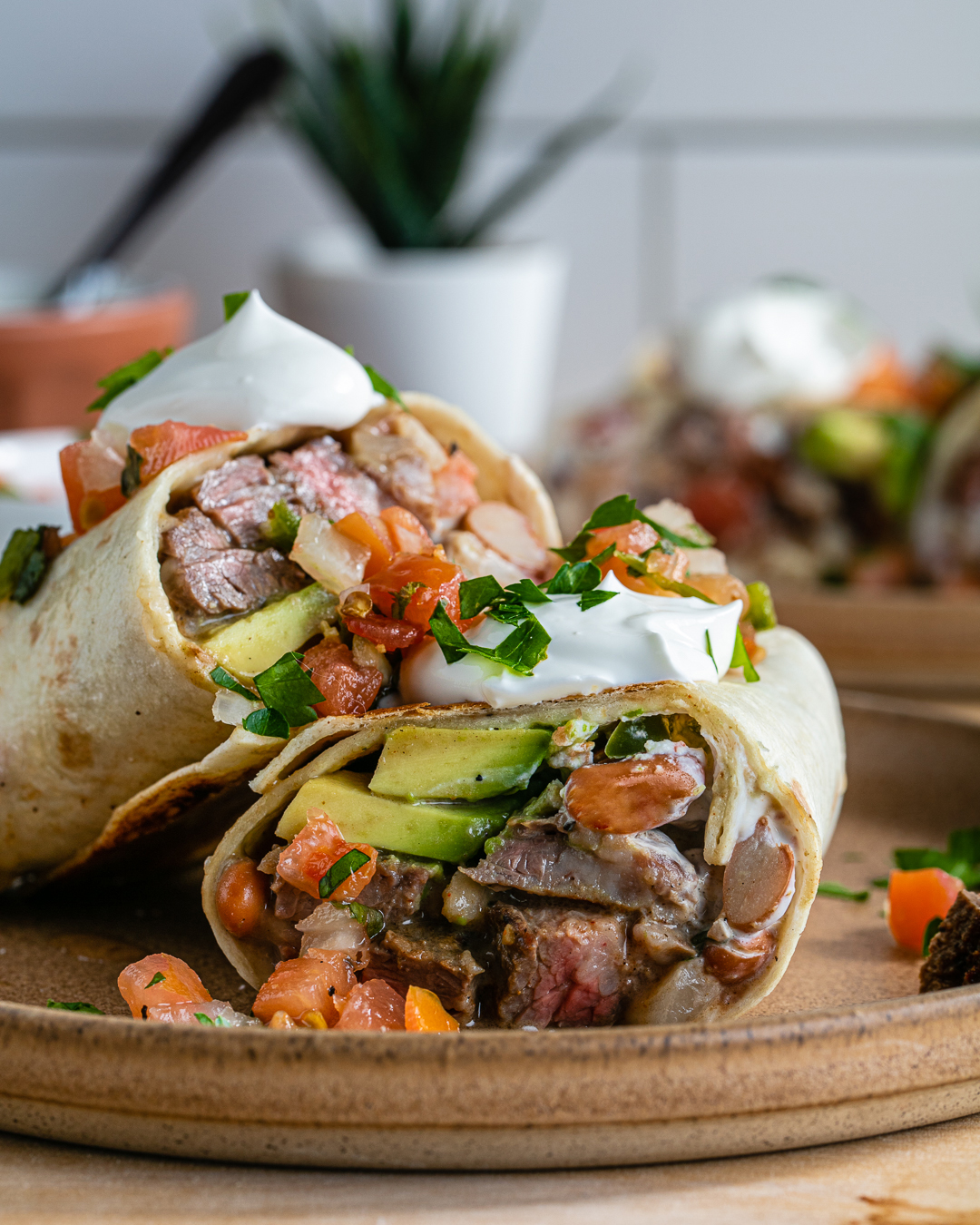 When we don't know what to make for dinner, our solution is almost always this steak burrito. It's incredibly satisfying — full of contrasting flavors and textures that meld into one incredible bite. And it's so easy to throw together, perfect for last-minute weeknight meals.
We start by marinating skirt steak in beer to give the meat a subtle maltiness and make it very tender. (And you can do all your marinating the night of because the beer only needs about 20 minutes to work its magic!) After the beer bath, we rub the steak down with a mix of salt, black pepper, chili powder, cumin, and onion and garlic powders. All those spices sizzle and char as we sear the steak, creating a bright, spicy, slightly smoky flavor.
Every burrito needs a slathering of beans, and for this recipe, we took an unfussy but effective route: popping open a can of pintos, warming them up, and stirring in sautéed onions for an aromatic boost. We roll them in a tortilla with the chopped steak, mild Monterey Jack cheese, creamy avocado, chunky pico de gallo, tangy sour cream, and bright salsa verde. All those fresh, creamy fillings really mellow out the spiciness of the steak.
To give the burrito both structure and crunch, we toast each side in a hot, hot skillet. The end result is a perfect example of balanced textures: creamy, crispy, chewy, and tender. We especially love how the burrito is nice and moist — there's no need to dunk it in salsa or hot sauce. ("Need" being the operative word here; if the heart wants a salsa dunk, the heart wants a salsa dunk!)
Servings: 4
Ingredients
1 lb skirt steak
1 12-oz can Tecate beer
3 Tbsp grapeseed oil, divided
1 cup diced onions
1 15.5-oz can pinto beans, rinsed and drained
1 tsp kosher salt
½ tsp freshly ground Gelson's black pepper
½ tsp Gelson's onion powder
½ tsp Gelson's garlic powder
¼ tsp Gelson's ground cumin
⅛ tsp Gelson's chili powder
4 extra-large flour tortillas
1 ⅓ cups shredded Gelson's Monterey Jack cheese, divided
1 avocado, sliced, divided
6 Tbsp pico de gallo, divided
4 Tbsp sour cream, divided
4 Tbsp salsa verde, divided
Directions
Cut the steak in half and place both halves into a plastic resealable bag. Add the beer, squeeze out any excess air in the bag, and then seal the bag. Let the steak marinate for 20 minutes.

Meanwhile, in a medium pot, heat 2 Tbsp grapeseed oil and the onions over medium heat. Cook until the onions are translucent, 3 to 4 minutes.

Add the pinto beans, cover, and cook for 10 minutes, stirring occasionally, until the beans are soft.

Remove the steak from the bag, discarding the marinade, and pat it dry using a paper towel. In a small bowl, combine the salt, black pepper, onion powder, garlic powder, cumin, and chili powder. Sprinkle and rub the seasoning mixture over both sides of the steaks.

In a large cast-iron skillet over high heat, cook the steak for 2 to 3 minutes on each side, until charred and cooked to medium (internal temp 135º to 140º). Let the steak rest for 10 minutes, then slice into bite-size strips. Repeat with the remaining steak.

In a large, clean skillet over low heat, warm 4 tortillas for 2 minutes each, flipping halfway through.

Line each tortilla with ⅓ cup shredded Monterey Jack cheese, ½ cup chopped steak, ½ cup pinto beans, ¼ sliced avocado, 1 ½ Tbsp pico de gallo, 1 Tbsp sour cream, and 1 Tbsp salsa verde.

Begin rolling the tortilla up from the bottom, fold in the sides, and then tightly roll up the burrito completely.

In a large skillet, heat the remaining 1 Tbsp grapeseed oil over medium heat, and cook the burritos for 2 minutes, or until they're golden brown on all sides. Transfer to a cutting board, cut each burrito in half, and enjoy.
Recipe adapted from: The New York Times (Miguel Jara, La Taqueria)
Calculate nutrition information for this recipe.