Dinner Recipes
Stovetop Clam Bake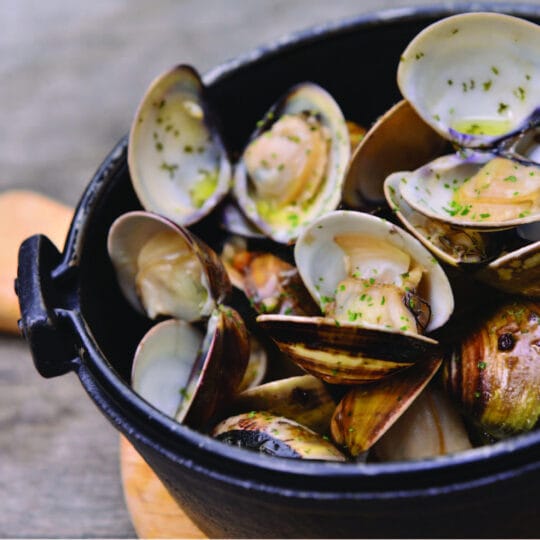 Dinner
Stovetop Clam Bake
Serves: 8
Ingredients
2 lbs littleneck clams scrubbed
1 mussels scrubbed and beards removed
1/2 cup white distilled vinegar
2 fresh rosemary stems removed
8 cloves of garlic peeled and coarsely chopped
6 shallots peeled and coarsely chopped
1 tbsp cracked black pepper
4 leeks white and light green parts only thoroughly washed dried and cut into julienne
4 ears of corn husked silk removed and each cut into 4 pieces
2 raw lobsters cut into 6 pieces with claws and legs cracked
12 Roma tomatoes cored and halved
Directions
Place clams in one bowl and mussels in another.
Divide vinegar between the bowls and let the shellfish stand for 30 minutes.
Rinse the clams and mussels thoroughly under cold water, this will remove any sand or grit.
Line the bottom of a large 15 inch diameter, deep pot with 1/2 of the herbs, the garlic, and the chopped shallots.
Add half the pepper and pour in the wine and water.
Cover pot with lid and place pan over high heat, bring mixture to a boil.
Remove pot from heat, take off lid, and add the clams and mussles to the pot.
Cover with half of the remaining herbs, and layer in half of the leeks, the corn pieces, the lobster pieces, and the Roma tomatoes.
Cover pot with lid and simmer over low heat for 10 minutes, or until clams begin to open.
Remove cover and add remaining leeks, layer in the shrimp, and top with the remaining herbs.
Replace cover, and continue to simmer the mixture, giving the pot an occasional gentle shake to distribute the juices, in approximately 10 minutes, the shrimp should be pink and opaque.
Remove from heat and allow to sit, covered, for another 5 minutes before serving.