Dessert Recipes
Strawberry Coffee Cake
The heart of this tempting coffee cake is not the golden brown streusel but the bright pink ribbon of strawberries beneath it. To get that effect, we layered the strawberry slices on top of the cake batter and then sprinkled them with a buttery concoction of pecans, oats, brown sugar, cinnamon, and a pinch of salt. As the cake bakes, some of that butter and brown sugar seeps into the strawberries. The result is delightful!
Take a bite, and the crunchy streusel topping quickly gives way to jammy, sweet-tart strawberries — and then comes the cake. The batter is made with eggs, sour cream, and vanilla, so the crumb is dense, super moist, and redolent with the vanilla's floral warmth. It's like your cozy cinnamon coffee cake has met the sunshine and is having a spring fling.
By definition, coffee cakes have a homey brunch vibe, but this one is especially tall and pretty. It will be perfect for a baby shower or a brunch with your folks. We can see it on a cake stand styled with pale blue gingham linens and a giant vase of flowers. Hello, spring!
Servings: 10 to 12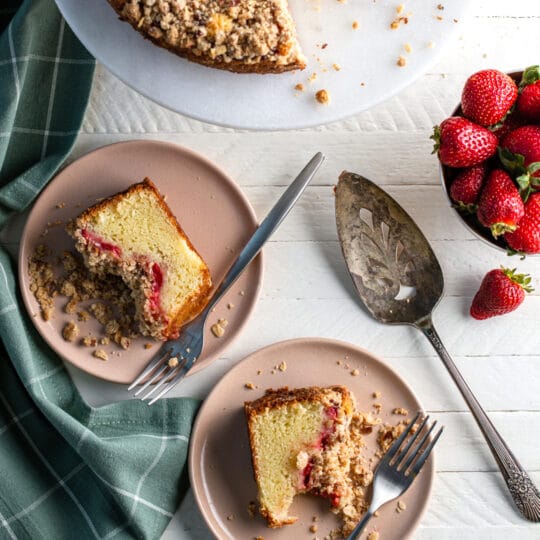 Dessert
Strawberry Coffee Cake
Ingredients
½ cup unsalted butter, room temperature, plus more for greasing pan
1 ½ cups all-purpose flour
1 ¼ cups granulated sugar
1 Tbsp packed brown sugar
½ tsp Gelson's ground cinnamon
¼ cup unsalted butter, melted and cooled
1 ½ cup strawberries, hulled and thinly sliced
Directions
Preheat the oven to 350º. Generously butter an angel-food cake pan.

To make the cake: In a medium bowl, sift together the flour, baking powder, and baking soda. Stir in the salt.

In a stand mixer fitted with a paddle attachment, cream the butter and sugar until light and fluffy, about 3 minutes.

Add the eggs, one at a time, beating well after each addition.

Reduce the speed to low. Alternately add ½ the dry ingredients with ½ the sour cream and vanilla extract, mixing until just combined. Do not overmix.

Transfer the batter to the prepared cake pan.

To make the streusel: In a small bowl, stir together the flour, sugars, salt, and cinnamon. Add the melted butter, pecans, and rolled oats, and mix until evenly combined.

Lay the strawberry slices in an even layer over the batter, and sprinkle the crumble topping over the cake.

Bake for 40 to 45 minutes, or until a toothpick inserted in the center of the cake comes out clean. Cool for 10 minutes.

Use an offset spatula to loosen the edges of the cake from the outer and inner rims of the pan. Unmold the cake from the pan, using the spatula to loosen it from the bottom. Transfer the cake to a serving plate and enjoy!
Recipe adapted from: New York Times