Recipes
Strawberry Shrub & Rum Cocktail Strawberry Shrub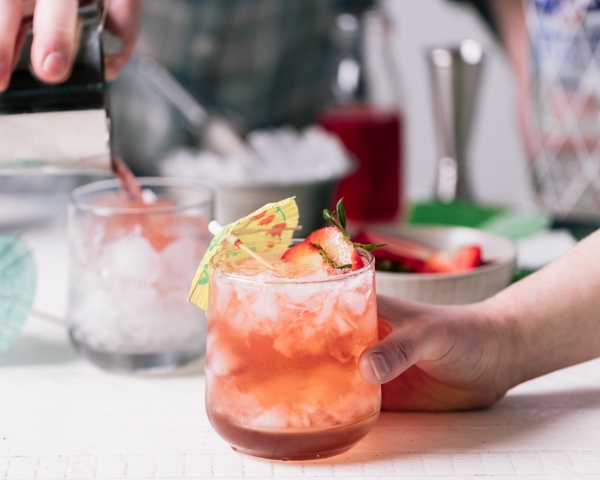 This is what a bright red, syrupy snow cone wants to be when it grows up: a cocktail made with strawberry shrub, rum, ginger ale, and loads of crushed ice. Like all shrubs, the one we've used here is a study in contrasts — the sweet berries, the pucker-inducing vinegar — and the ginger ale is here to smooth down its brighter notes with a zippy sparkle. What's the rum doing? In theory, lending the drink some caramelly burnt-sugar base, but it's so quiet about it, you almost forget it's there. Danger, danger!
It's the quintessential sunny Saturday cocktail. If the kids are having a pool party, we'll make up a pitcher of rummy shrubs for the parents. They're pretty fantastic with grilled chicken and pineapple kabobs. If we're walking down to the beach to watch the sunset, we'll shake up a batch in a water bottle and throw it in the freezer for a few hours — so that it stays icy cold 'til we find our perfect spot in the sand.

Our tip: We used Diplomático Reserva Exclusiva rum. It's a nice, complex rum, full of warm toffee, vanilla, gingerbread, and orange zest — everything you need to balance out the drink's high notes!

Servings: 1
Ingredients
Ice
2 oz rum
1 ½ oz strawberry shrub (recipe below)
Crushed ice
2 oz ginger ale
½ strawberry for garnish
Directions
Fill a cocktail shaker with ice and add the rum and shrub. Shake well, and then strain the mixture into a big glass filled with crushed ice.
Top with ginger ale and give it a quick stir.
Garnish the drink with half a strawberry — or a bunch of strawberries, go crazy — and enjoy.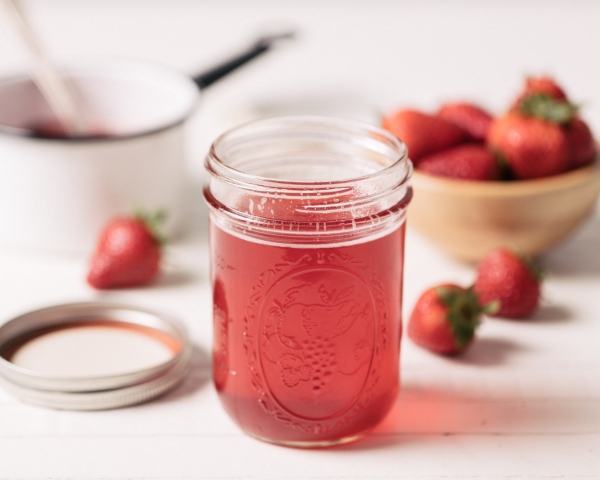 Yield: 2 cups
Ingredients
1 cup water
1 cup sugar
2 cups sliced strawberries
½ to 1 cup white wine vinegar
Directions
In a medium saucepan, heat the sugar and water over medium heat, stirring until the sugar is dissolved.
Add the sliced strawberries and cook for 15 minutes or until the syrup is very red, stirring occasionally.
Remove the syrup from heat and let it rest for a few minutes, until it's cool enough to handle.
Strain the syrup, reserving the liquid and pressing the berries gently into the strainer to extract more juice from them.
Measure the resulting liquid, and add half again as much white wine vinegar. (Ours yielded 10 ounces, so we added 5 ounces of vinegar.)
Let the shrub cool before you use it. It will keep for at least two weeks in the refrigerator.
Recipe source: Food & Wine