Snacks Recipes
Strawberry Soup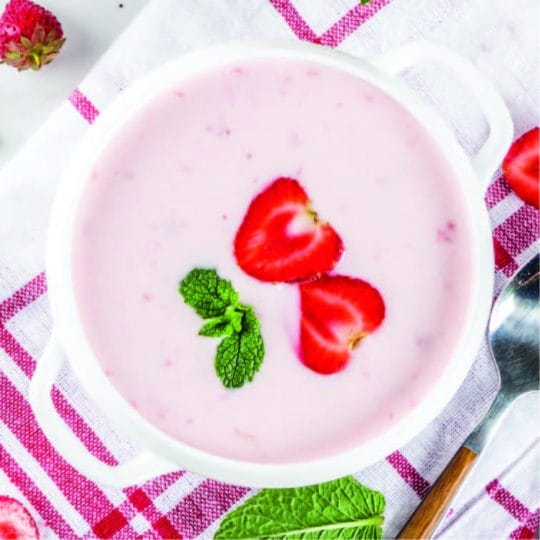 Snacks
Strawberry Soup
Serves: 6
Ingredients
3 pints fresh strawberries washed and stemmed save 3 for garnish
1 cup calcium fortified orange juice
1 tablespoons instant tapioca
1 cups low fat buttermilk
1 teaspoon almond extract
1 teaspoons grated lemon peel
Directions
Pure strawberries and orange juice in blender. Pour into large saucepan.
In small bowl, mix tapioca with some pured strawberry mixture to dissolve, then add to the remaining strawberry mixture in saucepan. Add allspice and cinnamon.
Heat, stirring constantly until soup boils. Cook 1 to 2 minutes, until thickened. Remove from heat.
Pour into large bowl or pitcher. Add sugar, lemon juice, buttermilk, almond extract, and lemon peel. Stir well.
Refrigerate until cold. Serve in bowls or hollowed out cantaloupes. Top with sliced strawberries. Can be made up to 3 days in advance.