Snacks Recipes
Summer Fruit Salad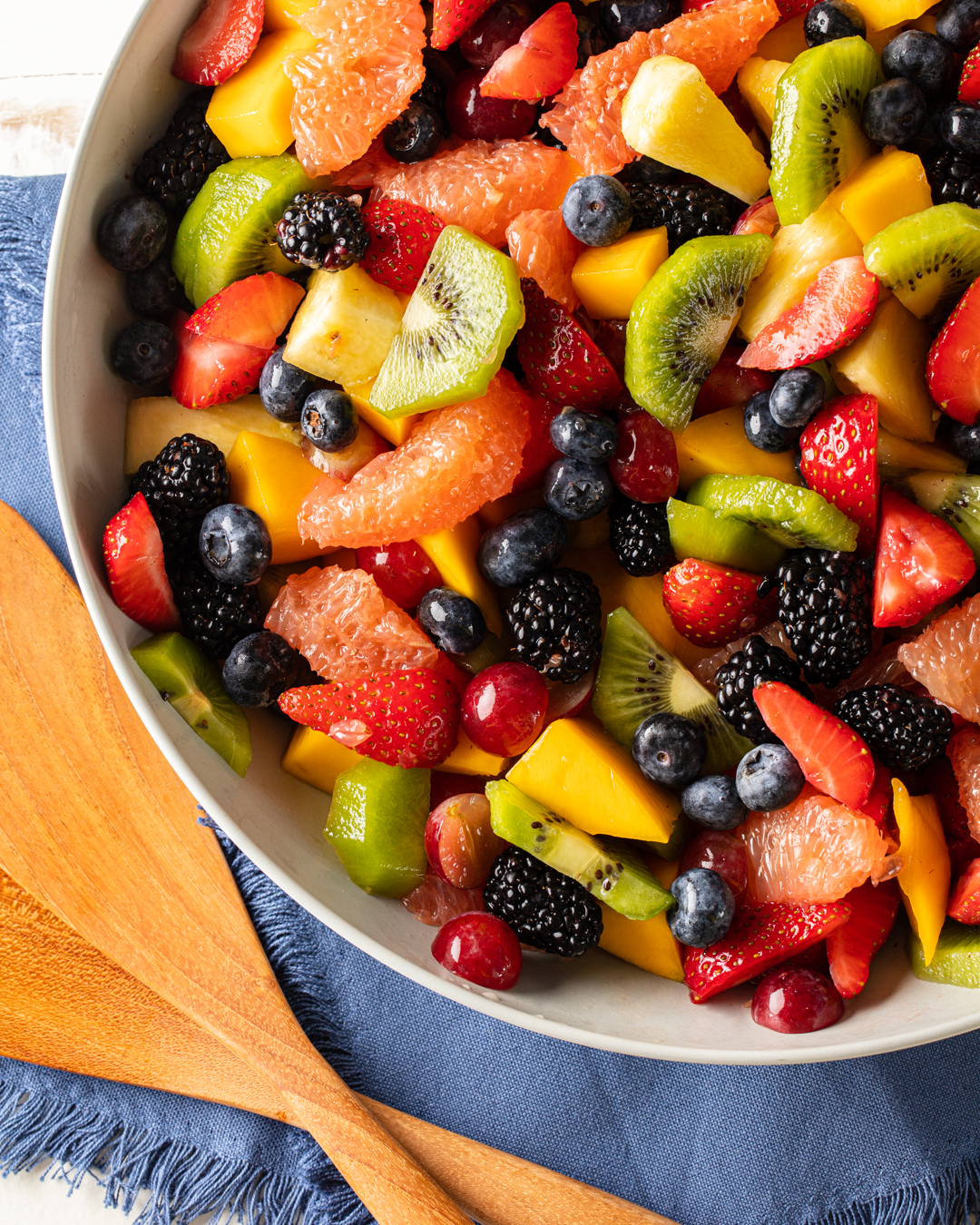 Whenever we have company staying at the house, we make sure to stock the kitchen with some staple provisions so everyone can fend for themselves. In the pantry, there's potato chips and pretzels for nibbling on while playing board games. In the cookie jar, there's a batch of our best chocolate chip cookies. And in the refrigerator, right below the sandwich fixings, we always have a big bowl of fruit salad.
This particular fruit salad is delightfully simple. There's no dressing, no added sugar, no funny business; it just lets all that beautiful summer fruit shine. And it's well balanced, too: there's everything from zingy kiwifruit to juicy grapes. Our favorite is to play around with eating different combinations of the fruits at once. In fact, everyone in the test kitchen discovered a favorite fruit duo from this mix — blackberries and grapefruit, blueberries and pineapple, strawberries and mango, to name a few.
We love fruit salad because it's perfect any time of day. We'll dole out a few spoonfuls at breakfast to go with our eggs and toast, eat it as a side with our turkey sandwich for lunch, and pull out the bowl for happy hour … and maybe plop a few fruit pieces into our cocktails. Kids (or grown-up guests) hankering for an afternoon snack? Tell 'em to grab some fruit salad!
Our tip: if you like your fruit salad on the not-so-tart side, sprinkle it with a little bit of cinnamon sugar to give it a warm sweetness that won't overpower the flavors of the fruit.
Servings: 12 to 14
Ingredients
2 grapefruit
½ pineapple, peeled, cored, and sliced into 1" pieces
2 mangoes, peeled, pitted, and sliced into 1" pieces
4 kiwifruit, peeled, halved, and sliced ¼" thick
1 lb strawberries, rinsed, hulled, and quartered
2 cups red grapes, rinsed and halved
6 oz blackberries, rinsed
1 pt blueberries, rinsed
Directions
Cut the ends off of the grapefruits and lay them flat on a cutting board. Using a paring knife, remove the pith and peel, cutting along the curve of the fruit. To release the grapefruit segments, slice along the sides of each membrane. Discard the peel, pith, and membranes.

Place the grapefruit segments in a large bowl.

Add the pineapple, mangoes, kiwifruit, strawberries, red grapes, blackberries, and blueberries. Toss gently to combine.

Serve immediately or store in an airtight container in the refrigerator for up to 3 days.
Calculate nutrition information for this recipe.