Dinner Recipes
Super Easy Cacio e Pepe
There's much to love in this delightfully simple dish: The black pepper with its earthy heat — a little punchy and nose-tingling. The Parmesan and Pecorino sauce, so creamy-smooth and nutty. The long, tangled strands of bucatini, cooked to a perfect, chewy al dente. And a handful of parsley, the bright green pop of color that brings its own fresh, peppery notes.
Of course, all that simplicity belies the dish's hidden complexity: the classic version of the recipe involves putting hot pasta, grated cheese, and pasta water in a skillet and then tossing all the ingredients until a smooth sauce forms. That's no mean feat — cheese chunks happen, even to the best of us!
Fear not, you won't have to do that!
Recently, our hero Andrew Babish (after some coaching from chef Luciano Monosilio) made cacio e pepe by throwing all the sauce ingredients in a blender and then tossing it with the hot noodles. So much easier!
We tested the recipe, made a few small Gelson's-y adjustments, and put it on "paper" because we loved it so much. Here it is, silky-smooth, weeknight easy, and absolutely delicious!
Servings: 6 to 8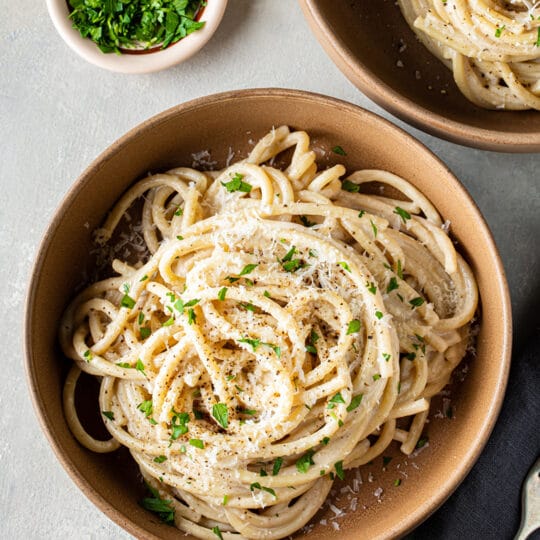 Dinner
Super Easy Cacio e Pepe
Ingredients
2 Tbsp plus 1 tsp extra virgin olive oil, divided
1 ½ tsp Gelson's whole black peppercorns
5 oz Parmigiano-Reggiano, finely grated
3 oz Pecorino Romano, finely grated, plus more for garnish
Freshly ground Gelson's black pepper, for garnish
Chopped parsley, for garnish
Directions
Bring a large pot of water to a boil over high heat. Lightly season the water with salt, add the bucatini, and cook until al dente, about 7 to 9 minutes.

Reserve 2 cups of the pasta water, then strain the bucatini. Drizzle 1 teaspoon extra virgin olive oil over the bucatini and toss to coat. Set aside.

To make the cheese sauce: In a blender, combine ¾ cup reserved pasta water and the whole black peppercorns. Blend on high until the black pepper is finely ground, 1 minute.

Add the grated cheeses and blend on low speed. Slowly pour in the remaining 2 tablespoons of olive oil, while blending, to emulsify the sauce. Scrape down the sides of the bowl as needed.

Increase the speed to high and blend until the cheese sauce is light and creamy, 1 to 2 minutes. If needed, add more pasta water, 1 tablespoon at a time, until the sauce is combined and just thin enough to pour.

Return the pasta to the sauté pan, pour the cheese sauce on top, and stir to coat.

Cook the pasta over medium low heat, while tossing, until the cheese sauce is smooth and glossy, 1 to 2 minutes. If the sauce feels too thick, add more pasta water, 1 tablespoon at a time. Season with salt.

Serve the cacio e pepe garnished with Pecorino Romano, freshly ground black pepper, and chopped parsley. Enjoy immediately.
Recipe adapted from: Andrew Babish and Luciano Monosilio