Dinner Recipes
Sweet and Sour Chicken Tenders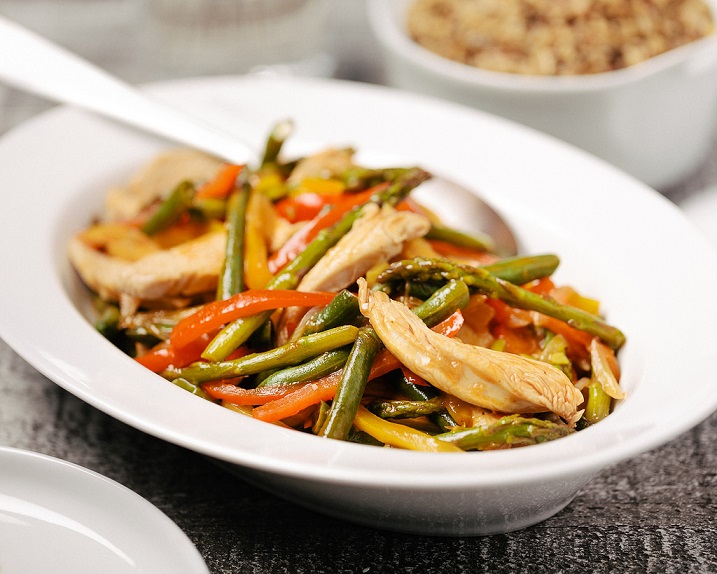 Imagine tender chicken and crisp, colorful veggies — asparagus, green beans, and bell peppers — coated in a classic tangy sweet-and-sour sauce and served on a steaming bed of rice. Now imagine you made it in a stress-free 15 minutes! It can be done, thanks to some premade simmer sauce and rice.

This is a recipe we lean on when the week is crazy busy. It's full of flavor and snap, and it helps us get the whole family fed fast. Our kids are pretty wild about chicken tenders, but we've also swapped in other proteins, like steak and firm tofu. The veggies are similarly flexible: if someone in your family dislikes asparagus, try julienned carrots or celery.
Servings: 4
Ingredients
1 lb chicken tenders or boneless, skinless breasts, cut into thin strips
1 cup Asian Fusion Tangy Sweet & Sour Marinade & Dipping Sauce
1 ½ cups red and yellow bell peppers, diced in 2-inch pieces
1 cup asparagus, woody ends trimmed, cut into 2-inch pieces
1 cup green beans, trimmed, cut into 2-inch pieces
½ cup chopped yellow onion
1 8.5-oz pkg Seven Whole Grains Rice

Directions
In a large bowl, mix together the chicken tenders and ½ the package of Sweet & Sour Simmer Sauce.
In a 10-inch skillet, cook the chicken over medium high heat, stirring occasionally, until it's cooked and no longer pink, about 4 to 6 minutes.
Remove the meat from the skillet, set aside and keep warm.
Meanwhile, in same skillet, cook the peppers, asparagus, green beans, and onions over medium heat until asparagus and green beans are slightly tender and bright green.
Add the remaining half of the sauce packet and reserved chicken tenders; continue cooking, stirring occasionally, until sauce is heated through, about 3 to 4 minutes.
Warm the rice according to the instruction on the packaging.
Serve the chicken, vegetables, and sauce over warmed rice.
Recipe source: Seeds of Change.