Appetizer Recipes
Sweet Potato, Yam & Beet Galette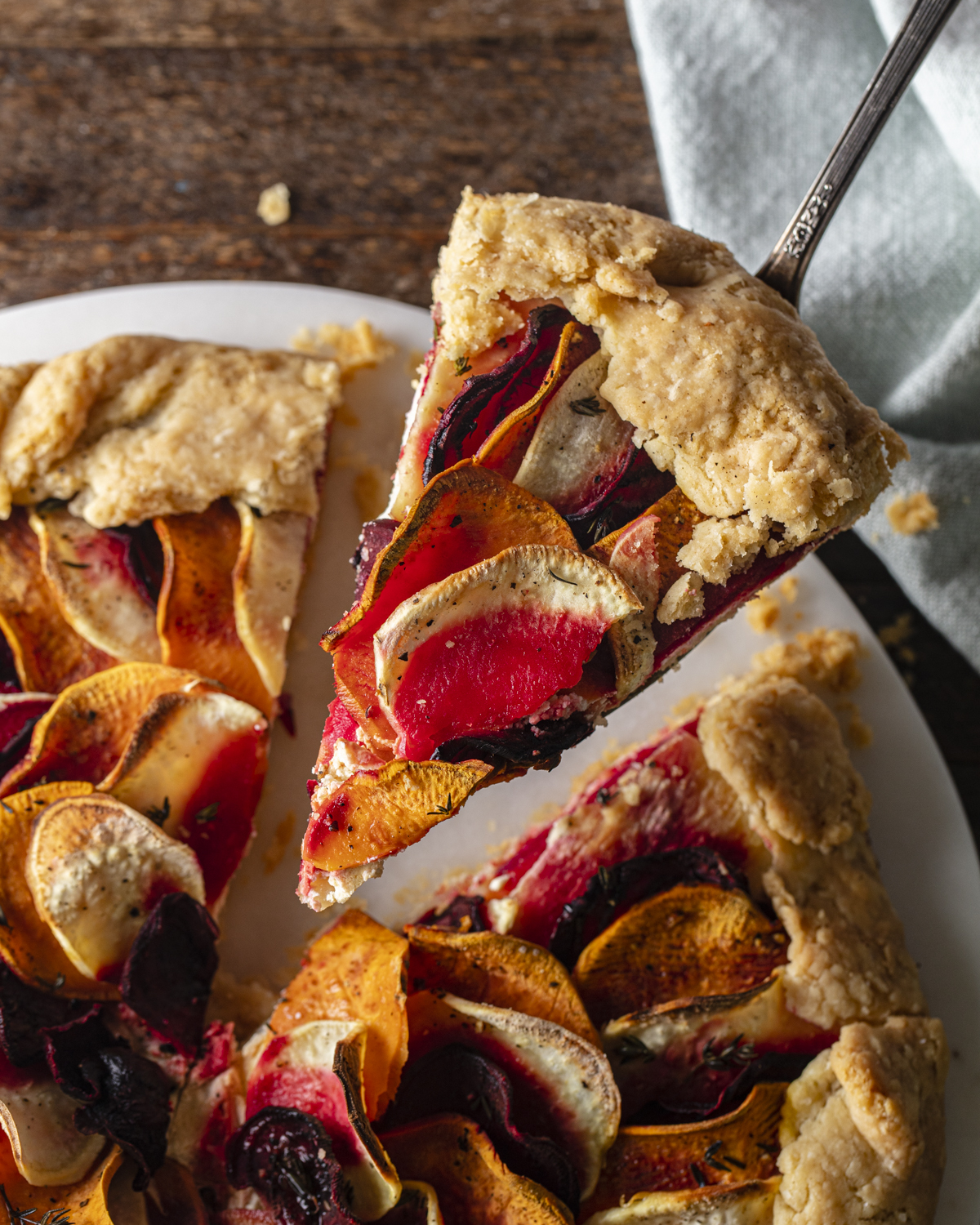 In the test kitchen, we've all got a bad case of pie fever. It's that time of year; nearly everyone we know has it. This galette crust is one of our favorites because it's far less fiddly than a pie or tart — any mistakes are simply part of its rustic charm. We also like that it's buttery and flaky like a pie dough, but it has a bready, substantial vibe that makes it versatile.
In this case, we've filled it with a few simple ingredients: earthy beets, sweet potato, starchy yams, tangy chèvre, and fresh thyme. There's a sprinkle of olive oil and flake salt too — the perfect finish for those sweet root veggies. It's rich and satisfying, and you could serve it as an appetizer, a side dish, or a gorgeous main.

If for example, we were having Friendsgiving with the girlfriend's food-loving friends for the very first time, we would definitely bring a root vegetable galette. With all those layers of sweet potato, beet, and yam, it's a showstopper. Phones will be clicking!

Servings: 8
Ingredients
For the pastry:
2 cups all-purpose flour
1 tsp kosher salt
½ cup unsalted butter
3 to 4 Tbsp ice water
For the filling:
8 oz chevre
1 large sweet potato, peeled, sliced ⅛-inch thick
2 large red beets, peeled, sliced ⅛-inch thick
1 large yam, peeled, sliced ⅛-inch thick
1 Tbsp olive oil
1 tsp Gelson's organic thyme leaves
Kosher salt, to taste
Black pepper, to taste
Directions
To make the dough: In a large bowl, combine the flour and salt. Cut in the butter using a fork or your fingers, gently mixing until the butter is pea-size and coated in flour.

Add in the ice water, 1 tablespoon at a time, mixing until the dough begins to take shape. Gently knead the dough with your fingers to help bring it together. If needed, add additional water, a little at a time.

Turn the dough out onto a floured surface, shape it into a disc, wrap it in plastic, and put it in the refrigerator to rest for at least 2 hours.

Preheat the oven to 375°.

Turn the dough out onto a piece of parchment paper and roll it out until it's a ¼-inch thick circle.

Move the parchment paper and dough onto a baking sheet.

Spread the goat cheese onto the galette, leaving a 1-inch border around the edge. Layer rounds of cut sweet potato, beets, and yams on top of the goat cheese.

Gently fold the bare edge of the dough over the layered vegetables, working around the entire circle.

Drizzle the olive oil over the galette, and then sprinkle it with the fresh thyme, salt, and pepper.

Bake until the vegetables are cooked through and the crust is golden, 40 to 50 minutes.

Transfer the galette to a cutting board and serve warm or room temperature.
Recipe adapted from: Vermont Creamery
Calculate nutrition information for this recipe.