Dinner Recipes
Sweet Potatoes & Andouille Sausage
In the test kitchen, this rustic bowl of sweet potatoes and sausage was originally billed as a side dish, but a few bites in we knew it was meant to be the main attraction — and a very comforting one at that.
The andouille sausage caramelizes in a pan with nearly a head of garlic, a bunch of shallots, a big pinch of Cajun seasoning, a half cup of coffee, and spoonfuls of Worcestershire sauce and Tabasco. All those big flavors taste amazing with the relatively minimalist sweet potatoes. Light, fluffy, meaty, sweet, and full of lush salt and heat, this dish has it all.
This dish will be right at home on your holiday table, but consider making it for TV night with your partner, a fruity red wine, and a cozy duster cardigan. You may have to hit pause for the oohs and aahs.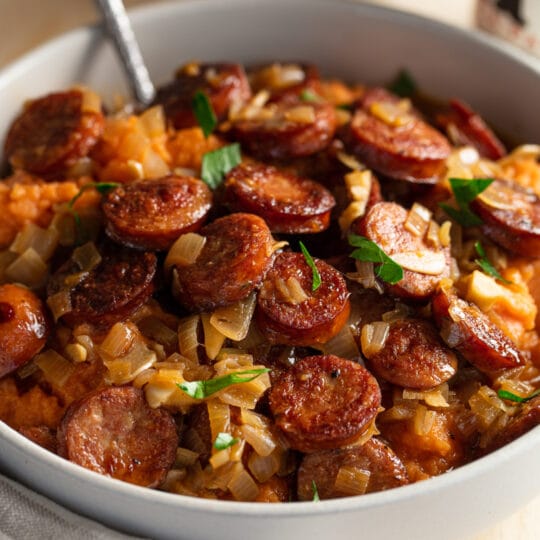 Dinner
Sweet Potatoes & Andouille Sausage
Serves: 8
Ingredients
3 large sweet potatoes, peeled and cut into 2" pieces
¼ cup plus 2 Tbsp unsalted butter, diced, divided
12 oz andouille sausage, sliced into ¼"-thick rounds
4 large shallots, diced medium
6 garlic cloves, thinly sliced
1 tsp McCormick Cajun seasoning
2 cups low-sodium chicken broth
½ cup brewed strong coffee
1 Tbsp Worcestershire sauce
Chopped fresh parsley, for garnish
Directions
Place the sweet potatoes in a large pot, cover with 1" of water, and season lightly with salt. Bring to a boil and cook for 12 to 15 minutes or until the sweet potatoes are fork-tender.

Drain the potatoes and place them in a large bowl. Add ¼ cup of the butter and the heavy cream. Mash well. Season lightly with salt.

In a large skillet, add the oil and heat over medium-high heat. Add the andouille sausage and cook until well caramelized, about 5 minutes.

Reduce the heat to medium. Add the shallots, garlic, and Cajun seasoning and cook until the shallots are translucent, 2 to 3 minutes.

Add the chicken stock, coffee, Worcestershire sauce, and Tabasco to the skillet and bring to a boil over medium-high heat. Reduce the heat and simmer until reduced by ⅓. Stir in the butter until melted.

Transfer the sweet potatoes to a serving platter and spoon the andouille sausage and gravy over them. Garnish with the chopped parsley leaves. Serve hot.
Recipe adapted from: Food Network