Dinner Recipes
Sweet & Smoky Baked Salmon
It's not every day that you get to eat a whole salmon fillet. But when you do, it's glorious. And you don't need to put in a huge effort to make it taste amazing! Here, we slather the fish with olive oil, and then coat it in a rub of grated garlic, brown sugar, smoked paprika, salt, and black pepper. So quick, so unfussy.
Before sliding the salmon into the oven, we cover it in lots of thin butter slices to lock in moisture. It bakes up super juicy and flaky with an aromatic, smoky flavor and a touch of caramelized sweetness. Also: the fish's beautiful peachy hue takes on an eye-catching, bright earthy-red veneer.
We garnish the spice-rubbed salmon with fresh dill and cilantro for a pop of green on the red paprika — and a cool, herby complement to its warmth. It's certainly worthy of a center-stage spot on your Passover table or your monthly dinner party with the pals (and no one will know how magnificently easy it was to make).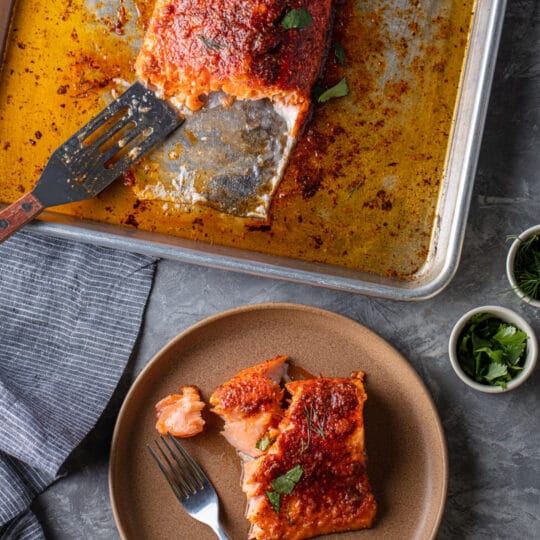 Dinner
Sweet & Smoky Baked Salmon
Serves: 4
Ingredients
2 tsp Gelson's smoked paprika
1 tsp freshly ground Gelson's black pepper
1 ½ lb salmon fillet, skin-on
1 Tbsp extra virgin olive oil
4 Tbsp unsalted butter, thinly sliced
Gelson's organic fresh dill, for garnish
Chopped Gelson's organic fresh cilantro, for garnish
Directions
Preheat the oven to 425º F.

In a small bowl, combine the brown sugar, smoked paprika, kosher salt, and black pepper. Whisk together until combined and discard any clumps of brown sugar.

Place the salmon fillet on a rimmed baking sheet, skin side down. Brush the salmon with the olive oil.

Rub the grated garlic and then the spice mixture onto the fillet until completely coated. Place the slices of butter in an even layer on top of the salmon.

Bake the salmon until it easily flakes with a fork, 9 to 12 minutes depending on the thickness of the flllet.

Garnish the salmon with dill and cilantro and serve hot.