Recipes
The Perfect Summer Time Vegetarian Recipes to Enjoy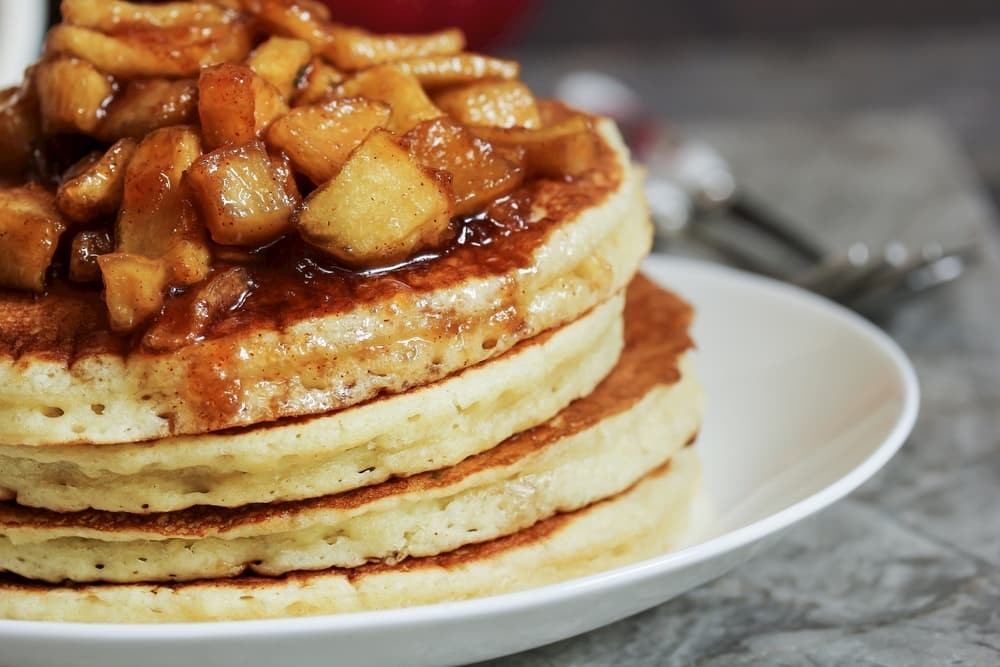 Whether you're an everyday vegetarian or simply enjoy the rainbow of summer produce, there's no better time to discover new vegetarian recipes than during the warmest months of the year. Fresh, flavorful, and often simple to prepare, meat-free dishes can be a wonderful addition to your list of go-to summer meal ideas. We've assembled a collection of our favorite vegetarian recipes for summer, rounding up a delicious array of options for breakfast, lunch, dinner, and everything in between.
Vegetarian Recipes for Breakfast
A veggie-friendly breakfast is an excellent way to start the day, fueling you for whatever summertime adventures lay ahead. Here are a handful of our top vegetarian breakfast recipes for the summer season.
Spinach Tofu Scramble
Kick off the morning with plenty of protein and vegetables, thanks to this quick scramble that you can whip up in no time. With spinach, tomatoes, mushrooms, and garlic added to the tofu and eggs, you'll enjoy bright flavors in every bite. A unique umami-inspired addition of lemon juice and soy sauce will ensure that this scramble stands out from any other.
Vegan Apple Pancakes
When you're on the hunt for vegetarian or vegan breakfasts, a hearty meal isn't off the table – especially not when you serve up these vegan pancakes. Silken tofu and soy milk are swapped in for the more traditional, non-vegan elements, while chopped apples and pecans add a distinctly sweet, dessert-worthy element to your breakfast.
Tempeh and Potato Hash Browns
Transform hash browns into a nutrition-packed dish with tempeh, powering up a classic breakfast side with protein. The perfect savory base for a fried egg, these tempeh and potato hash browns definitely deserve a spot in your summertime brunch spread.
Vegetarian Recipes for Lunch
During the summer, lunch should be an easy, breezy affair – especially on days when you're busy having fun in the sun. Our favorite vegetarian lunch recipes are quick, simple, and full of flavor.
Chopped Chickpea Salad
This chopped salad is everything you could want in an easy vegetarian lunch: easy to make, filling, and delicious. The addition of chickpeas ensures that you'll get plenty of protein to last until dinner, though you could always add some chopped hardboiled egg, cheese, or nuts for an extra boost. Pick your favorite greens as the base, then toss in at least two chopped veggies (we suggest zucchini and corn for a true summer salad).
Peach Salad with Mint and Pistachios
Get creative with your usual salad lunch and try this fruity version, which incorporates peaches, mint, and crunchy pistachios for a one-of-a-kind flavor experience. You'll also mix in some fresh spinach and julienned zucchini, then take the salad to the next level with a Greek yogurt dressing and a pinch of coriander.
Garlicky Broccoli Subs
This vegetarian sub sandwich is completely unlike any you've had before and is a particular favorite of loyal broccoli lovers. It comes together so quickly that you can easily whip it up for a weekend lunch, fitting a hefty serving of vegetables into your midday meal. Roasting the broccoli with minced garlic gives it a punch of flavor, and topping it with crispy fried onions, feta, and Peppadew peppers make it even better. The Asian-inspired mayonnaise, which features Dijon mustard and a splash of sesame oil, add the perfect flair to this summer sandwich.
Vegetarian Caprese Sandwich
A traditional Caprese salad has always been a vegetarian-friendly option, and this recipe puts a sandwich-inspired spin on the Italian classic. Freshly-baked focaccia is the ideal foundation for this sandwich, though a baguette or ciabatta will serve equally well. Stack fresh mozzarella, basil, and tomatoes on the bread, then finish it all off with a drizzle of olive oil, some arugula, and pickled red onions for extra pop.
Many-Veggie Vegetable Soup
For those rainy summer afternoons when the temperature takes a dip, a comforting bowl of vegetable soup is often exactly what you need. This hearty recipe is a smart way to use up a variety of veggies that may be camped out in your fridge, as well as benefit from a range of nutrients served up in a single bowl. Carrots, sweet potatoes, chickpeas, garlic, tomatoes, green beans, kale, and zucchini contribute to the medley of summer flavors, though you can always substitute in your favorite veggies as well. For nights when you're extra-hungry, consider mixing in a cup or two of noodles for an extra-filling meal.
Vegan Cobb Salad with Coconut "Bacon"
Cobb salad doesn't seem like a vegetarian-friendly recipe, but this recipe makes a few clever substitutions that might amaze you. A rainbow of veggies makes up the base, including crisp lettuce, zucchini spirals, summer corn, and tomatoes. Chopped tofu adds protein, while a vegan "buttermilk" dressing drenches the entire salad in dairy-free flavor. Instead of bacon, you'll roast chopped coconut with a few spices, and a drizzle of maple syrup for a high-impact addition you'll barely believe is meat-free.
Vegetarian Recipes for Dinner
As the days get longer and the nights get shorter, enjoying dinner with friends and family alike always feels like a special occasion. Here are a few tremendous vegetarian dinner recipes that are perfect for summertime dining alfresco.
Caramelized Eggplant & Onion Orzo
Packed with a delightful assortment of seasonal summer veggies, this simple skillet dinner comes together in just 30 minutes. Bell peppers, eggplant, basil, onions, and tomatoes are beautifully complemented by a generous helping of shaved parmesan cheese and served on a filling bed of orzo pasta.
Grilled Vegetables
Grilled veggies might sound like an overly obvious vegetarian dish for summer, but this recipe has everything you need to take this dish from boring to fantastic. Mushrooms, squash, corn, red onion, bell pepper, and zucchini are arranged on a skewer, then brushed with olive oil and set on the grill. The difference comes in the dressing you add afterward, which can take the form of basil pesto, Greek dressing, or tzatziki. Serve this dish up to your meat-loving friends at your next cookout, and you might just have them considering a vegetarian life after all.
Tuscan Tortellini Skillet
Craving something a little heartier for dinner? The Tuscan tortellini skillet dinner has less than 10 ingredients but certainly doesn't skimp on rich Italian flavor. Depending on what you have on hand, you can either use fresh or frozen cheese tortellini, mixing in tomatoes, garlic, spinach, and parmesan for an indulgent but healthy summertime dinner.
Black Bean Burgers with Chipotle Ketchup
Burgers are a basic requirement for any summertime meal plan, but you won't be missing the meat once you try this veggie-friendly version. Made with a combination of black beans (a great source of protein), bread crumbs, red onion, and seasoning, these black bean burgers are surprisingly hearty. Served on a Hawaiian sweet burger roll and topped with spicy, chipotle-infused ketchup, it's a veggie burger that's sure to become a summertime classic.
Roasted Cauliflower Tacos
Don't be surprised if Taco Tuesday turns into Taco-Every-Day once you try these roasted cauliflower tacos. Proving that vegetarian tacos don't have to lack in flavor, this creative recipe will give you a new appreciation for classic cauliflower. Lightly charred and spiced, the cauliflower makes a savoring pairing with the toppings of pickled red cabbage, avocado, Greek yogurt, and cilantro.
Lemony Pesto Pasta with Edamame & Almonds
Elegant but casual, this vegetarian pasta dish is an ideal option for summer picnics or weekday dinners. Edamame and spinach give the meal a vibrant punch of green, as well as a nutritious boost of veggie vitamins. Pesto, lemon, and almonds round out the pasta, giving you a meal that takes next to no time to make – but more than delivers on the flavor front.
Sweet Potato Fajitas
A make-your-own fajitas bar is an excellent option for a summertime get-together, giving you and your guests the ability to customize your dinner by choosing from an array of ingredients. These vegetarian fajitas are a healthy crowd-pleaser, substituting the usual chicken or steak with roasted sweet potato. The sliced onions and peppers can be cooked on the same sheet pan, so all you'll have to do is set out the tortillas and toppings and prepare to enjoy your dinner.
Weeknight Vegetable Stir-Fry
There's bound to be a handful of summer evenings when there's no extra minute to spare, which is exactly when this vegetarian stir-fry swoops in to save the day. With minimal effort and time required, this recipe brings together a variety of veggies in a single dish. Instructions for a quick homemade stir-fry sauce is included, as are suggestions for a mix of veggies that includes mushrooms, broccoli, bell peppers, or snow peas. Add in noodles, rice, or cauliflower rice for an extra serving of veggies, then top it all off with a drizzle of Sriracha if desired.
Vegetarian Desserts
No summer season is complete without a selection of tasty treats, and these vegetarian recipes for dessert will surely satisfy your sweet tooth.
Instant Pot Rice Pudding
The Instant Pot has become the darling of the culinary world, especially for home cooks who appreciate easy meal prep. Broaden your pressure cooker horizons with this rice pudding recipe, which is ready in less than half an hour. Although milk is a key ingredient, you have the option of subbing in coconut or almond milk for a dairy-free, vegan dessert.
Peanut Butter Chocolate Mousse
Peanut butter and chocolate are an undeniably perfect pair, making this easy mousse recipe a surefire win for any dessert lover. Although mousse might seem like an intimidating dish to prepare, you might be surprised to discover that even a novice can master it. Topped with whipped cream, a sprinkling of flaky sea salt, and (optional) raspberries, it's an elegant way to end any summertime meal.
Easy Peach Cobbler
Peach cobbler is a timeless summer dessert, and it's easy to see why: with juicy peaches, sweet vanilla ice cream, and a warm, buttery topping, peach cobbler is impossible to resist. With just 10 ingredients, this cobbler recipe is ideal for the peach purist at heart. No simmering or sweetening is needed when it comes to summertime peaches, and this recipe truly lets the delicious fruit shine. If you aren't a fan of ice cream or are trying to stay dairy-free, a dollop of coconut cream is equally delicious on top.
Grilled Apple Pie
You read that right – this apple pie is one that comes right off the grill. For a vegetarian Fourth of July that celebrates all-American flavors, there's simply nothing better than apple pie. It assembles just like a traditional apple pie but is cooked atop a cookie sheet on a gas or charcoal grill, rather than an oven. You won't have to heat up your house, and you can stay outside where all the summer fun is happening. About an hour later, the piping hot pie is ready to be served. Ice cream is a classic topping, and slices of sharp cheddar cheese add an incredible savory edge.
Vegetarian Snacks
You're bound to build up an appetite between meals, especially with all of the summertime fun you have ahead. Here are some of our favorite vegetarian-friendly snacks for anywhere, anytime enjoyment.
Homemade Granola Bars
Skip the jerky and go with a granola bar instead for a filling, veggie-friendly snack that's perfect for eating on the go. While it's tempting to simply grab a box of packaged bars, this homemade recipe is so quick and simple that it's more than worth a try – plus, it kicks any unwanted ingredients to the curb. With just seven pantry staples, including chocolate chips, pumpkin seeds or nuts, honey, and rolled oats, you can have a full pan of chewy and sweet bars for summer snacking.
Fruit Platter with Nut Butter
This is less a recipe and more a go-to snack basic, featuring a much-needed helping of protein to satiate your appetite. All you need to do is slice up your favorite fruits – apples, bananas, and pears are all great options – then serve them alongside a large scoop of your favorite nut butter. Peanut butter is a forever favorite, though almond and coconut butter are excellent alternatives.
Hummus with Veggies and Pita Bread
For another easy-to-grab snack, you can whip up a delicious and dippable mix of vegetables and pita bread, served with hummus. Whether you make your own hummus or have a store-bought option on hand, it makes a rich and satisfying dip for just about anything. Sliced pita bread, cucumbers, cherry tomatoes, carrots, bell peppers, and celery are all staples of a good hummus platter, so take your pick and get snacking!
Green Smoothies
A green smoothie is yet another vegetarian snack that you can customize to your liking, mixing it up with a balance of leafy greens and sweet fruit for a deliciously nutritious beverage. A good rule of thumb is to aim for a 60/40 blend of fruits and vegetables, so you can be sure to maximize flavor without selling yourself short when it comes to veggies. Blend together your liquid and greens first for a smoother drink, then add in fruits such as pineapple, banana, mango, or strawberries.
Almost-Everything Trail Mix
Trail mix is one of the easiest snacks ever, and you can quickly whip up enough to have ready for snacking all week long. This recipe incorporates a huge variety of ingredients, including chocolate chips, dried fruit, banana chips, dried cranberries, coconut, nuts, and pepitas for an out-of-this-world blend that has everything you could ever want.
Make Your Summer a Delicious One with Necessities from Gelson's Supermarkets
As the famous tune says, it's "summertime and the livin' is easy" – or at least, it should be! Make your summer meal prep simple and enjoyable by making sure that your kitchen is well-stocked with groceries from Gelson's Supermarkets. In just a single shopping trip, you can pick up farm-fresh produce, pantry staples, premium meats and seafood, baked goods, and more, giving you more time to make the most of the summer season. Plus, for those busy summer days when there's no time to cook, our Gelson's Kitchen Meals to Go will keep everyone happy and well-fed.
Don't spend your summer driving all over town to find your cooking must-haves; instead, find everything you need right here at Gelson's. Stop by your neighborhood Gelson's and pick up all the ingredients for a truly delicious summer.
Image Credit: shutterstock/vm2002