Breakfast Recipes
Toasted Pecans & Coconut Banana Bread
Oh the joy of a good quick bread! It comes together with very little effort — no stand mixer, frothy egg whites, or fussy frosting. It uses up good ingredients that otherwise might go to waste, in this case a few spare bananas. And yet, it delivers more than those small economies might suggest, filling the house with the cheerful smell of baking cake and turning out a moist, lightly sweet treat.
What makes this particular banana bread special is the toasted pecans and coconut flakes. You chop them up very fine, like a coarse flour, so that they're less crunchy and more structural. They give the bread a light, coconutty flavor and an admirable heartiness. You can smear it with salty sweet cream butter and take it on the morning commute — it won't crumble to pieces on your lapels, and it will definitely satisfy the twin urges to be healthy and to indulge!
Our tip: With quick breads, ease really is the name of the game. If you don't have any buttermilk, you can substitute milk and lemon juice. Simply add ¾ teaspoon of lemon juice to a liquid measuring cup, and then add milk until it measures ¼ cup. Stir the mixture, let it stand for 5 minutes, and you're ready to go. This will work with non-dairy milks too!

Servings: 8 to 10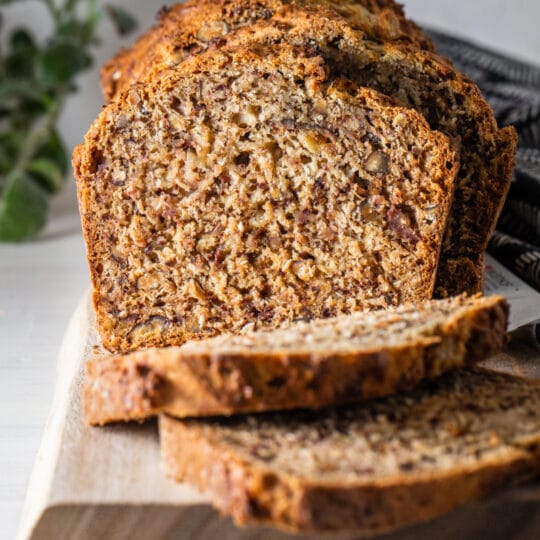 Breakfast
Toasted Pecans & Coconut Banana Bread
Ingredients
½ cup coconut, toasted and cooled
1 cup Diamond of California pecans, toasted and cooled
1 ¾ cup all-purpose flour, plus extra for dusting
3 medium bananas (11 ¼ oz), mashed
Directions
Preheat the oven to 350º. Coat the bottom of a loaf pan measuring 9 × 4 inches with cooking spray and lightly dust with flour.

Chop the toasted pecans and coconut flakes together until they form a coarse crumb.

In a medium bowl, whisk together the flour, baking soda, and salt. Add in the coconut and pecan mixture and whisk to combine.

In a large bowl, combine the mashed bananas and sugar and beat with a whisk until well combined.

Add in egg and buttermilk to the wet ingredients and whisk until combined.

Using a sturdy spatula, fold the flour mixture into the wet ingredients in a few batches.

Pour the batter into the loaf pan and bake for about 50 minutes, or until a toothpick inserted in the center comes out with moist (not wet) crumbs.
Recipe source: Diamond of California