Dinner Recipes
Turkey Meatballs & Orzo Salad
Here's a light and lemony one-bowl meal for you! The meatballs are full of garlic, lemon zest, and parsley, so they taste surprisingly bright and savory — you could put them on a platter with toothpicks. Instead, they're tossed into a bowl with tender orzo, spicy arugula, briny olives, a little parm, more lemon, and surprise, mayonnaise. The result is a lightly creamy salad that feels at once lean and fresh and super satisfying.
Our tips: This is an easy, breezy mid-week dinner that can be served cold or warm. For the latter, add the orzo and the meatballs to the other salad elements while they're still hot. The greens will wilt a little. It's lovely.
And for our gluten-free friends: The meatballs are already gluten-free, so if you replace the orzo with rice or quinoa you'll have an easy, breezy gluten-free meal. Or skip the refined carbohydrates altogether and get your keto on!
Servings: 4 to 6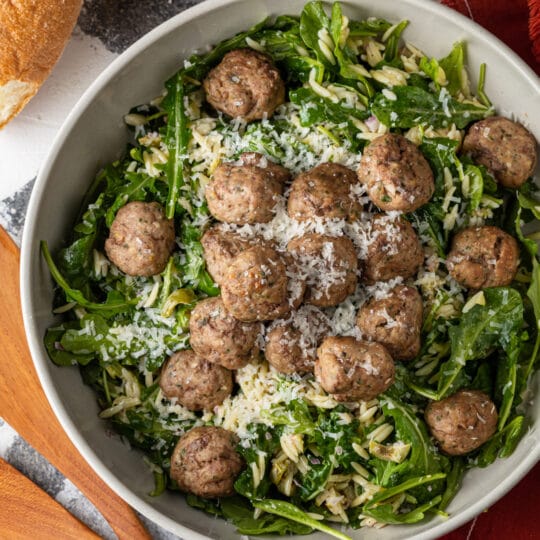 Dinner
Turkey Meatballs & Orzo Salad
Ingredients
1 lb ground turkey (dark meat recommended)
Finely grated zest from ½ large lemon (reserve the lemon for the orzo)
¼ cup parsley, finely chopped
¼ cup grated Parmesan cheese
2 Tbsp olive oil, plus more for greasing pan
1 Tbsp finely chopped shallots
½ cup Castelvetrano olives, pitted and coarsely chopped
Freshly ground black pepper
¼ cup grated Parmesan, plus more for serving
2 cups arugula (or other greens)
Directions
Preheat the broiler and grease a large sheet pan with olive oil.

To prepare the orzo: Bring a large pot of salted water to a boil. Add orzo, and cook according to package directions.

To make the meatballs: In a large bowl, combine the turkey, mayonnaise, garlic, lemon zest, parsley, Parmesan, salt, and a few grinds of black pepper. Mix together until well combined.

Using a cookie cutter, shape the turkey mixture into small meatballs (2 tablespoons each) and place them on the foil-lined sheet pan. It's fine if they're close together. Once scooped, shape the meatballs with your hands.

Drizzle the meatballs with 2 tablespoons of the olive oil and broil them for about 8 to 10 minutes, flipping them once, until they're browned on both sides and cooked through. Remove from oven; cover with foil to keep warm.

In a large bowl, combine the orzo, shallots, olives, olive oil, lemon juice, and mayonnaise. Season with kosher salt and few grinds of black pepper. Stir until combined.

Add the greens, meatballs, and Parmesan and gently toss again.

Recipe source: Food52