Dinner Recipes
Turkey Sloppy Joes
Never underestimate the power of a good Sloppy Joe — this one filled the test kitchen with a lot of noisy chatter, the likes of which we have not seen since that time we made the candied nuts. We didn't expect that kind of enthusiasm. In fact, we were really just looking for something tasty to do with ground turkey, which can sometimes be tricky to cook with because it's super lean. Well, we found it!
What makes this Sloppy Joe so phenomenal? Great big flavor. It's packed with aromatics — a whole onion, two cloves of garlic, and a generous pinch of cayenne pepper. And it's savory as all get-out: There's ketchup, barbecue sauce, Worcestershire sauce, red wine vinegar, and mustard in it. They all come together in a thick sauce that's tangy-sweet and full of rich, umami depth you don't expect from turkey. A handful of shredded Swiss cheese keeps all that bright stuff in balance (and, just as importantly, adds a little fat and a fairly dramatic cheese pull). The pickle chips are a little over the top, it's true, but we dig the crunch.
The texture, of course, is sloppy, but not too sloppy: it stays on the bun. That is if you eat it on a bun; in the test kitchen, we were divided. Some of us liked the way the Sloppy Joe's sauce soaked into the toasty bun, and found the compact package very satisfying. Some of us wanted to tuck all that meaty goodness into a crunchy cabbage leaf or spoon it over rice. And still others, a brilliant few, wanted to put it in a bowl and dip stuff in it — think sturdy ruffled potato chips or (yes!) scoopy Fritos.
So, Sloppy Joes are all things to all people: topping, filling, dip. However you eat them, they make an easy weeknight meal. We recommend inviting the friend-family over for dinner and getting out a few beers. Nostalgic dishes like this one are meant to be shared, and if things get a little bit loud, you're definitely doing it right.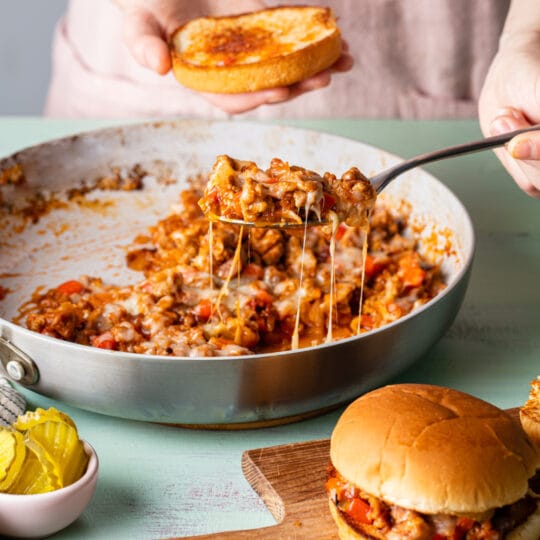 Dinner
Turkey Sloppy Joes
Serves: 4
Ingredients
2 tsp extra virgin olive oil
1 small white onion, diced medium
1 red bell pepper, diced small
1 lb Gelson's all-natural ground turkey
Freshly ground Gelson's black pepper, to taste
¼ cup your favorite spicy barbecue sauce
1 ½ tsp Worcestershire sauce
¾ cup shredded Swiss cheese
4 hamburger buns, toasted
Pickle chips, for topping
Directions
In a medium skillet over medium-high heat, heat the extra virgin olive oil. Add the white onions, red bell peppers, garlic, and a pinch of kosher salt. Sauté for 5 minutes, or until the vegetables are softened. Transfer to a small bowl.

Add the ground turkey to the skillet and season with kosher salt and black pepper. Cook, breaking the turkey up with a spoon and turning occasionally, until browned, 7 to 10 minutes.

Return the onion mixture to the skillet. Stir in the ketchup, barbecue sauce, Worcestershire sauce, red wine vinegar, yellow mustard, and a pinch of cayenne pepper.

Bring to a simmer, then reduce the heat to low. Sprinkle the Swiss cheese evenly over the turkey, cover with a lid, and cook for 2 minutes, or until the cheese is melted. Remove from heat.

Divide the Sloppy Joes between the hamburger buns and top with pickle chips.

Recipe source: Ambitious Kitchen


Calculate nutrition information for this recipe.