Sauces & Seasonings Recipes
Veggie Bowl & Creamy Dijon-Garlic Vinaigrette
In this recipe, a zippy dressing transforms a simple veggie bowl into something splendid. The bowl is a super healthy, no-brainer combo of crispy fried tofu and roasted veggies — sweet potatoes, broccoli, bell peppers, and onion — on a bed of toasty wild rice. A drizzle of tangy garlic-mustard vinaigrette adds an irresistible creaminess and makes the veggies more vivid and sweet, the tofu more nutty.
We used Thrive Culinary Algae Oil to roast the vegetables and emulsify the dressing. We like to cook with it because it's light and almost flavorless — plus, it can take the high temps like a champ. It's also high in the good fats and super low in saturated fats. (Just .5 grams per serving!)
Once you've got the dressing, you can do almost anything with the bowl: Mix up the veggies based on what's in your fridge and what your family/roomie/S.O. likes to eat. Spice it up with a few raw radishes or pickled onions. Swap out the wild rice for ancient grains. Not into the tofu? Nix it. The world is your bowl.
Our tip: Make a giant veggie bowl on Sunday and divide it into to-go containers for the week. You can take a little jar of the dressing with you to work. That's some lunch plan!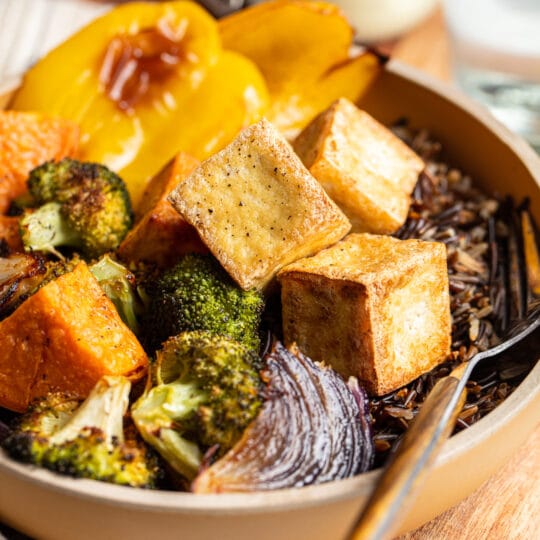 Sauces & Seasonings
Veggie Bowl & Creamy Dijon-Garlic Vinaigrette
Ingredients
For the creamy Dijon-garlic vinaigrette:
¼ cup Thrive Culinary Algae Oil
2 Tbsp white wine vinegar
2 Tbsp plain Greek yogurt
1 medium sweet potato, cut into 1-inch cubes
1 to 3 tablespoons Thrive Culinary Algae Oil, divided
1 small red onion, peeled and cut into 8 wedges
1 small head broccoli, stemmed and cut into rough chunks
8 oz extra-firm tofu, cut into 1-inch cubes
Directions
To make the vinaigrette: Combine all of the ingredients in a sealed jar and shake vigorously.
To make the veggie bowl: Cook the wild rice according to the package instructions.
Preheat the oven to 400º and brush two baking sheets with the algae oil.
Place the chopped sweet potatoes on one baking sheet, drizzle algae oil over them, and season with salt and pepper. Roast the sweet potatoes for 30 to 35 minutes, or until fork tender. Use a spatula to flip them halfway through.
Place the bell pepper, red onion, and broccoli on the second baking sheet, drizzle with algae oil, and roast for 20 to 25 minutes, or until the veggies are tender and just beginning to brown. These veggies should also be flipped about halfway through the cooking time.
In the meantime, in a small saucepan, heat 1 tablespoon of the algae oil over medium-high heat. Sauté the tofu for 3 to 4 minutes on each side, until a golden-brown crust forms.
Divide the rice between two bowls, top with the tofu and veggies, and drizzle with the vinaigrette.