Dinner Recipes
Veggie Chili
This hearty chili is jam-packed with chunky vegetables and beans and full of satisfying texture. We like to blend up a small amount of the chili, and then swirl it back into the pot, which makes the sauce thick and creamy. It's seasoned with paprika, cumin, oregano, and plenty of chili spice, so it's got that classic roadside diner chili flavor — rich, tangy, and just spicy enough to please most palates.
But for the blender, veggie chili is a one-pot meal, and it comes together with very little effort. It's also a meal prepper's paradise. You can get all your veggies, gobs of protein, and stick-to-your-ribs satiation in one wildly comforting, portable bowl of food. Plus, it's got an eat-it-all-week versatility.

As the photograph suggests, it's wonderful in a bowl piled high with toppings — avocado, cilantro, shredded cheese, and hot sauce. But in the test kitchen, people went completely off road with it: One person ate it like a dip, scooping up bites in big, crunchy tortilla chips. One person put a dollop of it in a flour tortilla, melted cheese over it, added toppings, and ate it like a taco. And still another topped it with fried eggs and hot sauce and called it breakfast. It's your chili, do what you wanna do.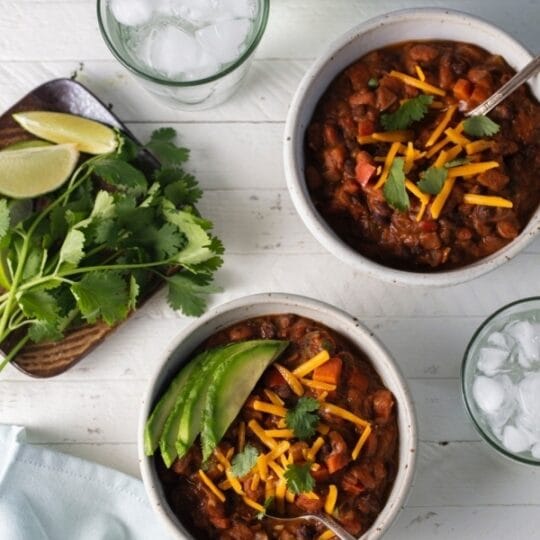 Dinner
Veggie Chili
Serves: 6
Ingredients
2 Tbsp extra-virgin olive oil
1 medium red onion, chopped
1 large red bell pepper, chopped
2 medium carrots, chopped
½ tsp kosher salt, divided
1 28-oz can diced tomatoes, with their juices
2 15-oz cans black beans, rinsed and drained
1 15-oz can pinto beans, rinsed and drained
1 Gelson's organic bay leaf
2 Tbsp chopped Gelson's organic cilantro, plus more for garnish
2 tsp sherry vinegar or lime juice, to taste
Garnishes: chopped cilantro, sliced avocado, tortilla chips, sour cream or crème fraîche, grated cheddar cheese, etc.
Directions
In a large Dutch oven or heavy-bottomed pot over medium heat, warm the olive oil until shimmering. Add the onion, red bell pepper, carrots, celery, and ¼ teaspoon of the salt. Stir to combine and cook, stirring occasionally, until the vegetables are tender and the onion is translucent, about 7 to 10 minutes.
Add the garlic, chili powder, cumin, smoked paprika, and oregano. Cook until fragrant, stirring constantly, about 1 minute.
Add the diced tomatoes with their juices, black beans, pinto beans, vegetable broth, and bay leaf. Stir to combine and let the mixture come to a simmer. Continue cooking, stirring occasionally and reducing heat as necessary to maintain a gentle simmer for 30 minutes. Remove the chili from the heat.
For the best texture and flavor, transfer 1 ½ cups of the chili to a blender, making sure to get some of the liquid portion. Blend until smooth (watch out for hot steam), and then pour the mixture back into the pot.
Add the chopped cilantro. Stir and add vinegar and salt to taste.
Divide the chili into serving bowls and garnish. You can keep the chili for up to 4 days in the refrigerator or 2 months in the freezer.