Beverage Recipes
Watermelon Gin Punch
Isn't this watermelon punch a sight for sore eyes? Spoiler alert: it's slyly boozy, too. We make it with about two cups of gin — but you'd never know because they're hiding under pretty-in-pink layers of watermelon, lemon juice, simple syrup, and a few lush handfuls of mint leaves.
With the first sip, you really get the vegetal side of the watermelon and the dry kick of the gin — and then around sip number three, the juicy side of the melon and the zingy citrus start to steal the show. In other words, the boozy, subtly herbaceous punch seemingly transforms into an easy-sipping, happy-go-lucky watermelon lemonade. (See? So sly!) We love how the tart lemon balances out the sweet, sweet melon, and the mint's summery perfume fills our nose. It's downright delightful.
Punches and pitcher cocktails are made for sharing with friends, family, and neighbors (no shaking up individual cocktails!). This watermelon ditty is no exception: we love it for garden parties, wedding showers, and tête-à-têtes on the screened porch with the BFF. But we also like to stash the covered pitcher in the fridge for contemplative solo sipping after work and on the weekends. A breezy Saturday afternoon spent swinging in the hammock and listening to Haruomi Hosono with this punch in hand? We'll take it.
Our tip: We used Tanqueray London Dry gin in this cocktail for some strong boozy notes. If you want your drink to be a little more subtle and floral, go for Hendrick's or Bombay Sapphire.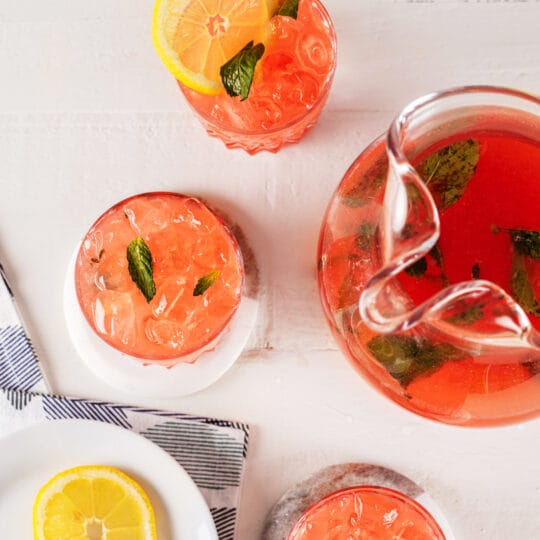 Beverage
Watermelon Gin Punch
Serves: 8
Ingredients
8 cups diced seedless watermelon
12 Gelson's organic fresh mint springs, leaves only
1 cup freshly squeezed lemon juice
Directions
To make the simple syrup: Pour the granulated sugar and water into a small saucepan and turn heat to medium-high. Stir constantly until sugar dissolves and starts to simmer. Take the saucepan off the heat and let it cool.
To make the watermelon juice: Working in batches, blend the watermelon until fully puréed. Strain the blended watermelon through a fine mesh strainer into a separate large bowl.
To make the watermelon gin punch: In a large pitcher, add the mint leaves and muddle until bruised and aromatic. Pour in 4 cups watermelon juice, 1 cup simple syrup, lemon juice, and gin, and stir together. Serve the punch over ice.
Recipe source: Garnish with Lemon