Beverage Recipes
Watermelon-Mango Michelagua
These days, there's no shortage of fantastic nonalcoholic beverages — but our current favorite is the festive michelagua. This one is made with cold-pressed watermelon juice, and we love the intense, melon-y flavor and bright color it gives the drink. It's also practically overflowing with big chunks of juicy mango, so you get some tangy-sweet notes in every slurp.
But the kicker, the thing that makes it special, is that we dip the rim of the glass in Tajín fruity chamoy hot sauce and Tajín seasoning. The chamoy is full of lime and apricots, the Tajín has some mild heat, and together they give the punch a bright, refreshing lilt.
Yes, watermelon-mango michelagua is, by definition, a drink. But because of all the mango floating around in there, you could just as easily call it a snack. (It's begging for one of those combination spoon-straws.) We like it as a balm for the workday doldrums or mid-afternoon tummy grumbles — or as a refreshing quaff for dry happy hours. And you better believe we'll be sipping it poolside come summertime!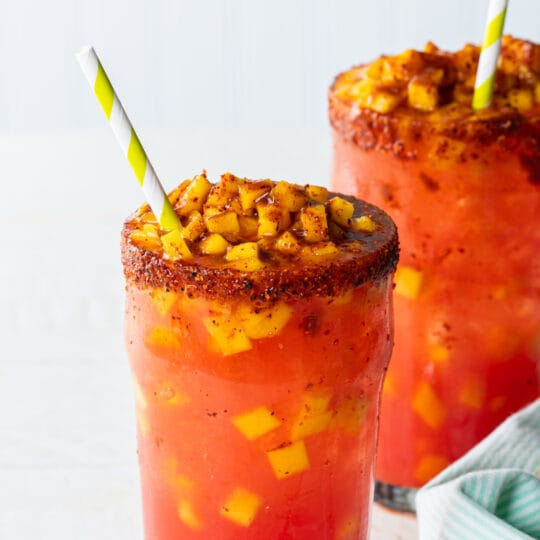 Beverage
Watermelon-Mango Michelagua
Serves: 1
Ingredients
¼ cup Tajín Fruity Chamoy Hot Sauce, plus more for garnish
¼ cup Tajín Clásico Seasoning, plus more for garnish
¾ cup diced mango, divided
1 cup Evolution Fresh cold-pressed watermelon juice
¼ oz freshly squeezed lime juice, plus more to taste
Directions
Spread the chamoy sauce in a small, shallow plate. Spread the Tajín seasoning in a second small, shallow plate.

Dip the rim of a pint glass in the chamoy and then in the Tajín to coat.

In the pint glass, alternate ½ of the diced mango and crushed ice, until the glass is halfway full.

Add the watermelon juice, simple syrup, and lime juice to the glass and stir to combine. Stir in more lime juice, to taste, if desired.

Top the michelagua with more crushed ice and the remaining diced mango. Garnish with chamoy and Tajín. Enjoy immediately.