Dinner Recipes
Weeknight Chicken Tinga
We love the slow, relaxing process of making traditional Pueblan chicken tinga — the occasional stirring of the sauce, the meditative shredding of the meat, the comforting aromas that waft from the kitchen. But sometimes, we need to satisfy our tinga cravings on a tight schedule.
Enter: this breezy weeknight chicken tinga. It comes together in just 20 minutes with Gelson's shredded rotisserie chicken, tomato, chipotles in adobo, and onion — but has a surprising amount of flavor. It has umami depth from the tomatoes, a little bit of heat and lots of smoky complexity from the chipotle peppers, and a touch of sweetness from the silky onions. The chicken? Super tender and juicy.
Chicken tinga tastes awesome in homemade corn tortillas — their rich flavor and hearty texture is the perfect vehicle for the savory, succulent stew. But as this is a weeknight tinga, feel free to use pre-made tortillas. (After all, sometimes the best kind of taco is the kind you can stuff into your face RIGHT now.) And the toppings? Green herbs add a pop of freshness to the bite; the queso fresco some salty, creamy goodness.
Our tip: Weeknight chicken tinga makes great leftovers. Tuck it into a burrito, put it in a rice bowl, or pile it on some butter lettuce for an easy lunch.

Servings: 4 to 6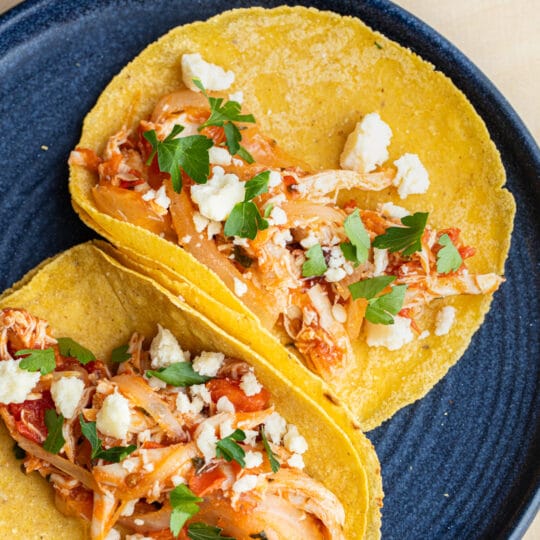 Dinner
Weeknight Chicken Tinga
Ingredients
1 medium white onion, thinly sliced
4 medium tomatoes, medium diced, juices reserved
2 chipotle peppers in adobo, chopped
3 Tbsp adobo sauce (from can)
3 cups shredded Gelson's rotisserie chicken
2 Tbsp chopped Gelson's organic fresh parsley or cilantro, plus more for garnish
1 Tbsp freshly squeezed lime juice
Freshly ground Gelson's black pepper, to taste
Queso fresco, crumbled, for garnish
Directions
In a large skillet, heat the oil over medium-high heat until shimmering. Add the onions and sauté until softened and translucent, about 3 minutes.

Stir in the garlic and cook until fragrant, about 30 seconds.

Add the diced tomato and its juices, chipotle peppers, and adobo sauce. Stir to combine, reduce the heat to medium-low, and cook until the tomatoes begin to break down, about 7 minutes.

Stir in the chicken and chopped herbs. Simmer for 8 minutes.

Add the lime juice and season with salt and pepper.

Heat a medium skillet over medium heat. Working in batches, warm each tortilla for 30 seconds on each side. Stack the warmed tortillas on a plate, and continue until all the tortillas are heated through.

To assemble a taco: Stack 2 tortillas on a plate, spoon the tinga over them, and garnish with queso fresco and chopped herbs.

Assemble the remaining tacos and serve warm with lime wedges. Leftover tinga can be stored in an airtight container in the refrigerator for up to 5 days.
Recipe adapted from: Mexico in my Kitchen

Calculate nutrition information for this recipe.