Dinner Recipes
White Bean & Garlic Toasts
Oh toast, how we adore thee! Whether slathered simply in salted butter and jam or piled high with fancy fixings, toast always manages to brighten our day. Here, we have thick slabs of sourdough with a creamy cannellini topping. Seems pretty ordinary, right? Wrong! This toast is special toast, thanks to an oh-so aromatic garlic oil.
We make it by frying crushed garlic cloves, rosemary, thyme, and serrano pepper in olive oil, and then straining out and reserving the chunky bits. It's worth the (very minor) trouble, because the fragrant oil makes an appearance in each and every component of this toast: It gets brushed on the sourdough slices, so they grill up beautifully golden brown — and soak up the oil's garlicky flavor. The reserved fried garlic cloves get whirled up with some of the oil, Dijon, anchovy, and lemon to make a punchy spread. And, you guessed it, the oil is also in the bean purée, along with lemon juice and dill.
The finishing touch? A sprinkle of red pepper flakes and some of the leftover fried herbs from the oil.
We love how the dill manages to shine through the delightfully pungent flavors of these toasts and bring a hint of freshness to each bite — like a delicate line of harmony underneath a big, bold melody. And the contrast of the thick, crispy bread and the creamy, starchy beans is just *chef's kiss.*
White bean and garlic toasts make a fantastic weeknight dinner or work-from-home lunch: Prep-wise, they're unfussy and laid back — but flavor-wise, they belong on the menu at a cool new neighborhood brasserie. Plus, they're filling enough to be the only thing on the plate. (Though adding a lightly dressed green salad couldn't hurt … and while you're at it, they're practically screaming for a glass of whatever white wine you have in the fridge!)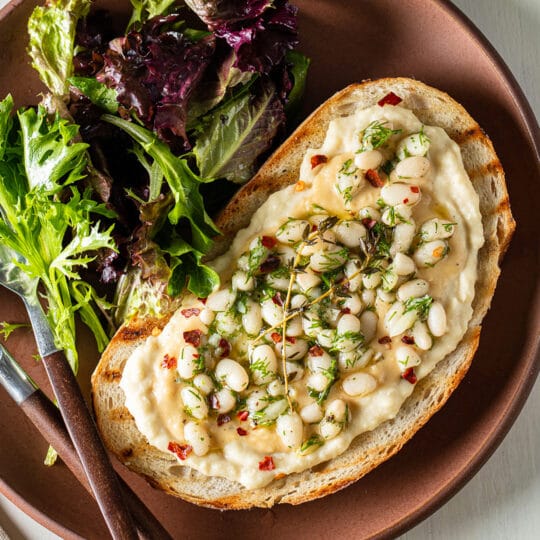 Dinner
White Bean & Garlic Toasts
Serves: 8
Ingredients
2 cups dry cannellini beans, rinsed and picked through
1 yellow onion, peeled and quartered
12 large garlic cloves, crushed
1 Gelson's organic fresh rosemary sprig
3 Gelson's organic fresh thyme sprigs
1 serrano pepper, sliced thin and seeded
¾ cups plus 2 Tbsp extra virgin olive oil
2 anchovy filets in olive oil, rough chopped (optional)
6 Tbsp freshly squeezed lemon juice, divided
Freshly ground Gelson's black pepper, to taste
½ cup Gelson's organic fresh dill fronds, rough chopped
¼ tsp crushed red pepper flakes
8 1"-thick slices sourdough bread
Directions
Place the beans in a medium bowl, cover with 1" of cold water above the beans, and stir in the baking soda. Soak overnight and then drain the beans.

In a large saucepan, combine the beans and onion, and cover with 1 ½" of water above the beans. Bring to a boil over high heat, reduce to a rapid simmer, and cook until the beans are soft and starting to break up, about 50 minutes. Strain.

Combine the garlic, rosemary, thyme, serrano peppers, and olive oil in a small saucepan. Cover, place over low heat, and cook until the garlic is soft and golden, 25 to 30 minutes. Remove the pot from the heat and let the oil steep for 10 minutes.

Strain the garlic oil through a sieve into a liquid measuring cup and reserve the fried aromatics.

To make the garlic spread, transfer the fried garlic cloves to a food processor, and add ½ cup cooked beans, the Dijon mustard, anchovies, 2 tablespoons of the lemon juice, 5 tablespoons of the garlic oil, and 1 tablespoon of water. Blend until thick and smooth. Season with salt and black pepper. Transfer to a small bowl and set aside.

In a second small bowl, stir together 1 scant cup of cooked beans, 4 ½ teaspoons lemon juice, 3 tablespoons garlic oil, and the dill. Season with salt and black pepper.

Transfer the remaining cooked beans to the food processor. Add the remaining 7 ½ teaspoons lemon juice and 3 tablespoons garlic oil. Blend for 1 minute or until the beans resemble a thick mash.

Preheat a grill or grill pan to high heat. Drizzle the bread with garlic oil and season it with salt and black pepper. Grill the bread for 1 to 2 minutes per side, or until it has nice grill marks.

To assemble the toast, divide the bean mash between the toasts, top with garlic spread and whole beans and then garnish with the reserved aromatics and crushed red pepper flakes. Serve warm.
Recipe adapted from: Plenty by Yotam Ottolenghi