Dinner Recipes
White Bean, Kale & Pancetta Soup
This Italian-inspired soup is a delight on brisk winter evenings — a guaranteed warmer of bones and hearts. It starts with a soffritto-style base of carrots, onions, and celery, plus punchy garlic and earthy sage. It's got starchy white beans, tender orzo, burst cherry tomatoes, leafy kale, and fresh parsley. And it's all swimming in a bright, tomato-y broth. In short, this soup is a bit of a hodgepodge. But at the heart of it, you'll find the smoky, savory depth of browned pancetta, tying everything together into a homey, satisfying dish.
After ladling, we finish the bowls with a sprinkle of shredded Parmesan. It slowly melts into the steaming broth, suffusing it with a subtle nuttiness … and delivering decadent cheese pulls with each spoonful. Between that and the salty smoke of the pork, you might say this soup is (sneakily!) rich.
White bean, kale, and pancetta soup calls for rustic accompaniments: a loaf of crusty ciabatta, a bottle of red table wine (think Sangiovese), the crackle of a burning log in the fireplace, and most importantly, the comfort of good company. Sunday dinner, anyone? We'll pull up a few extra chairs.
Servings: 4 to 6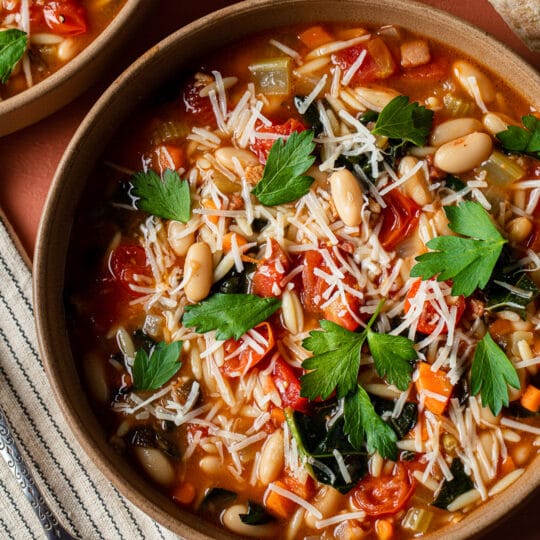 Dinner
White Bean, Kale & Pancetta Soup
Ingredients
1 tsp extra virgin olive oil
5 Gelson's organic sage leaves, chopped
1 medium yellow onion, small diced
2 celery stalks, small diced
1 cup cherry tomatoes, halved
4 cups low sodium chicken broth
Freshly ground Gelson's black pepper, to taste
28 oz cannellini beans, drained and rinsed
¼ cup uncooked orzo pasta
½ bunch lacinato kale, stalks removed and chopped
¼ cup parsley, chopped, for garnish
¼ cup finely shredded Parmesan cheese, for garnish
Toasted ciabatta, for serving
Directions
In a large saucepan over medium heat, combine the pancetta and olive oil and cook for 6 to 7 minutes, or until crispy and golden brown.

Add the sage and cook for another minute. Add the carrots, onions, celery, and garlic, stir to combine, and cook for 3 to 4 minutes, or until softened.

Add all of the tomatoes and chicken stock. Season with kosher salt and black pepper and bring to a simmer, stirring occasionally, for 10 minutes.

Add the beans, orzo, and 1 ½ cups of water. Bring to a simmer and cook for 6 to 8 minutes, or until the pasta is tender.

Stir in the kale and cook for another 2 minutes. Season with salt and pepper.

Divide the soup between bowls, garnish with the parsley and Parmesan, and serve with toasted ciabatta.
Recipe source: Delicious