Dinner Recipes
White Lasagna With Wild Mushrooms
When this unabashedly creamy white lasagna rolled out of the oven, half the test kitchen came to look — tasting forks in hand, appetites at the ready. "It's comforting just to look at it," someone said.
It's even better to eat. The white sauce is essentially a trio of wild oyster, maitake, and shiitake mushrooms steeped in a classic béchamel. A generous pinch of nutmeg gives it some welcome fall vibes. But it was the mushrooms that captivated our crowd, adding an unexpected earthy depth and foiling what could be a bland heaviness in the creamy sauce.
In the lasagna, the wild mushroom béchamel is layered with noodles, chopped spinach, milky-sweet ricotta, melty mozzarella, and a dusting of nutty Parm — yes, you will get a masterful cheese pull. But you will also get the wonderful dry sweetness of the spinach and almost juicy bites of meaty shiitake. All in all, the lasagna reminded us (in the very best way) of a noodly spinach dip. We could eat the whole pan.
Like most homemade lasagnas, this one is a project. We like to make it on a Saturday, when we have the leisure to cue up a podcast and putter around the kitchen. That said, we might serve it the next day, when the mushrooms and nutmeg have come into their own. Think of it as a cure to the Sunday blues: the whole family will be thrilled to see it on the kitchen table.

Serves: 6 to 8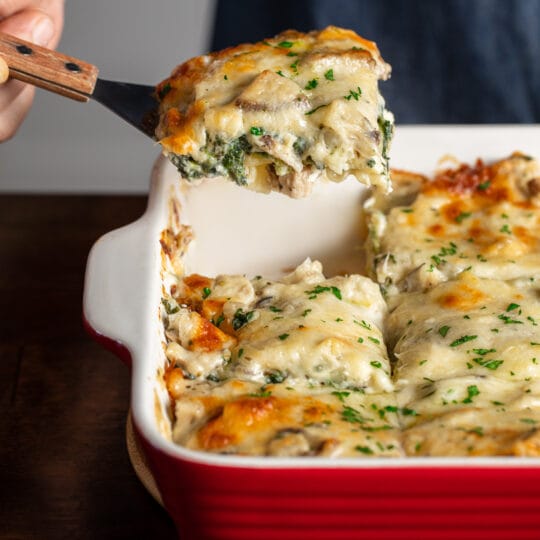 Dinner
White Lasagna With Wild Mushrooms