Appetizer Recipes
Whole Wheat Honey-Pepita Bread
This loaf goes out to the seedy toast lovers in the house! We make the dough with more than a half cup of whole wheat and a generous spoonful of honey, so it already has a subtly sweet, nutty flavor — a handful of pepitas gives it even more, plus a wonderful crunch. It's delicious, and it has the kind of rustic good looks you'd expect from a bakery, but it's very easy to make.
By this point, you've scrolled down to look at the directions, and you're thinking, "Oh boy, 15 steps!" Let us put your mind at ease: This recipe is about time, not labor. You can save a little of that time by making your poolish the night before you want to bake the bread; if you get the dough going by midday, you'll have fresh bread for dinner. And, while the bread is busy rising, you can do your own thing — work in the home office, hang out in the garden, or what have you.
All of which is to say: this bread spends up to 4 ½ hours rising. During that time, we stretch and fold it periodically, strengthening the glutens and helping the dough maintain a consistent temperature — in short, ensuring that the bread will rise and develop nice, big air pockets. We bake it in a Dutch oven, which mimics the heat and moisture of a bread oven, giving the bread a moist, airy crumb and a crispy crust.
This is a very satisfying project because it is so hands on and because you end up with a beautiful loaf of bread — and one suited to all purposes. It's positively lovely toasted and smothered in salty, tangy European butter and a big dollop of jam. We'd also dunk a thick slice of it in a bowl of stew or soup. And because the crumb is so tender and pliable, it makes a great sandwich, too.

Yield: 1 loaf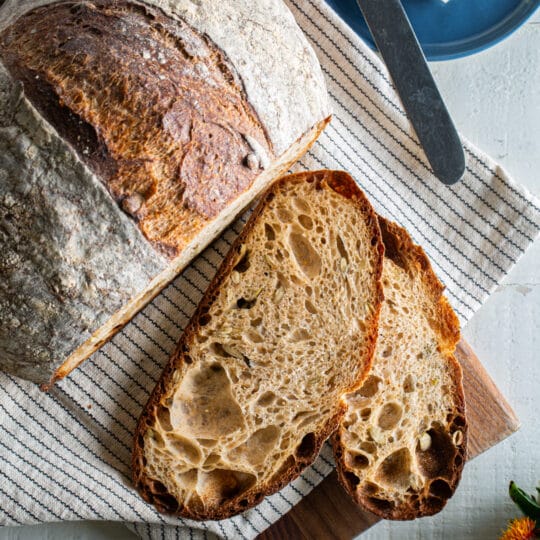 Appetizer
Whole Wheat Honey-Pepita Bread