Want an elegant, easy holiday?
Let Gelson's make your Thanksgiving great. When our in-store gourmet chefs prepare your dinner*, you can enjoy more together-time.
Pickup is available between 11/19-24. Last day to order is 11/22.

*All holiday dinner orders will be refrigerated at the time of pick up and will require reheating. For reheating instructions, please click here.

Dinners for 12 take approximately 3.5 -4 hours to reheat, dinners for 8 take approximately 2-3 hours to reheat and dinners for 2 take approximately 35 minutes to reheat.
Click Here for Our Holiday Dinner Cancellation/Refund Policy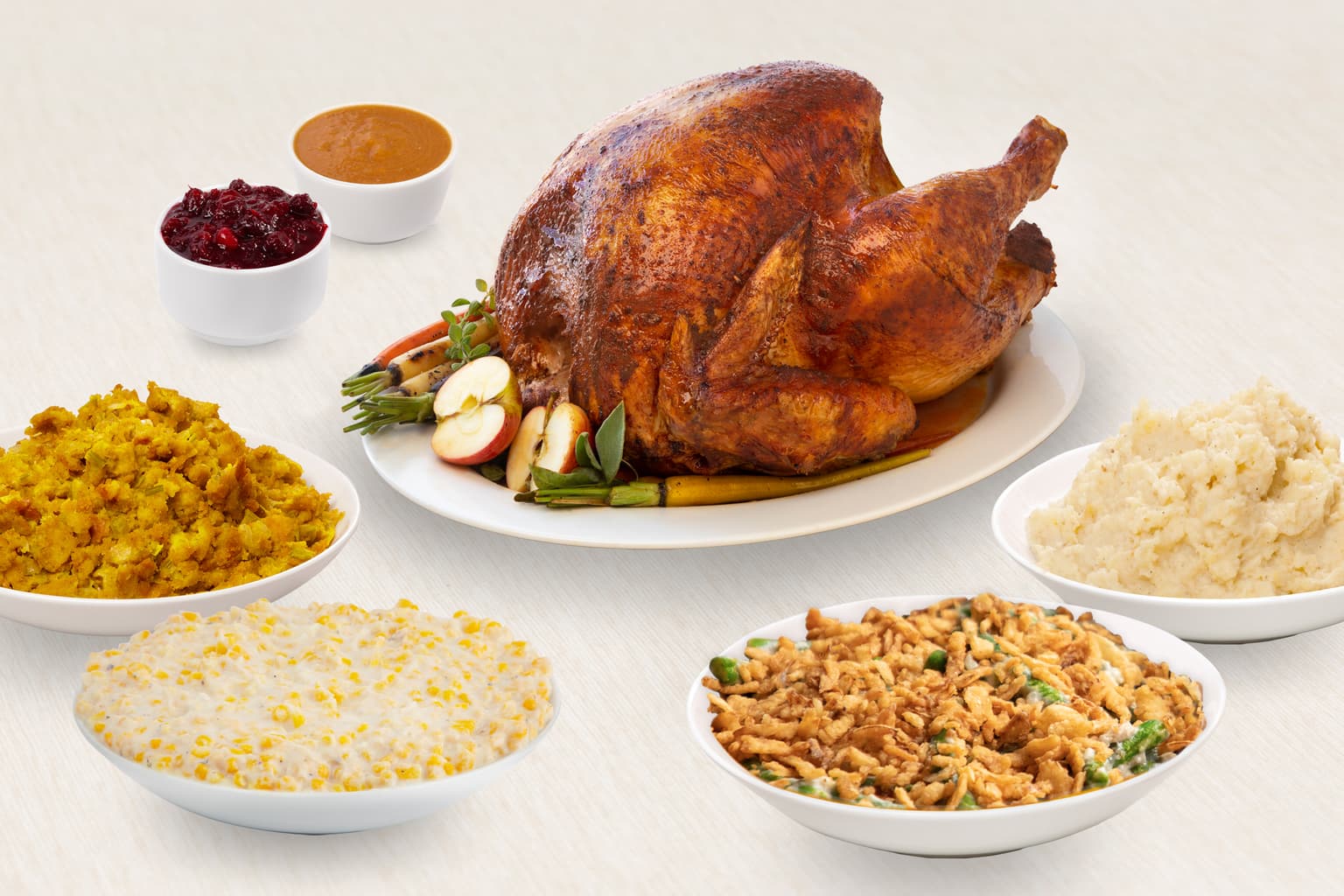 Serves 2

Roasted Turkey Dinner

Roasted vegetarian-fed turkey served with mashed potatoes, turkey gravy, cornbread stuffing, creamed corn, green bean casserole, cranberry sauce and butterflake dinner rolls.

Serves 2

Spiral Glazed Ham Dinner

Spiral sliced, double smoked ham served with mashed potatoes, turkey gravy, cornbread stuffing, creamed corn, green bean casserole, cranberry sauce and butterflake dinner rolls.

Serves 2

Boneless Prime Rib Dinner

Certified Angus Beef® Boneless Prime Rib served with mashed potatoes, creamed spinach, roasted Brussels sprouts, cornbread stuffing, mushroom peppercorn gravy, horseradish sauce and butterflake dinner rolls.

Serves 2

Brisket Dinner

Slow roasted Certified Angus Beef® Brisket served with mashed potatoes, creamed spinach, roasted Brussels sprouts, cornbread stuffing, mushroom peppercorn gravy, horseradish sauce and butterflake dinner rolls.

Serves Up To 4

Celebration Roast Dinner (Plant-Based)

Enjoy a plant-based Celebration Roast seasoned with sage, garlic and lemon juice with traditional bread stuffing and mushroom gravy. Served with Brussels sprouts, roasted cauliflower and vegan baklava.

Serves Up To 4

Hazelnut Cranberry Roast Dinner (Plant-Based)

Enjoy a rich, hazelnut-infused plant-based grain meat stuffed with Field Roast sausages, crystallized ginger, cranberries and apples - wrapped in a savory vegan puff pastry. Served with Brussels sprouts, roasted cauliflower and vegan baklava.

Serves Up To 8

Whole Oven Roasted Turkey (À la carte)

Succulent vegetarian fed turkey, cooked to perfection. No antibiotics ever.

Serves Up To 14

Spiral Cut Glazed Ham (À la carte)

Double smoked, bone-in ham.

Serves Up To 8

Boneless Prime Rib (À la carte)

Delicately roasted to ideal tenderness in mouth-watering spices. The boneless Certified Angus Beef® Boneless Prime Rib is cooked to medium rare.

Serves Up To 20

Whole Slow Roasted Brisket (À la carte)

Slow roasted Certified Angus Beef® Brisket.

Serves Up To 4

Celebration Roast with Gravy - Plant Based (À la carte)

Enjoy a plant-based Celebration Roast seasoned with sage, garlic and lemon juice with traditional bread stuffing and mushroom gravy.

Serves Up To 4

Hazelnut Cranberry Roast - Plant Based (À la carte)

Enjoy a rich, hazelnut-infused plant-based grain meat stuffed with Field Roast sausages, crystallized ginger, cranberries and apples - wrapped in a savory vegan puff pastry.

Serves Up To 8

Best for Turkey/Ham Holiday Side Dish Kit

Side dish kit includes mashed potatoes, cornbread stuffing, creamed corn, green bean casserole, cranberry sauce and turkey gravy. Does not include protein.

Serves Up To 8

Best for Beef Holiday Side Dish Kit

Side dish kit includes mashed potatoes, Brussels sprouts, cornbread stuffing, creamed spinach, mushroom gravy and horseradish cream. Does not include protein.

Serves Up To 6

Butterflake Dinner Rolls (6-pack)

These buttery, flaky dinner rolls are the perfect accompaniment to any meal.

Serves Up To 8

Mashed Potatoes

Fluffy and delicious. Fresh potatoes combined with cream and butter for the perfect side.

Serves Up To 8

Cornbread Stuffing

Sweet and savory traditional cornbread stuffing.

Serves Up To 4

Cranberry Sauce

Slowly simmered to sweet and tart perfection. A classic accompaniment to your family meal.

Serves Up To 4

Turkey Gravy

Savory turkey broth thickened with a dark roux. Just the way grandma made it!

Serves Up To 8

Gelson's Pumpkin Pie

It's that time of year! Hans Röckenwagner and his team have baked up holiday comfort and flavor using only quality, all natural ingredients. Enjoy locally handmade Holiday Pies Made Exclusively for Gelson's by Röckenwagner.

Gelson's Pumpkin Pie - 4-Day Shelf Life

Serves Up To 8

Gelson's Apple Pie

It's that time of year! Hans Röckenwagner and his team have baked up holiday comfort and flavor using only quality, all natural ingredients. Enjoy locally handmade Holiday Pies Made Exclusively for Gelson's by Röckenwagner.

Gelson's Apple Pie - 4-Day Shelf Life

Serves Up To 8

Gelson's Pecan Pie

It's that time of year! Hans Röckenwagner and his team have baked up holiday comfort and flavor using only quality, all natural ingredients. Enjoy locally handmade Holiday Pies Made Exclusively for Gelson's by Röckenwagner.

Gelson's Pecan Pie - 4-Day Shelf Life

EZ Foil Roaster Pan w/ Handle

EZ Foil Stuffing Pan

Taylor Meat Thermometer

Sunflowers - 5-stem

Instant sunshine, These happy flowers just say, "wake up and have a good day".

Fall Spice Bouquet

Not only will your house have the scents of Fall in it, but with our Spice Bouquet it will look like Fall too.

Thanksgiving Holiday Vase

Imagine the compliments you will receive when your guests see these stunning flowers.

Thanksgiving Centerpiece

Friends, Family and Food, but don't forget these incredible flowers.

Autumn Harvest Centerpiece

Enjoy the colors of Autumn in this wonderful centerpiece.

Kendall Jackson Vintner's Reserve Chardonnay

Beautifully integrated tropical flavors such as pineapple, mango and papaya, with citrus notes that explode in your mouth. These flavors delicately intertwine with aromas of vanilla and honey to create depth and balance throughout. A hint of toasted oak and butter rounds out the long, lingering finish.

Must Be 21+ to Order

Kim Crawford Sauvignon Blanc

Classic Marlborough Sauvignon Blanc aromas of lifted citrus, tropical fruit, and crushed herbs. A fresh, juicy wine with vibrant acidity and plenty of weight and length on the palate. Ripe, tropical fruit flavor with passion fruit, melon, and grapefruit.

Must Be 21+ to Order

Duckhorn Sauvignon Blanc

The lush and alluring Sauvignon Blanc reveals aromas of lemon verbena, candied pineapple, lime, and summer melon.

Must Be 21+ to Order

Santa Margherita Pinot Grigio

With its straw-yellow hue, clean intense aroma, and crisp, well-balanced taste, this Pinot Grigio is as authentic as it is refreshing. Perfect for those who love a dry white wine with the delightful notes of Golden Delicious apples and citrus.

Must Be 21+ to Order

Miraval Cotes de Provence Rosé

Elegant pale-pink color, evoking a rose petal. On the nose, Miraval Rosé shows all its elegance: beautifully fresh, it exudes aromas of fresh fruit, currants and fresh rose with a zest of lemon. The refinement continues in the mouth with beautiful liveliness and gourmet notes that subtly balance the mineral and saline notes. An irresistible wine that ends with a long finish with lemony notes.

Must Be 21+ to Order

Jadot Beaujolais

This crisp, fruit-forward, juicy wine has expressive aromas and flavors of ripe red berries, with nice weight in the mouth.

Must Be 21+ to Order

Decoy Cabernet Sauvignon

From its aromas of vibrant red and blue fruit to its silky tannins and balanced acidity, this is a lush and alluring Cabernet Sauvignon. On the palate, rich flavors of raspberry, ripe plum, and blueberry carry the wine to a long, luxurious finish, with nuanced hints of oak and sweet baking spices.

Must Be 21+ to Order

La Crema Sonoma Coast Pinot Noir

Aromas of blackberry, cherry, leather, and tobacco with ­flavors of red cherry, raspberry, and boysenberry. Subtle hints of espresso and cocoa nib underpin notes of exotic spice and toast.

Must Be 21+ to Order