1. Introduction
Gelson's is Southern California's premium destination for Customers who love food and who want to experience the highest quality products and best customer service. That's why our tagline is "Life Tastes Better Here!"
Our California Food Paradise connects us to our Southern California heritage – a place like no other. We have our own unique perspective on healthy living, eating well, relaxing, and enjoying life – similar to the Mediterranean lifestyle.
• Gelson's ranked Best in the West and 4th in the nation in Consumer Reports' summary of the best grocers in the United States.

• We focus on Exclusive Local Finds and a Healthy Outlook.
• Our associates are challenged to share their Passion for Food and perform to a Higher Standard.
• The goal? To create a food market that is a Place to Escape to, shifting the consumer mindset from anxiety to relaxation.
• These build on our 70+ year tradition of quality foods from around the world, convenience in high in-stock conditions and a superbly curated assortment, impeccably clean stores, and friendly and knowledgeable associates.
• Our "Gelson's First to Market" program allows a new brand to launch with a retailer that will support them along the way and go the extra mile with special signage, social media support, in-store sampling, and special ad vehicles that spotlight these important lines.
• We can proudly share that we have partnered with brands like Califia Farms, Impossible Burger (retail), Truff Sauce, Intelligentsia Coffee, Health-ade Kombucha, Tate's Cookies, and many more as "First to Market" in Southern California.
• We are the perfect chain size and customer demographic to test market new items and will work with emerging brands as they enter the marketplace, creating meaningful results that improve launch success rates.
• Our manageable store count and nimble operating structure allow us to work closely with brands to develop them to their full potential and execute our plans quickly.
• Our Rewards Sampler Box program is an innovative way to showcase your product to the top tier of our loyal customers. These VIP customers receive a custom box each quarter showcasing new and exciting products. Each box arrives with live samples, coupons, and marketing directing the customer to purchase your product at Gelson's.
2. New Items/Brand Development Teamwork
At Gelson's, our Customers expect to find the highest quality products that meet the demands of the Southern California food lifestyle. We pride ourselves on providing a wide range of products that fulfill their every need, from the reliable staples that have filled their pantries for several decades to cutting-edge, trending items posted by social influencers.
• Gelson's wants to create an atmosphere of innovation and winning with new products and vendors. We focus on local and incubator companies to drive emerging brands that are cutting-edge in trending categories.
• Gelson's periodically hosts Local Discovery Days because we're always looking for terrific new products from near and far. We love working with innovative creators – from Los Angeles, Orange, San Diego, Ventura, Santa Barbara, and Riverside Counties – to bring you the very best local finds!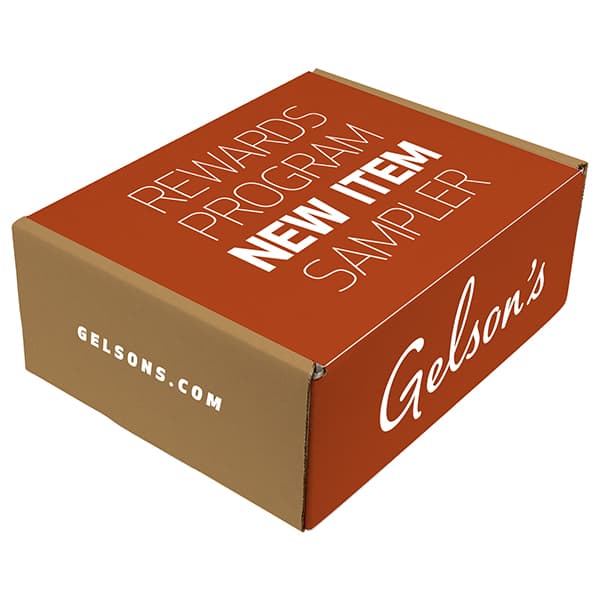 3. Space and Category Management
Working together with our vendor partners, Gelson's can share and incorporate market data to make informed product assortment decisions. Our goal is to create an excellent shopping experience with planograms that are easy to shop for and easy to stock.
• We can collaborate on category intelligence and planning to jointly create insights into consumer shopping behavior and tailor product assortments that resonate with Gelson's Customers.
• We benchmark item productivity to ensure that we and our partners are getting our fair share of sales. Gelson's sales data is available for a small subscription fee through SPINS.
• Gelson's supports speed to shelf of new products by publishing planograms weekly and partnering with the vendor community to reset shelves.
• We manage mark-downs with vendor support to ensure planogram integrity.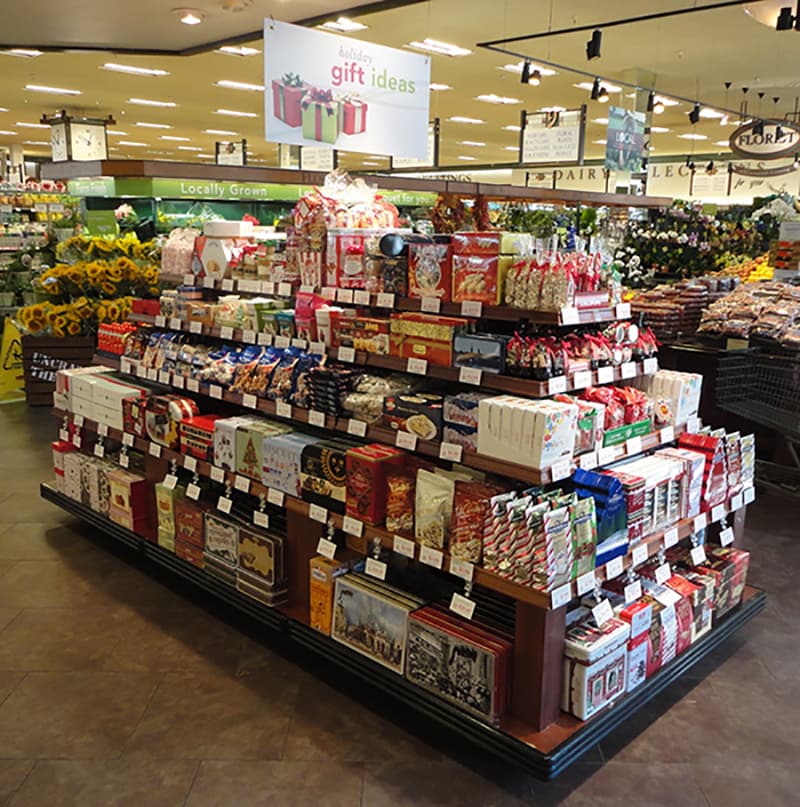 4. In-Store Opportunities
Our Vendor Partners have several opportunities to improve Customer exposure to your products. Gelson's is known for our excellence in executing on vendor partnerships; after all, if you succeed, we succeed.
TPR/Promotion enhancements: When you provide scan-based or purchase-based discounts on your items, we can pass savings through to our customers. With options for enhanced shelf tag visibility or special signage, your product can better catch the eye of our discerning shopper.

Displays – one of the best ways to ensure your product is seen is to participate in our end display, side display, or themed island display opportunities. Display products are in high-traffic areas of the store (front end, back end, or in some cases, middle aisles). Products are typically tied in with complimentary/non-competitive selections (for example, pasta, pasta sauce, Parmigiano-Reggiano cheese, graters). Display periods range from one to three weeks depending upon each store's configuration and the timing of holiday events which impact display space.

Signage opportunities – Depending upon your product's attributes, your item may qualify for additional signage opportunities at the home shelf.

• Bib tag program for non-sale items. Bib tags are printed for products which have specific attributes. Up to two attributes are printed on a bib tag, including options like Organic, Gluten Free, Local, Plant-Based, Earth Friendly, Dairy Free (no charge).
• Organic item additional call-out: Gelson's is additionally testing shelf talkers at all stores for Organic items (no charge).
• Exclusive/Gelson's First to Market provides extra free signage when vendors agree to sell in the SoCal grocery channel exclusively to Gelson's, or when a period of exclusivity ("First to Market") can be guaranteed for products.
• What's New signs: Small shelf talkers help Customers to identify what's new in your product's category (no charge).

Sampling - the best way for Customers to get excited about your product is to taste it/try it.

• Demos may be provided by your founder, sales staff, or by hiring our contracted demonstration agency.
• We charge a small access fee per store to coordinate the sampling events, communicate to the stores, and make the experience easy.
• For more information, talk with your category manager and email demos@gelsons.com

Customer Events, Grand Re-Openings, & Store Anniversaries
Throughout the year, Gelson's has several store-specific or themed events for which your product might be a great fit.

• Extra demonstration opportunities are available for store events and Grand Re-Opening celebrations.
• Product sweepstakes or sample-size giveaways can be accommodated.
• Thematic events like "Taste of Italy" provide additional display and sampling opportunities.

Wine, Beer, and Food Events
Products can be considered for inclusion in our paid wine and beer dinners; for instance, providing a pre-packaged dessert option for all guests to enjoy as part of a wine flight/tasting course (no charge; provide product only).

• By the end of 2023, Gelson's will have 16 wine, beer, and tapas bars throughout Southern California.
• Bars host special paid and unpaid events which have proven as highly effective in getting Customers to try new things.
• To host a pairing event with your wine or beer, contact Ray Brych, rbrych@gelsons.com
5. Out-of-Store Opportunities
Gelson's offers multiple opportunities to expose your brand to our engaged audience.
Circular/Newsletter: Our cleanly designed circular is published nearly weekly, with our geo-targeted ads, with website presence, emails with links, and in-store copies.
Digital Newsletter: Gelson's changed to a new digital circular provider in late 2021. The majority of marketing funds paid to the new company are spent to drive traffic to the circular page. We can see both clicks to the page and visits to our store. Each store has a polygon drawn around it, following the exterior walls of the store. It has been third-party verified to be 96.2% accurate, and is accredited by the Media Rating Council. A visit is reported when someone sees the ad, taps it and is driven to the digital circular, and then visits our store within 14 days. If the customer goes back to our store again they will not count as a second visit. They would have to have seen another ad, engage, and then go to our store before reporting a second visit.
For a sample recent one-week ad for a non-holiday week, the circular had 1.2M impressions, 13,100 clicks, and 8,900 visits.
Appreciation Program:
Appreciation Program – Gelson's Rewards launched chain-wide in 2020, and had more than 135,000 active members in 2021. Vendors can participate in sample boxes and exclusive give-aways.
Virtual Events: Gelson's added a highly successful virtual tasting series starting in 2020. In addition to popular tastings featuring wine makers from respected brands such as Grgich Hills, Freemark Abbey, Daou, Heitz Cellar, and many more – Gelson's also introduced other virtual classes such as a local ice cream tasting event, a hands-on charcuterie board class, and chef's classes for hands-on cooking experiences. Opportunities for select event sponsorships are available, and Gelson's is open to future event collaboration ideas.

Weekly Wows: A selection of 5-10 items are chosen weekly to promote via email, website, boosted Facebook and Instagram ads. Products must be either traffic drivers or image drivers; image drivers can be exclusive or first-to-market items, items local to the Southern California market, or both.

Gelson's Rewards Offer: Two products (one Fresh, one Center Store) are chosen weekly to be featured on Gelson's Rewards platform. High-value offers such as BOGO or larger discounts are channeled to this engaged group of Gelson's shoppers. The Gelson's Rewards offers are promoted both in-store and through emails to Rewards members.

Social Media: There are many chances to tie your product in with our social channels. Just a few opportunities include:

• Custom social media packages designed to maximize your brands' exposure to Gelson's customers online.
• Offer product for an online sweepstakes – both Instagram and Facebook have proven to be great ways to mutually grow followers.
CATEGORY MANAGERS CONTACT INFO
Ray Brych
Wine, Spirits, Beer, Magazines, Books, and Wine Bar.
rbrych@gelsons.com
Gayle DeCaro
Specialty Cheese Category Manager/ Deli Merchandising.
gdecaro@gelsons.com
David Vana
Dairy, Packaged Deli, Frozen, Chilled Juice, Eggs, Egg Substitutes, Kombucha, Ice Cream, and Novelties.
dvana@gelsons.com
Kristin Alas
Salty Snacks, Chips, Jerky, Bottled Water, Beverages, Candy, Gum, Bread, Tortillas, Mixers, and our Checkstand Program.
kalas@gelsons.com

Sam Vasquez
Director of Center Store.
svasquez@gelsons.com

Rich Gillmore
Vice President of Center Store.
rgillmore@gelsons.com
Matt Reis
Soup, Broth, Canned Meat, Canned Seafood, Dressing, Croutons, Canned Vegetables, Sauces, Condiments, Pickles, Olives, Oil, Vinegar, Pasta, Pasta Sauce, Rice, Beans, Side Dishes, Kosher Foods, and Asian Foods.
mreis@gelsons.com
Angela Campos
Health & Beauty Care, Non-foods, Pet Accessories, Wellness, Supplements, Diapers, Baby Supplies, Seasonal Décor, Greeting Cards, Janitorial Store Supplies, Gift Basket Supplies.
amcampos@gelsons.com

Eddie Rojas
Cookies, Crackers, Nutrition Bars, Aseptic Milk, Paper Products, Cleaners, Soap, Fabric Care, Detergent, Storage Bags, Wraps, Charcoal, Firewood, Picnic, Tea, Cocoa, and Coffee.
erojas@gelsons.com

Open Position
Cereal, Granola Bars, Baking, Sugar, Flour, Canned & Dried Fruit, Juice, Spices, Syrups, Toppings, Nut Butters, Honey, Preserves, Snacking Nuts, Unpopped Popcorn, and Baby Food.
Contact Sam Vasquez: svasquez@gelsons.com
FRESH MERCHANTS CONTACT INFO
Alice Grazziani
Floral
agrazziani@gelsons.com
Fernando Moreno
Meat and Seafood
fmoreno@gelsons.com
Ryan Allen
Gelson's Kitchen
rallen@gelsons.com
John Savidan
Produce
jsavidan@gelsons.com