Announcements
A Home Cook's Guide to Alt Sweeteners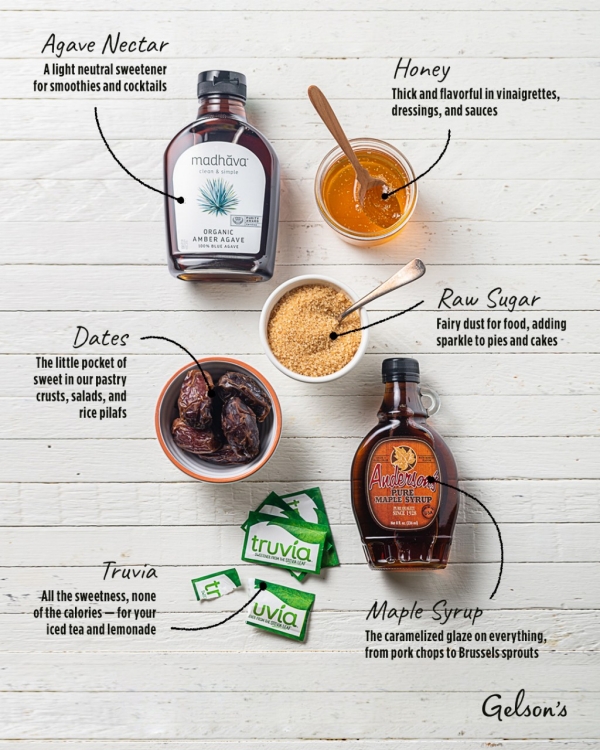 Pour a little sugar in my cup, the song goes, and it's true — we all crave a little sweetness at times. But not necessarily from sugar. Whether you're trying to be a bit healthier, you're curious about how the alternative sweeteners perform in recipes, or you just happen to be out of white and brown sugar, it's nice to have a broad range of options. After all, alt sweeteners offer so much more than just sweetness, and it's fun to see how their various flavors and crunchy, syrupy, chewy textures complement a recipe.
We've included ratios — like, ¾ cup honey to 1 cup sugar — but think of these as part of the tasting notes rather than food science. Which is to say, most of the sweeteners in our list are sweeter and more flavorful than white sugar, so you don't need to use as much. But when it comes to swapping them into recipes ad hoc, especially for baked goods, you'll want to experiment a little to get the effect you're looking for because ¾ cup of honey will not do (leaven, crisp, caramelize, melt, taste, chew) what a cup of white sugar does in a recipe.
Just to get you started, we've included a bunch of fun recipes and tips for using these alternative sweeteners in everything from coffee to cocktails and appetizers to desserts.
Agave Nectar (½ cup to 1 cup granulated white sugar)
Agave nectar has a lighter texture than honey, and it's also much sweeter. And yet, its flavor is really mild: light agave nectar will taste almost neutral, but an unfiltered dark agave nectar will have some earthy notes to it — like delicate maple syrup.
Because of its easygoing flavor, we like to use light agave nectar where we want to add some sweetness but don't want it to mess with the other flavors in the drink or dish. It's especially nice in cocktails. You can use it to make an herby simple syrup, as in our blood orange paloma, or add it directly, as we do with a charred lemonade with mezcal (double agave!). And, recently, it was the sweet note in some tahini we swirled through a batch of vegan brownies.
You could use dark agave nectar in any of those situations if you wanted a richer flavor or a darker hue. We used it to create a spicy tea-infused syrup for a stunning yet simple appetizer of poached pears and puff pastry, and it was scrumptious.
Honey (¾ cup honey to 1 cup granulated white sugar)
Bees make honey from the nectar of all kinds of flowers, of course, so the wondrous stuff comes in a variety of colors and flavors, from golden, aromatic sage honey to rich, amber wildflower honey and dark, spicy buckwheat honey. And, of course, we all know the thick, slow-drizzling texture of honey.
In the test kitchen, honey is our favorite sweetener — at least on the savory side of things, where its flavor and viscosity make it a good fit for vinaigrettes, sauces, and marinades. It's wonderful in tangerine or apple vinaigrette, where it amplifies the fruit's natural sweetness. We've also paired it with spicy hot Sriracha to make a drizzle for fried chicken and a dollop of tangy Dijon mustard to make a zippy condiment for grilled cheese and the like.
In the bakery, honey is a tricky swap for sugar: its flavor and composition can change a recipe. That said, lots of cake recipes (honey cake!) are formulated for it, and it's wonderful in bread — try our Dutch oven pumpkin bread. And we definitely use it to finish pastries, like cardamom buns.
Raw Sugar (1 cup to 1 cup granulated white sugar)
Raw sugar is like sweet fairy dust for food — it adds an amber-hued sparkle everywhere it goes. It has a crunchy, coarse texture and a nutty caramel flavor.
You can use raw sugar pretty much anywhere you'd use granulated white sugar. We love its caramel notes in coffee — and, for that matter, in the bottom of a mimosa! We also like to use it for finishing desserts. If we're making a bundt cake, we'll sugar the pan with it before we pour in the batter. It bakes into a sparkly, deliciously crunchy crust. It's also nice sprinkled over pies, like an apple galette.

Dates
When we first discovered dates used as a sweetener, it was a bit of a revelation — and yet it makes perfect sense. It's their superpower really, and their natural, fruit sweetness goes a long way in the right recipe.
We like to blend them up with water to create date caramel, a sticky-sweet confection that can be used to make everything from chuggable frappuccinos to chocolate-peanut butter cups and no-churn ice cream. It's a terrific binder for cookies, granola bars — and tart crusts, as seen in our vegan chocolate-banana tart. Don't forget the savories: dates can be the little pocket of sweet in a salad or a rice pilaf. Bacon-wrapped dates? Always.
Maple Syrup (¾ cup syrup to 1 cup sugar)
Maple syrup has a flavor as layered and multitudinous as bourbon — roasty, perfumey, and full of earthy herbs, wood, and spice. It's all those complex things, and yet one of the most simple, familiar, and beloved sweeteners in our pantries.
In the test kitchen, we use maple syrup for sweet and savory dishes. It's the heart of our maple cream pie and the caramelized goodness on our brainy breakfast granola. On a less formal note, we'll swirl it through coffee, yogurt, oatmeal, and smoothies. Oh, my goodness: whipped cream!

It's fantastic for glazing pork chops, salmon, or chicken breasts, but we'll also use it on veggies. Think spicy, bar-style Brussels sprouts or colorful grilled fruit skewers. And, let us never, ever forget bacon jam.
Truvia (⅓ cup plus 1 ½ tablespoons, or 24 packets, to 1 cup sugar)
Truvia is primarily made with rebiana, which comes from the leaves of the stevia plant — a naturally sweet herb. Rebiana has zero calories and up to 150 times the sweetness of sugar, so it's not surprising that a little bit of Truvia goes a long way. Its texture and flavor are very similar to sugar, but it has a long, sweet finish.
If you're on a sugar-restricted diet or just trying to watch your calories, Truvia is great for drinks. It melts easily, and it adds a pleasant, lingering sweetness to lemonade, iced tea, and cocktails. You can also use it in savory situations, like if you want to add a sweet note to a sauce or marinade. Our tip: if you're just getting to know Truvia, add it to your drinks and sauces in tiny increments, and then taste and add more if needed.