Announcements
/

/

The best holiday charcuterie board
The Best Holiday Charcuterie Board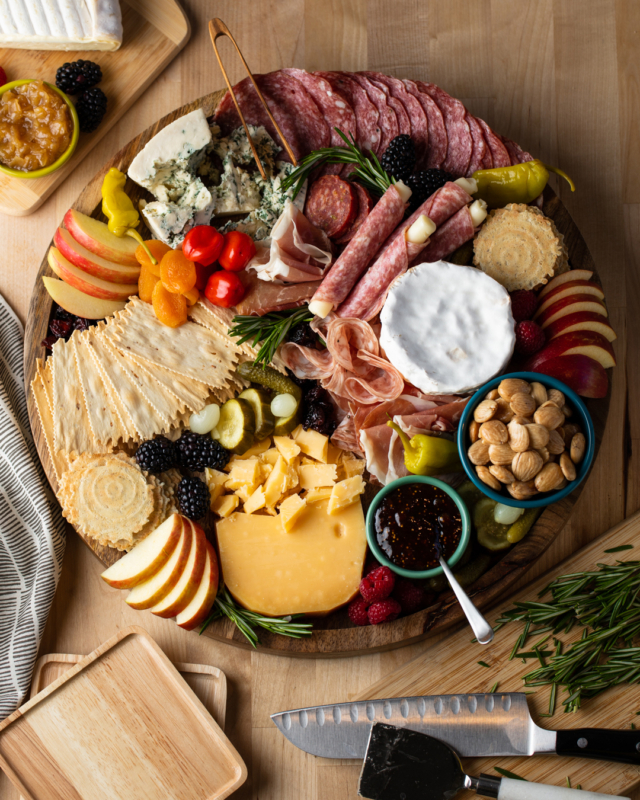 There's no wrong way to make a charcuterie board, but for us, it's all about getting a balanced variety of textures and flavors. Here, we've put that board-ian principle to delicious, delicious practice. Creamy cheeses, savory meats, sweet jams, funky pickled veggies, crunchy nuts, herby crackers, and chewy dried fruits — the party's all here!
We love making this board during the holidays because it looks beautiful and festive — and because there's a little something for everyone. It's such fun experimenting with different combinations of goodies (a pickled pepper here, a nubbin of Gouda there), taking bite after bite until you've happily spoiled your dinner. Here are some of our favorite flavor combinations from this board.
Fromager d'Affinois + Ferrarini Prosciutto di Parma + Divina Caramelized Onion Jam
Fromager d'Affinois, a French double-crème from Fromagerie Guilloteau, is made with an ultrafiltration process that removes water from cow's milk. This process concentrates the flavorful fats in the milk and disperses them more evenly throughout the cheese.
What does that mean for you, dear eater? Basically, Fromager d'Affinois is a lot like brie … except it's creamier, silkier, and unbelievably buttery-sweet. Paired with savory ribbons of prosciutto di Parma and the punchy depth of the caramelized onion jam, you get a rich, decadent bite — and a timeless flavor combination to boot. We like to pile all three on a slice of lightly toasted baguette; that cheese is so creamy, it needs a crusty vehicle.
Point Reyes Bay Blue + Olli Sopressata Salami + Gelson's Dried Cherries
Point Reyes Farmstead Cheese Co., a sister-owned, fourth-generation family dairy farm in Tomales Bay, is famous for producing the only California-made, classic-style blue cheese. (You can read more about their story in this profile of our resident cheese queen, Gayle DeCaro.) Their Bay Blue has earthy, malted grain notes, a salted-caramel finish, and an almost fudgy texture.
We love it with soppressata salami and dried cherries. The salami is cured with black pepper and garlic, so it brings out the cheese's pungency — and the chewy cherries are a perfect sweet-tart foil to the particularly piquant pairing.
Rembrandt Aged Gouda + Creminelli Varzi + Red Apple Slices
When a cheese is aged for a full year, and using a traditional Dutch recipe, you know it's going to be good. Named for the painter of The Night Watch, Rembrandt Aged Gouda has a sharp, nutty, faintly caramelly flavor and a smooth, firm texture with the occasional cute little hole. And we just can't get enough of its deep golden hue!
Because of its butterscotch-y notes, Rembrandt Aged Gouda pairs beautifully with Creminelli Varzi — an Italian salami that's full of earthy-sweet nutmeg. We love piling that hard yet crumbly cheese and a piece of the earthy charcuterie on top of a red apple slice; the fruit adds juicy sweetness and a delicate crunch to the picture.
Brillat Savarin + La Panzanella Roasted Garlic Crackers + Dalmatia Fig Spread
Doesn't the name Brillat Savarin sound especially regal? Awesomely, its flavors back up that vibe: This triple-crème Burgundy cheese is luscious and creamy with a gorgeous bloomy rind and a faint, grassy tang. Also: it looks like a magnificent, mini snowy tower on the board.
Brillat Savarin tastes fantastic with Dalmatia fig spread, which is made with Croatian and Mediterranean figs and has a full-bodied sweetness with subtle hints of orange zest. It's a lovely juxtaposition to the cheese's sour qualities. And because the cheese is so decadently gooey and the spread so jammy, they need the support of a sturdy cracker — we like La Panzanella roasted garlic crackers because they've got a salty, punchy kick.
Here's everything we put on our board:
Point Reyes Farmstead Cheese Co. Bay Blue

Rembrandt Aged Gouda

Fromager d'Affinois

Brillat Savarin

Ferrarini Prosciutto di Parma

Olli Sopressata Salami

Creminelli Varzi

Columbus Genoa Salame Paninos

Divina Caramelized Onion Jam

Dalmatia Fig Spread

34 Degrees Rosemary Crisps

La Panzanella Roasted Garlic Artisan Crackers

Gelson's Marcona almonds

Gelson's dried apricots and cherries

Fresh berries and apples

Pickled veggies