Lunch Recipes
Edamame & Pea Toast
When it comes to fancy toast — green fancy toast especially — many of you might be avocado loyalists. And we get it! There's a reason avocado toast is so popular. (The reason is: it's delicious.) But this verdant number might split your allegiances: The topping is a literal mash-up of buttery edamame, sweet English peas, nutty Pecorino-Romano cheese, fresh mint, and tart lemon. How utterly delectable!
The mashed edamame and peas have a beautiful texture — lightly creamy with some tender, starchy chew. It's delightful on top of grilled bread, with its charred, crispy exterior and soft, airy interior. The bread also gets a smear of roasted garlic aioli, which, unsurprisingly, brings lots of garlicky, punchy heat to the picture. It's a fantastic foil to the fresh, subtly sweet flavors of the veggies.
No fancy toast would be complete without garnishes. Here, we pull out some of the flavors from the green mash — Pecorino, lemon zest, torn mint — and finish it off with a sprinkle of microgreens and a drizzle of chile oil. We love how the aromatic chile oil adds nuance to the aioli's heat … and then how the mint cools everything down. It's all about contrast, people!
Edamame and pea toast is lovely for an everyday lunch or dinner — but it'd also be a stunning course at your first garden party of the year. Want to make your party pea-themed? Serve it with The Sweet Pea Cocktail!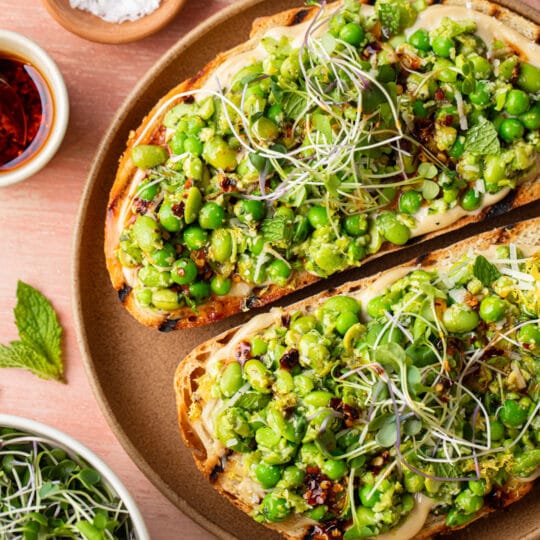 Lunch
Edamame & Pea Toast
Serves: 6
Ingredients
8 oz shelled frozen edamame
8 oz shelled fresh English peas
3 Tbsp roughly chopped Gelson's organic fresh mint, plus more for garnish
2 tsp lemon zest, plus more for garnish
¾ tsp kosher salt, plus more to taste
½ cup grated Pecorino-Romano cheese, plus more for garnish
3 Tbsp freshly squeezed lemon juice
3 Tbsp extra virgin olive oil
½ tsp freshly ground Gelson's black pepper, plus more to taste
Grapeseed oil, for brushing the grill
6 Tbsp roasted garlic aioli, divided
½ cup lightly packed microgreens
Directions
Fill a medium saucepan with salted water, and bring to a boil over medium-high heat. Prepare an ice bath in a large bowl, and line a rimmed baking sheet with paper towels.

Add the edamame and peas to the boiling water and cook until tender, 1 minute. Immediately transfer them to the ice bath, and let sit for 2 minutes before draining. Place the cooled vegetables on the baking sheet and pat dry.

In a medium bowl, using a pestle or fork, grind the mint, lemon zest, and kosher salt into a smooth paste, about 30 seconds.

Add half of the vegetables and the Pecorino Romano to the bowl. Using a potato masher, mash them into a very coarse paste, about 5 minutes.

Add the remaining vegetables and stir to combine. Stir in the lemon juice, olive oil, and black pepper. Season with salt and more pepper, if needed.

Heat a grill pan over medium-high heat. Lightly brush the pan with grapeseed oil. Toast each slice of bread until grill marks appear and bread is heated through, about 30 seconds per side.

Spread 1 tablespoon of aioli on each slice of toasted bread. Divide the edamame spread among the toasts and garnish with fresh lemon zest, Pecorino Romano, torn mint leaves, and flake salt. Top with microgreens and a drizzle of chile oil, and serve immediately.
Recipe adapted from: Food & Wine