Dessert Recipes
Sweet Corn Ice Cream
Sweet corn and ice cream: two iconic summer foods, one intensely scrumptious mash-up. It's called sweet corn ice cream, and it definitely belongs at the top of the Greatest Hits of Corn with all our savory faves, like air fryer elote and corn fritters and, oh my, spoon bread.
It starts with a custard base that includes buttermilk, so it's rich and luscious with a subtle tanginess. It's got a little bit of vanilla and honey to play up the natural sweetness of those bright yellow corn kernels without smooshing their vegetable essence. The corn is actually steeped in the cream and then strained out, and the resulting flavor is sometimes hard for people to place. It tastes a bit like cream of corn, but better — subtle, light, and silky-smooth.
But wait, there's more: we swirl streusel through it! The streusel is just flour and oats toasted with butter, salt, and brown sugar, but it gives the ice cream a rich ribbon of sweet, crunchy goodness. And somehow, it makes the ice cream taste even more summery.
Sweet corn ice cream is the perfect dessert for entertaining. Everyone loves ice cream, and this one is a nice change from the usual suspects — surprising in the most delightful way.

Yield: 1 quart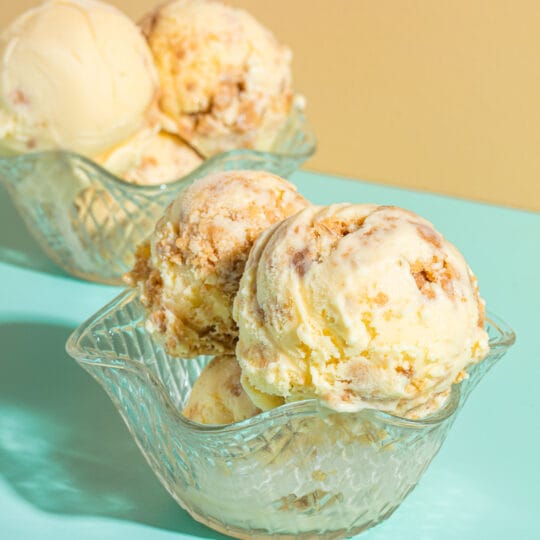 Dessert
Sweet Corn Ice Cream